U.S.'Crimes of Grindelwald' Digital Giveaway & Exclusive Behind-The-Scenes Clip!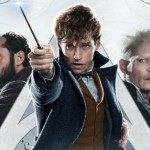 Feb 15, 2019
Today's the day! Fantastic Beasts: The Crimes of Grindelwald is officially available in the U.S. for digital download, including the HD Extended Cut edition, with behind-the-scenes and deleted scenes features, and five lucky people could get free digital access to both the first and second film in our latest giveaway!
DIGITAL RELEASE GIVEAWAY:
Today we're hosting a special giveaway*, courtesy of Warner Bros, of FIVE digital copies of Fantastic Beasts and Where to Find Them and the extended cut of Fantastic Beasts: The Crimes of Grindelwald via an exclusive digital download code on Movies Anywhere.
To enter, tell us your favorite Fantastic Beasts character by replying to us on Facebook, Twitter or Instagram!
*Open to U.S. residents only, due to current restrictions on the release of the film.
Exclusive Behind-The-Scenes Clip: 
For those not able to enter, we can also share an exclusive clip of Place Cachée, the 'Hidden Square' which greets wizards into the magical side of Paris. The video includes interviews with J.K. Rowling, production designer Stuart Craig, Alison Sudol (Queenie Goldstein), Set Decorator Anna Pinnock, Supervising Art Director Martin Foley, Prop Maker Pierre Bohanna, HOD Decor & Letter Artist Julian Walker, Construction Manager Paul Hayes. We got to hear from the team during our Crimes of Grindelwald set visit, in which Martin Foley walked us through the sets and concept art for the film, we visited Place Cachée, watched a (deleted) scene being filmed (we couldn't speak about that part, though), and got a walk through the props with Pierre Bohanna. This new and exclusive behind-the-scenes feature helps bring some of our experiences to life. 
Watch the clip below:
(Video provided by Warner Bros Entertainment)
"Place Cachée is a square in Paris, and it has two separate characters, really," begins Stuart Craig. "It is, well, it appears to be at first just another part of Paris, the regular part. But it's also transformed into the magical world."
"The Place Cachée is the square, and – as anybody who knows French will know the name means "Hidden Square" –  you walk through a statue and bang, you're into magical Paris." J.K. Rowling explains.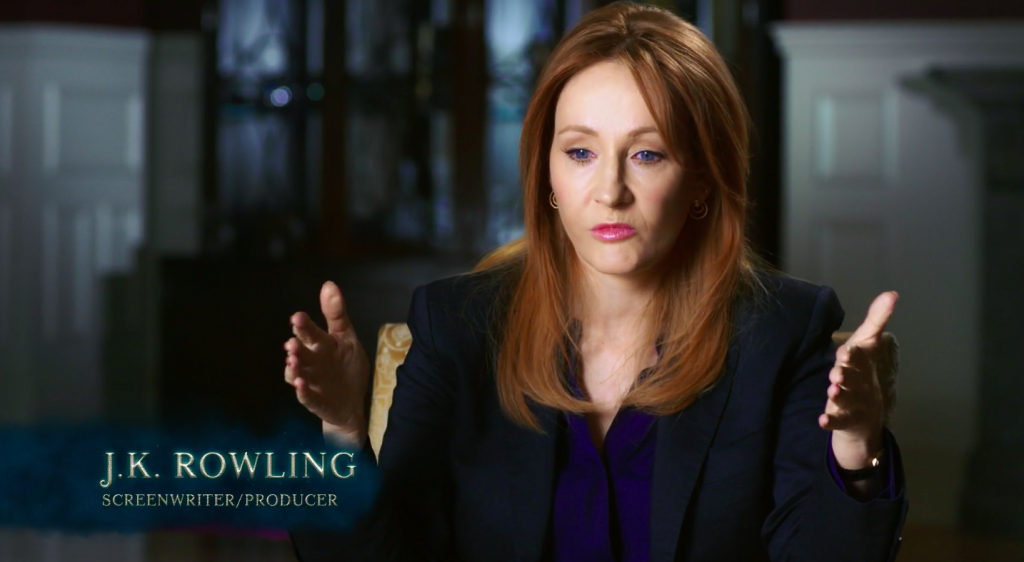 Alison Sudol is understandably entranced by the set: "It's like she's taken the spirit of Paris in that era and the spirit of the wizarding world and married them in such a natural way."
(See if you can spot Tessa Netting, Anna Brisbin (Brizzy Voices), Arabella (Amazing Arabella) and Jamie Jo (BananaJamana) walking around the sets in this scene, too!)
Anna Pinnock explains some of the choices when designing the Place Cachée set: "Stuart particularly felt it was important to pay homage to Diagon Alley, to have that connection."
"It is a full-on Diagon Alley, but in Parisian buildings." Stuart Craig agrees.
Place Cachée transforms entirely from a muggle square into a wizarding square, depending on if you're able to walk through the magical statue, and this change required a lot of work in terms of set decoration. Martin Foley explains: "Anna Pinnock and her team did an amazing job at refilling all the shops with wizarding merchandise."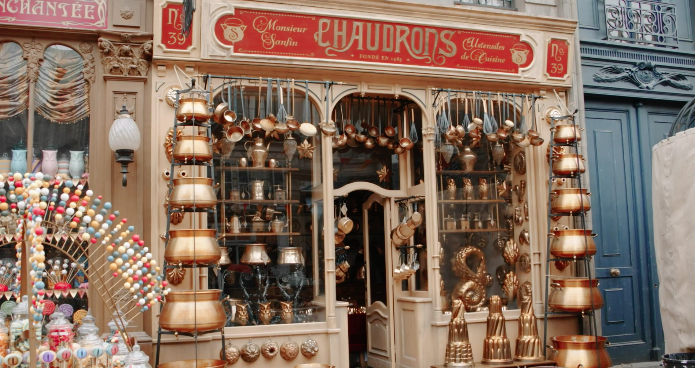 We even get a glimpse at a cauldron shop!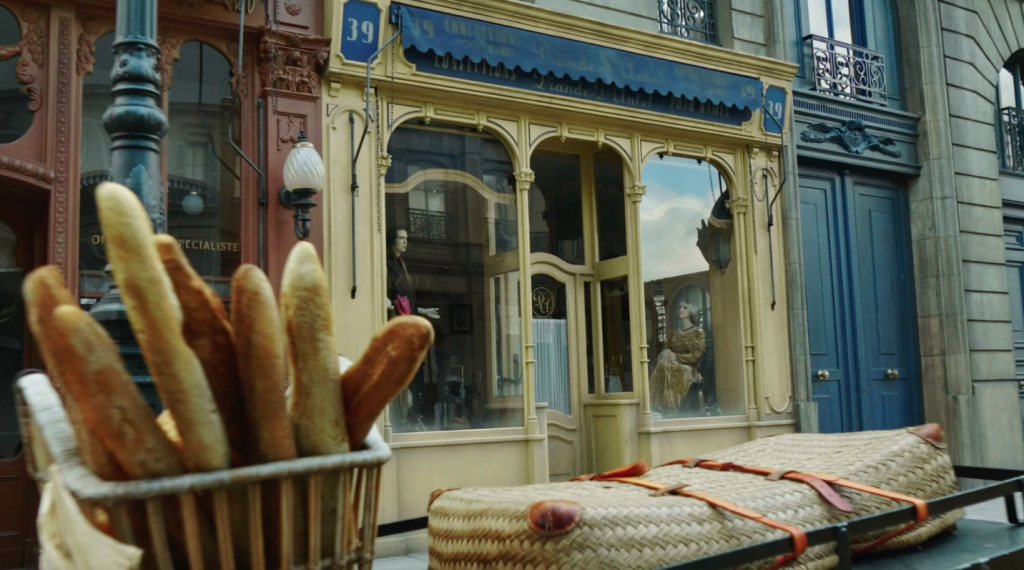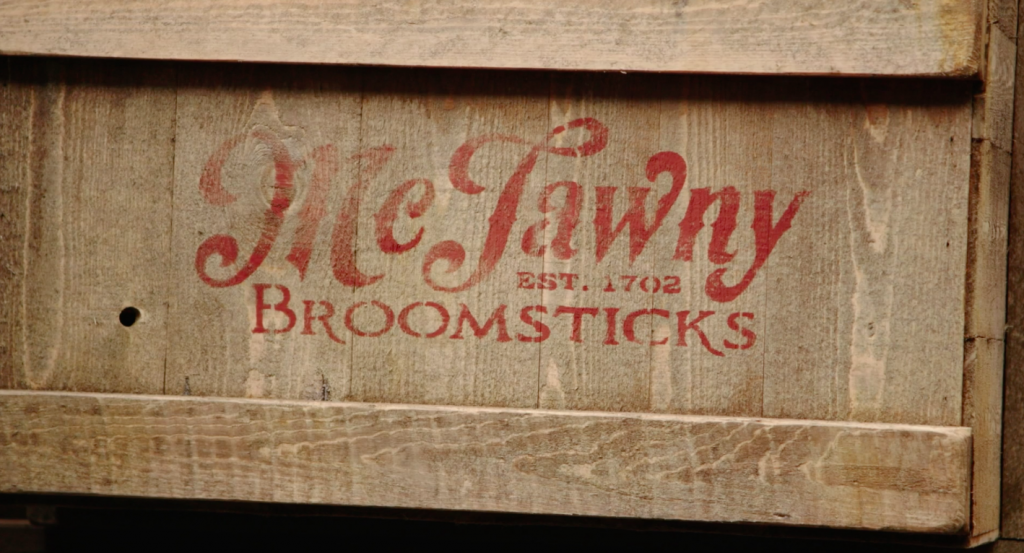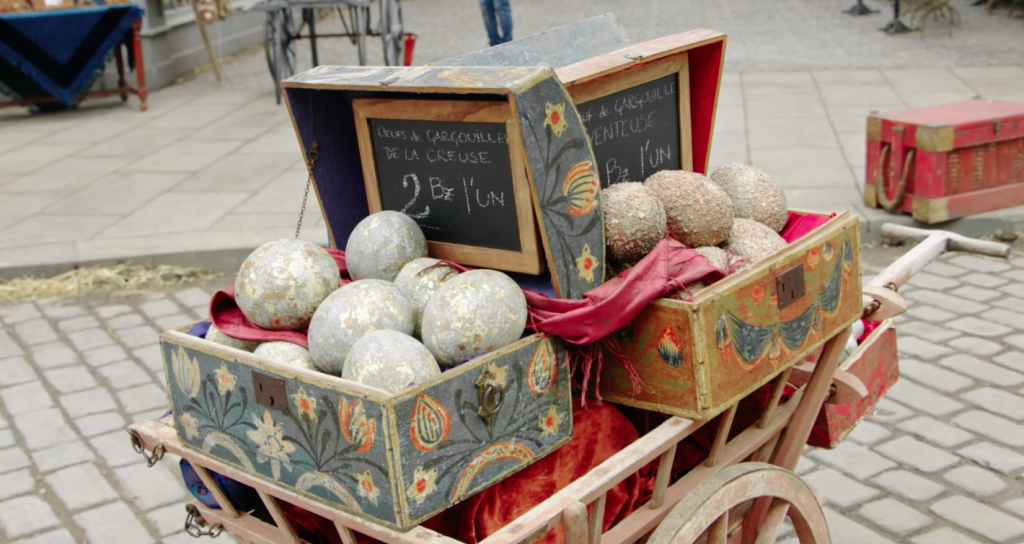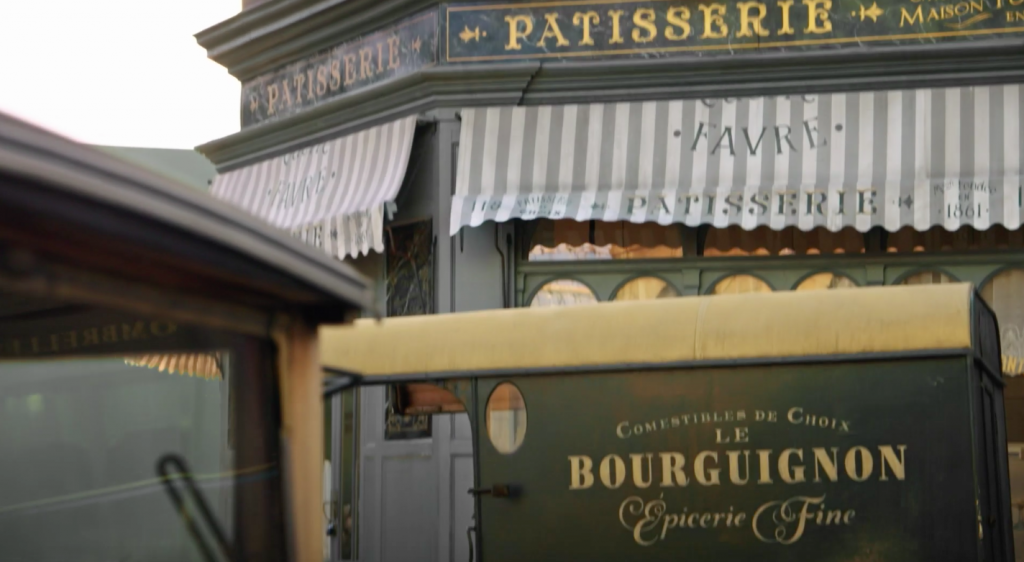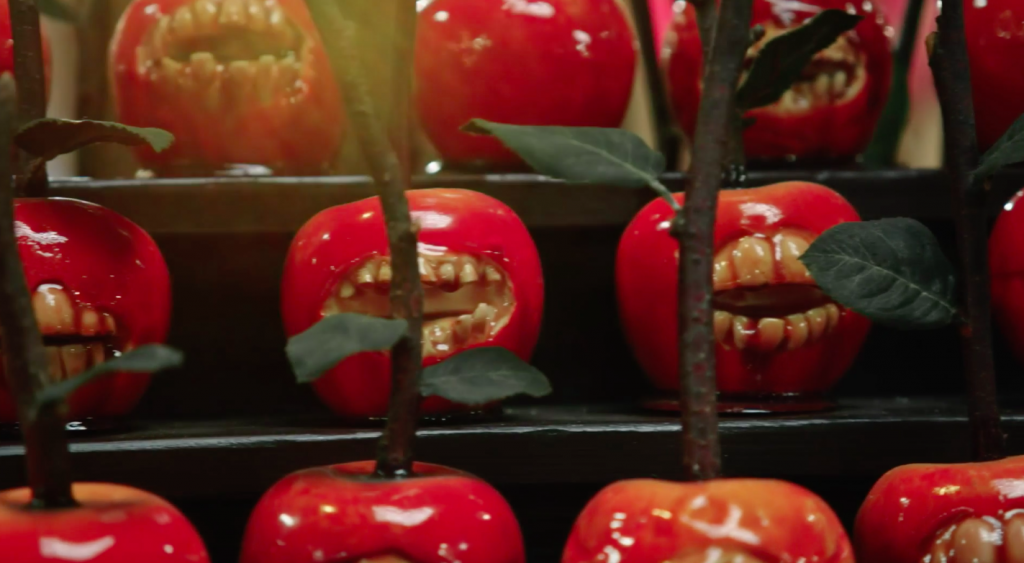 "As you'll see from the set dressings in the windows, there's cauldrons and Quidditch," begins Stuart Craig.
"-Wands," continues Pierre Bohanna, "Carriages, dressing for streets, funky candyfloss machines – we make everything here."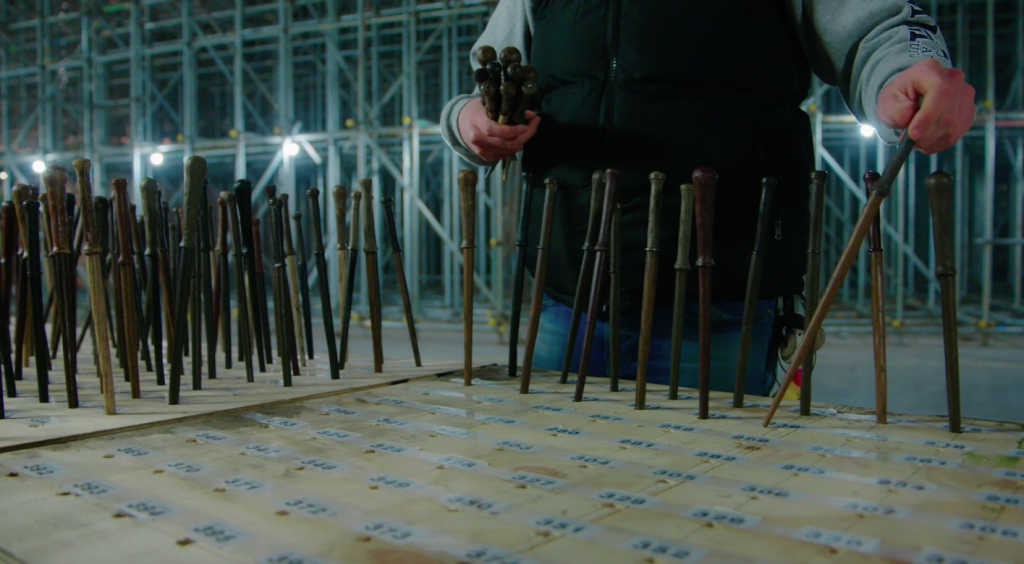 J.K. Rowling confirms the Diagon Alley connection: "Place Cachée is where you would go to do your magical shopping, and it's also where the circus sets up shop."
We get to see some of the concept art for the film in the behind-the-scenes videos, and here we see an image of Le Cirque Arcanus: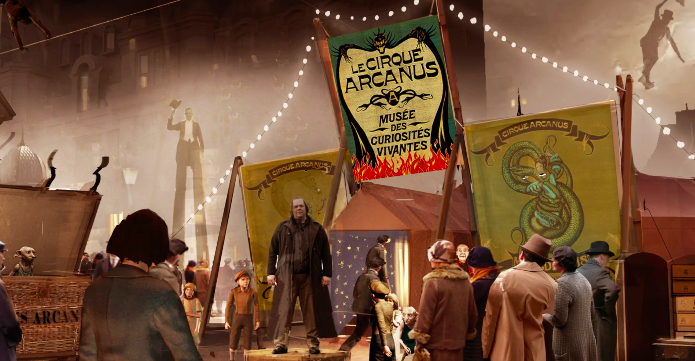 "The circus had a charming old fashioned design," says Anna Pinnock.
"For the circus on the street we painted that kind of ten to twelve foot banners with the creatures on, like circus banner artwork," says Julian Walker.
"We had to build three tents in the end," Martin Foley continues, "One for the interior, the exterior, and a tiny miniature tent."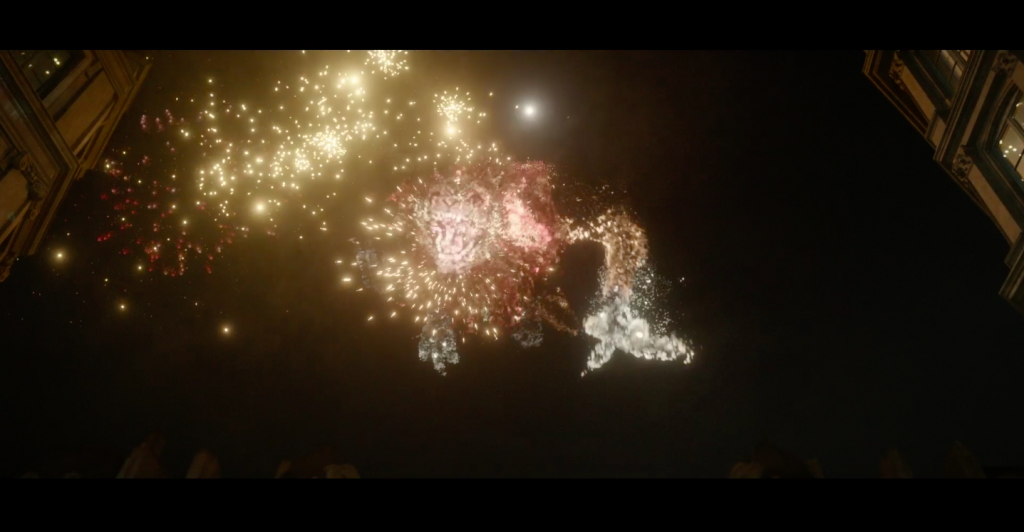 Anna Pinnock explains how they created an air of excitement: "We put lots of street carts and sideshows outside, we strung up festoon lights."
"We had all the costumes and the background filling it with wizarding characters, as well," says Stuart Craig.
Paul Hayes explains the monumentous job it is to create sets like this: "You don't realise the effort that goes into everybody's department. It's wondrous."
J.K. Rowling finishes: "The art department's my favorite department, in the whole of Leavesden. What they do is entrancing to me."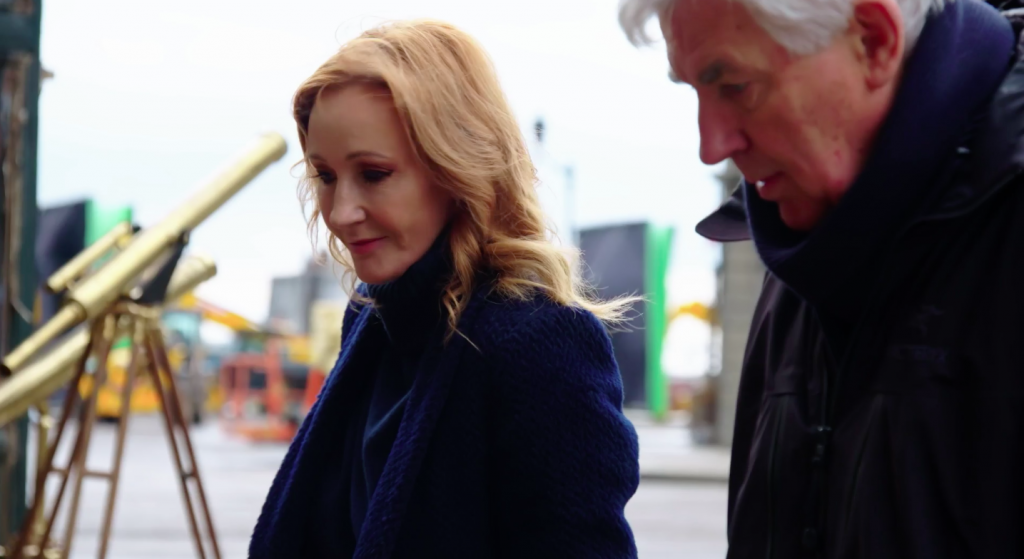 We completely agree!
Not wanting to spoil too much of the Extended Cut, in our rewatch so far we've found extra scenes with Credence and Nagini, Dumbledore and McGonnagall, Leta Lestrange and much more, but look out for a full write-up coming up soon!
See more behind the scenes clips like this in the Digital HD extended cut (available in the U.S. now), and find out how to pre-order the 4K UHD edition, Blu-Ray combo pack and DVD special edition (out March 12th) here. Also be sure to check out the Barnes & Noble edition, which contains an extra scene with Nicolas Flamel!
For more behind-the-scenes information, check out Pottermore Publishing and Audible's behind-the-scenes audiobook  Fantastic Beasts: The Crimes of Grindelwald – Makers, Mysteries and Magic, and our interview with producer Hana Walker-Brown here.