SDCC 2019 Day Three: "Collecting Harry Potter" and Magical Merch!
Jul 21, 2019
Leaky reporters Lauren Osborne and Sydney Dean returned to the San Diego Convention Center for day three of SDCC 2019. With plans to apparate from booth to booth, it was important to have the floor scoped out. Strategy pays off, as master chess player Ron Weasley would tell you. On Friday, Lauren and Sydney snagged an exclusive interview with Cursed Child's Nicholas Podany (Albus Potter, Broadway) and Jon Steiger (Scorpius Malfoy, San Francisco)!
But before covering the booths and attempting to track down more Harry Potter alums (isn't that always the goal?), Lauren and Sydney made a beeline for the "Collecting Harry Potter" panel on Saturday. If you're like us, you're always looking for unique wizarding world memorabilia, and tips on finding the best collectibles for the best price are, well, priceless.
So we were super excited to receive a replica of Harry Potter himself from McFarlane Toys for participating in the panel Q&A! (Lauren and Sydney may be dueling for this later…)
We're back for Day 3 of @Comic_Con and they were ready for us at the #HarryPotter Collectors panel where we heard news on upcoming products from @McFarlaneToys1 and @insighteditions !?? Thanks to #McFarlaneToys for our own replica of The Chosen One for participating!!?? pic.twitter.com/1cvJdLwNow

— The Leaky Cauldron (@leaky) July 20, 2019
We asked McFarlane Toys if they are limited to making replicas based on the Warner Bros. movie adaptations or if they are  able to include book-canon concepts.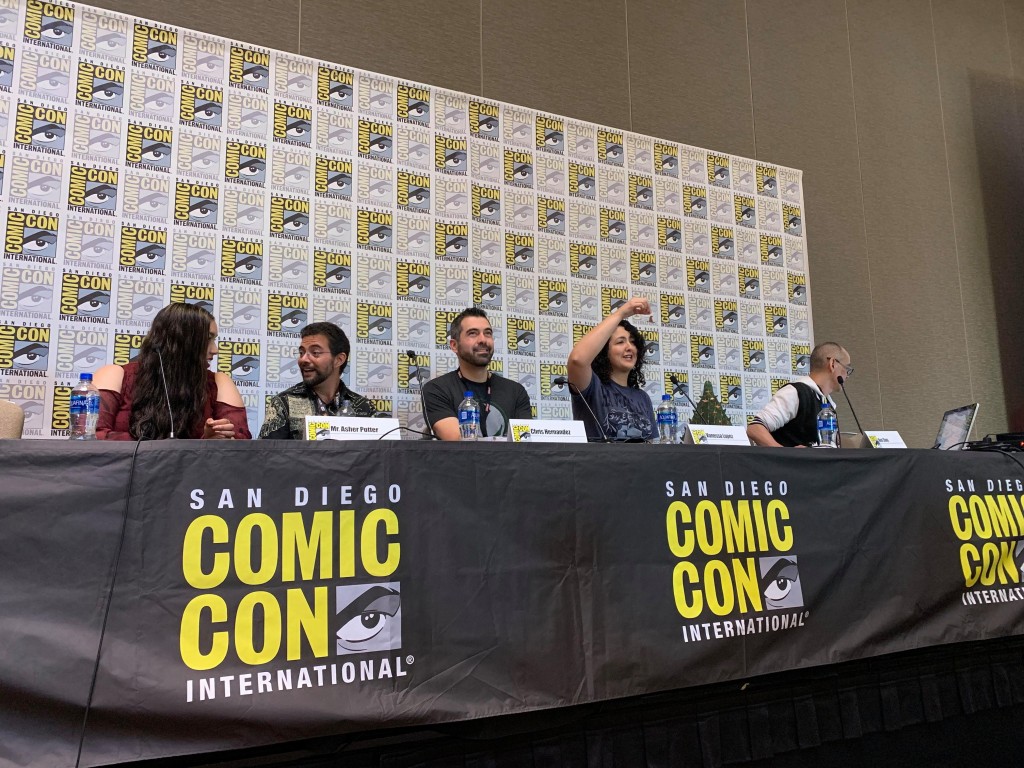 Chris Hernandez replied that they are limited, generally, to the Warner Bros. license, but they are able to expand outside of that if Warner Bros. approves–it's all up to them. (Very interesting!)
We also learned that McFarlane Toys has new Harry Potter figures in the works, but they're not allowed to disclose any specifics…yet. So that's clearly something we'll be keeping an eye on for future reports.
Insight Editions also mentioned that they plan to release a sister pop-up book to Harry Potter: A Pop-up Guide to Hogwarts, which will be centered around Diagon Alley. Considering how incredible the original is, and how many possibilities there are for a Diagon Alley-based pop-up–the shops, The Leaky Cauldron and more!–it's sure to be magical.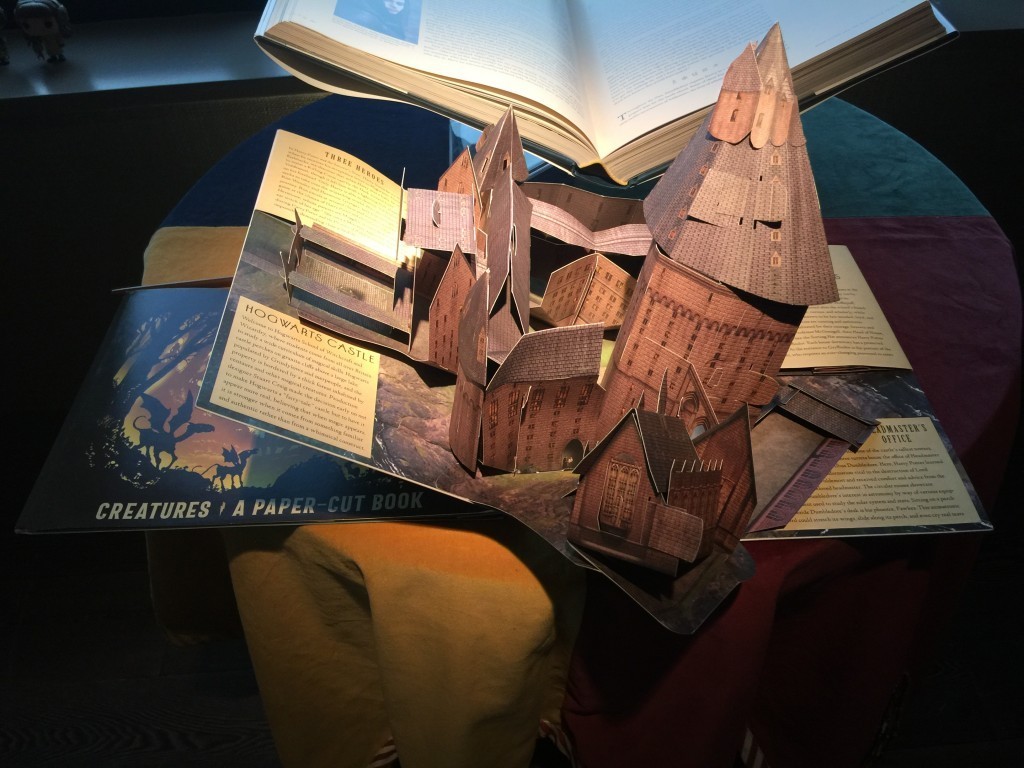 (A Pop-Up Guide to Hogwarts, above photo courtesy of the Warner Bros Product Showcase.)
Insight Editions will also be releasing micro Harry Potter books in the fall of 2020 which will be part of their series of mini Harry Potter books and tiny Harry Potter books–but even smaller! (We may have to brush up on our charms, as it seems Engorgio! may be required.)
Finally, their secret keeper broke down and revealed that customers who say Expecto Patronum to the cashier while checking out a Harry Potter product at their booth, receive a Harry Potter gift! (The convention center may need an Undetectable Extension Charm to handle the crowd at Booth #3721 after that announcement.)
Of course, Lauren and Sydney rushed straight there…
Taking a look at the new #HarryPotter Spells & Charms book by @insighteditions at #SDCC! ??@Comic_Conpic.twitter.com/nM1Adhx7f3

— The Leaky Cauldron (@leaky) July 20, 2019
Every piece of paper in these @insighteditions#HarryPotter cards at @Comic_Con is hand-rolled and glued individually! ? We also love these notebooks! #SDCC#SDCC2019pic.twitter.com/M6jQittEi6

— The Leaky Cauldron (@leaky) July 20, 2019
Look at this INCREDIBLE #HarryPotter Christmas pop-up book from @insighteditions, too! ? #SDCC2019 @Comic_Con pic.twitter.com/dRwUUWz0Yl

— The Leaky Cauldron (@leaky) July 20, 2019
How CUTE are these tiny #HarryPotter books?! Micro HP books (even smaller than these!) will be released fall 2020, we were told be @insighteditions#SDCC2019#SDCCpic.twitter.com/bO6Z8f971d

— The Leaky Cauldron (@leaky) July 20, 2019
The LEGO booth did not have anything wizarding world related on display this time round, and Funko was out of their event exclusives by the time we arrived, but Hero Collector, who announced their upcoming Niffler figure on SDCC day one, and Icon Heroes had Potter products for us to admire! Check out the magical merch we found at their booths.
A huge thank you to @HeroCollector_ for gifting our reporters w/ these INCREDIBLY COOL figurines! You can visit them at booth #3721 to see the rest of their #HarryPotter collection!
We also laid our ? on this incredible statue of the Headmaster from @iconheroes!?#SDCC50pic.twitter.com/WpYURTgkRo

— The Leaky Cauldron (@leaky) July 20, 2019
Lauren and Sydney then stopped by Her Universe (Booth #1321), where they got an up-close look at the new capsule collection of Harry Potter-inspired dresses debuting at SDCC, as well as more of their Hogwarts-themed merch. The dresses were even more stunning in person!
We got a closer look at the gorgeous new #HarryPotter inspired line of dresses from @HerUniverse that debuted at @Comic_Con this weekend!!??
ICYMI– check out all the details on the new collection here:https://t.co/T0j3o2rPCn#sdcc50 pic.twitter.com/LaxZEAbgU0

— The Leaky Cauldron (@leaky) July 21, 2019
"The Psychology of Fantastic Beasts: The Crimes of Grindelwald" did not make it onto the packed agenda, however, (they had to return the Time Turners, you see), but we still kept up with all the interesting updates from those who were able to make it, and it sounds like the panelists did a great job emphatically encouraging everyone to realize they aren't alone and can be a hero in their own lives. Just another enduring lesson from J.K. Rowling's epic series!
"Our origin stories are just the starting point; the rest of our story is up to us." @ShadowQuill talking about how #HarryPotter helps us see that we are not alone and that we can become our own version of a hero in real life ? #SDCC#HarryPotterTherapypic.twitter.com/wKG5PDn9I6 — Lynette ? WizardPhD @ SDCC (@profLynette) July 21, 2019
Finally, we heard whispers from Hall H that an unexpected Potter/Marvel crossover was announced before the day's end. According to Deadline, Jeffrey Wright will narrate a new animated series for the Disney+ streaming service which will "explore a pivotal moment from the Marvel Cinematic Universe and turn it on its head, leading the audience into uncharted territory."
The series, titled What If…, will feature many of the original actors from the Marvel Universe reprising their roles with voiceover work. This means Toby Jones (Dobby) will be back as the infamous Dr. Zola! 
Most of the iconic Marvel Cinematic Universe Actors will reprise their roles in 'WHAT IF…?' #MarvelSDCC#SDCC#SDCC2019pic.twitter.com/82HSznfZ6R

— DiscussingFilm @ SDCC (@DiscussingFilm) July 21, 2019
Now that's what we call an incredible end to another magical day at San Diego Comic Con, and stay with us for updates on the fourth and final day of SDCC 2019!