Rupert Grint's Interviews with IGN and Entertainment Weekly: 'Moonwalkers', 'Fantastic Beasts', and 'A Celebration of Harry Potter'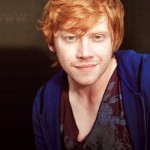 Jan 18, 2016
Last Friday, IGN published an interview with Rupert Grint covering everything from his latest appearance in Moonwalkers to his attendance of A Celebration of Harry Potter next week. Entertainment Weekly published an interview on the same day, and extracts from both can be read below.
During the interviews, Grint spoke about working with Fantastic Beasts actor Ron Perlman – hopefully we can expect to hear more about Ron Perlman on the set of Rowling's newest screenplay!:
IGN: You and Ron Perlman together is an interesting pairing. He seems like such an intense guy in his onscreen presence. What's he like to work with?

Grint: I remember first meeting him. He's such an imposing guy. He's huge. He's Hellboy! So I was kind of quite scared. He's really sweet and hilarious and has so many stories. He's hilarious and fascinating to be around and he's really funny as well. You don't really associate him with comedy but he was cracking us up, especially in that scene where he's tripping acid. I remember it took us a few takes to get that right.
Much alike his recent interview with IMDb, Grint spoke about the differences of working on a huge budget film like Potter, to working on a smaller film like Moonwalkers:
IGN: Having worked on movies with big special effects sequences, was it fun to do a film where you're purposefully trying to portray a goofy side to it, with these guys trying to pull this stuff off, bouncing around on wires, out of control?

Grint: Yeah, that was one of my favorite scenes, I think, was messing around with wires in an astronaut suit. We were surprised how easy it is to recreate the moon. It really did look very realistic. It was a very different experience from Harry Potter, but in a way I find it a lot more fun. it's quite exciting. The story for this whole film is very spontaneous and had this crazy energy where you never knew what was going to happen next or what was around the corner so it was very exciting to work with.
He was also asked about his opinions on Fantastic Beasts and Cursed Child, and no longer being a part of the cinematic (and theatrical) process of building the Wizarding World:
IGN: The first teaser for Fantastic Beasts and Where to Find them was recently released. Is it interesting for you now, having been a part of Potter for so long, to sit back and observe and just be a spectator?

Grint: It wasn't a thing I had thought a lot about until now, when things kind of started to move. It's a weird feeling but also it's great. It's an amazing testament to J.K. Rowling that it's kind of living on even more. It's exciting. I'm really looking forward to seeing it and it's going to be really different. It's a different perspective and a different side to the magical world. I'm looking forward to it. It's an amazing cast. Ron's in it – Ron Perlman! It's very surreal but I'm looking forward to it.

IGN: I imagine it's also pretty surreal for you that the Harry Potter play is happening. Again, it's a testament to what Rowling has created, and there will probably be a lot of people that portray these characters down the line, but is it strange for you that someone else is playing Ron Weasley for the first time?

Grint: Yeah. It's kind of weird. It will be very strange to watch. I'm looking forward to it. it's very fresh and it feels like a new thing. It didn't feel like that long ago we were filming the last film. it's great that it's living on. It's all really exciting.
He also says he's excited to be attending A Celebration of Harry Potter next week, and that he's still astounded by the loyalty of Potterheads:
IGN: You're appearing at and event at the Wizarding World in a couple of weeks in Orlando, and obviously see the fandom has not gone away. I'm guessing there were moments in the middle of it where it was a bit overwhelming. Now, in some ways, are you able to appreciate it a bit more?

Grint: Completely, yeah. When we were filming it, you don't get a huge sense of that because you're in that moment and it's a laborious kind of routine. You get lost in that. Since we've finished, it's really amazing to see how loyal [fans are] and people haven't really forgotten about it, which is amazing. It makes you feel very proud to be a part of it. It's great. I'm looking forward to Orlando. It's great to see everyone still really excited and enthusiastic about it.
Rupert also spoke about the 'unusual' type of film Moonwalkers presented itself as, saying that he was surprised by the end result:
IGN: This is a fun, unusual concept. How did they first describe Moonwalkers to you and what was your reaction?

Rupert Grint: It kind of blew me away. It was just ridiculous. I had known about this conspiracy theory before because I'm into all manners of conspiracy and this just seemed like so much fun. I can really see it. I met the director [Antoine Bardou-Jacquet] and he's crazy himself, very French, and he just had this vision. It was great fun. I was working with two amazing actors, Robert Sheehan, who I'd worked with before, and Ron Perlman, who was great. It was this crazy kind of two months in Belgium. It was good fun.

IGN: The film opens and it's quirky comedy, but then it gets pretty intense on the action side. Is that appealing to you when a movie can take a quick veer like that?

Grint: I didn't realize it was that violent until I saw the finished product. At no point was I concerned with how graphic some of the violence is, so it was quite a shock when I saw that. But yeah it just adds to the craziness and stupidity of it. it's a lot of fun. It's an hour and a half of mayhem.
During Entertainment Weekly's interview, Rupert also discussed conspiracy theories, and how Moonwalkers make him feel differently about their plausibility:
"It felt really free and spontaneous," Grint says. "We had the freedom to do what we wanted. You get that sense watching it that it was fun to make."

Grint says he's always been interested in conspiracy theories. Despite Moonwalkers' obvious farcical aspect, he says it did make him think twice about the real life moon landing. The film, in fact, remains slightly vague about whether the actual moon landing was successful or not.

"The conspiracy was something I've always read a lot about, but I kind of dismissed it," Grint says. "Filming this, it gave me a few second thoughts. Our fake moon was easy to make, and a lot of the film is pretty ambiguous either way. That's quite a human instinct as well, coming to your own conclusions that not everything you're told is real."
Entertainment Weekly also discussed Rupert's views on the extensions to the Wizarding World universe in their interview, and apparently it makes him 'feel kind of old' – we're with him on that front – Deathly Hallows was finished by Rowling nine years ago last week, and this year marks the 15th anniversary of The Philosopher's Stone!:
"It feels very strange not to be involved in that world anymore," Grint says. "It's nice to see it from a different angle. I think both projects are both kind of reinventing it. They kind of feel like their own things, which is really cool. It's really amazing to see it move on and still be relevant to people."

Grint, for one, is happy to see the franchise continue to stay relevant even after he has moved on.

"It makes you feel kind of old," Grint says. "I never would've dreamed this. You thought people would just forget about it. I meet new people every day and see that new generations are discovering it. It makes you proud to have had a part in it. I'm really looking forward to the play, and the cast of Fantastic Beasts is amazing. It's gonna be great."
Read more from IGN's interview here, and Entertainment Weekly's article here. Make sure you see Moonwalkers – now out on Netflix, and watch out for more updates from A Celebration of Harry Potter!