Imelda Staunton Discusses Stage Career and Upcoming Roles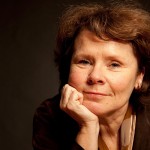 Feb 20, 2017
Imelda Staunton is best known to Harry Potter fans as Dolores Umbridge, the one antagonist we hate almost more than Voldemort, but she has long been a beloved staple in British television and film. In the last few years, however, she's also become something of a stage darling, with award-winning turns in the West End productions of Sweeney Todd (2011) and Gypsy (2014).
Now she's set to take on the famous role of Martha in Who's Afraid of Virginia Woolf?, followed closely by a run as Sally Durant Plummer in Follies, and she recently spoke with the Guardian about her stage career and the success she's achieved–in spite of her own reluctance.
Staunton revealed that she initially took the role in Virginia Woolf because–how do you say no to producer Sonia Friedman? (Yes, that Sonia Friedman, who's currently picking up awards left and right for Harry Potter and the Cursed Child and has multiple other projects in the works.)
But Staunton was, in all honesty, relieved when it seemed the production would fall through due to problems securing the rights. When things got back on track, she had to buckle down and get on with it. She confessed:
"Maybe it's that I'm slightly intimidated by having to follow in very, very big shoes…I will get into them. I bloody well will. But to be compared with… Of course, that's nothing to do with anything, really. The piece is the thing, and the struggle, the challenge."
She seems to accept, however, that the anxiety is part of the creative process, though the fear inherent in taking on new material–precise, taxing material, at that–and bringing it together well does take its toll. She explained:
"As we're still discovering, [Virginia Woolf] is about the hell of this woman's life, even before we get to her marriage. It's about self-hatred and lack of love and that sort of stuff, all of which is a pretty good basis for drama, isn't it? But if you're playing a person who is damaged and depressed and alcoholic every day… yes, it's your job, but it also never leaves you. My face [with one hand, she pulls down the corners of her mouth] is like that when I get home. My husband [the actor Jim Carter] will say: 'Here she comes, Chirpy!' I have to go and have a bath and wash it away a bit."
And though Staunton took a much needed respite in 2016, when Who's Afraid of Virginia Woolf? ends its run in May, she'll have only one month before diving into rehearsals for Follies.
She didn't seek that one out either but, as now seems typical, couldn't turn it down. And though she may have her own reservations, everyone else is sure she'll be fantastic. Leaky previously reported on her casting and quoted National Theater director Rufus Norris as saying:
"We are thrilled Imelda Staunton and Janie Dee will return to the National in 2017 in Stephen Sondheim and James Goldman's masterpiece Follies. Musical theatre is hugely important and of course, like audiences all over the world I love Stephen's work. Imelda's performance in Guys and Dolls at the NT is the stuff of legend and I am delighted she is to take the lead in Follies under the direction of Dominic Cooke."
She takes the success and accolades in stride, suggesting that its due in large part to good timing–though her work ethic and exceptional talent certainly have a good deal to do with it, as well. She commented:
"Well, from my point of view these are great parts that have come at the right time. I couldn't play them if I was younger. But I'm a character actress. Maybe it is more difficult for actors who've always played lead roles. But I will turn up and do a small part. I can duck and dive. I can keep working. I always thought to myself: there'll be a little job. I've never been the kind of person who would say [she makes her voice grand]: 'I think I should be playing X or Y.' It's more a case of: this is what is being offered, so do you stay at home, or do you work? Realistically, I've never thought about status, because what could I do about it? Absolutely nothing."
Her perspective is admirable and, though it may have come as a surprise, she's become a driving force in theater–for good reason! Staunton added:
"I respect the job enormously. I don't just turn up. I work really, really hard. I wake up every morning at 4.30, thinking about it all. But wherever you are on the ladder, there's always someone above you, and there's always someone below you. You can either get off the ladder completely, or you can accept that you go up and down. Work: it's what you are."
And when it's about the work rather than the fame, you can't go wrong.
Who's Afraid of Virginia Woolf? opens this Wednesday and runs through May 27th. To read the full Guardian interview, click here.