Jack Thorne BAFTA Win & Woyzeck Opening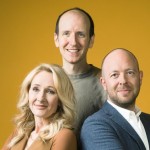 May 15, 2017
Jack Thorne is rapidly becoming one of the busiest scriptwriters in TV and theatre, and after his work on Cursed Child paid off at the Olivier Awards, National Treasure – starring Harry Potter's Robbie Coltrane and Julie Walters – won Best Mini Series at the BAFTA TV awards last night!
What's more, after a collaboration between Thorne and La La Land director Damien Chazelle on new musical The Eddy was recently announced, Woyzeck – starring Star Wars's John Boyega has its opening night tonight at The Old Vic theatre in London.
.@JohnBoyega @BattRatters So lucky to collaborate with @joelukemurphy1, @po_b & @tomscuttdesign on it. Wrote a bit in the Guardian about it – https://t.co/4mSMiXH0oG

— Jack Thorne (@jackthorne) May 15, 2017
Thorne wrote on the opening of Woyzeck for The Guardian (much like he did for the opening of his musical Junkyard in Bristol), speaking of the original (unfinished) work it was adapted from by Georg Büchner in 1837. Thorne says that the priority when adapting the work was to "read as many versions" as he could, and to ask himself what he could bring to it. Much like he did with Potter, we assume, he had to shape his voice to suit the play at hand, "grapple with its soul".
A story about a soldier's reactions to trauma, he speaks of choosing to set the play in 1981 in Berlin, an "oasis in a sea of communism", and how he brought personal stories to the play:
"I realised I could tell the story of my classmates who joined the army. At my school, when kids went into the army at 16, they didn't do it in a gung-ho, Tom Cruise, Born on the Fourth of July way. They were generally – and I hope this doesn't offend them – the more vulnerable members of the class. They enlisted seeking family, and they didn't always find it. Also, Woyzeck is often described as the first working-class tragedy. Joe and I spent a long time discussing what that meant, and how to bring it out. We didn't want it to be a play about overt oppression – we wanted something more subtle than that."
He commends the cast for "giving life to the monstrous, the natural, the romantic and the funny" before a reminder that Woyzeck can be seen at The Old Vic theatre in London from May 15th – June 24th.
Read the full piece here, and see a photo of the cast – including John Boyega – below!
Tired out tech actors @JohnBoyega @BattRatters Sarah Greene and Nancy Carroll. #Woyzeck @oldvictheatre pic.twitter.com/f5Zrf9XpYQ

— Hannah Joss (@JossHannah) May 13, 2017
Congratulations to Jack Thorne on another award, and on the opening of what sounds like another brilliant stage adaptation! Read more about the BAFTA TV winners here.