YA Actor Round-Up: Felton Serenades Prague, Radcliffe Opens Film Festival & More!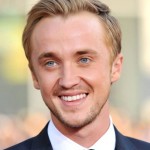 Jun 16, 2017
The young Harry Potter alums have been in the news frequently this week, with film distribution and promotional news for Robert Pattinson, Zoe Kravitz, Daniel Radcliffe, and Emma Watson, casting news for Rupert Grint's Sick Note, a new trailer for Domhnall Gleeson, and interviews with Bonnie Wright and Oliver Phelps. Oh, and Tom Felton serenaded passers-by on the streets of Prague!
Pattinson, known for portraying Hufflepuff Cedric Digory, next appears in Good Time, which recently premiered at the Cannes Film Festival as a competition title. As reported by Leaky, he plays Connie Nikas, a Queens native who takes it upon himself to free his brother, nabbed by police during a failed bank robbery, from prison.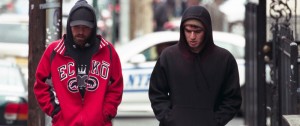 The Hollywood Reporter reported that Netflix has acquired the Safdie brothers' film for numerous international markets and entered into deals with multiple distributors to handle traditional theatrical releases. Netflix will have streaming rights in the UK and Ireland, Spain, Scandinavia, Australia and New Zealand, Japan and South Korea, and others.
CDC will conduct the theatrical release in "Spain, Movies Inspired in Italy, Cinemase Oy in Scandinavia, Activers in South Korea, Fine Films in Japan and Hi Gloss Entertainment in Australia and New Zealand." A deal for the UK should be announced soon. German-speaking Europe, Belgium, the Middle East, and North America will not partner with Netflix, having secured rights through other means, but this move signals a big change in the way films will be marketed and distributed to viewers in general.
In other film news, Zoe Kravitz, Fantastic Beasts' Leta Lestrange, appeared at a photo call with her Rough Night co-stars at the Crosby City Hotel in New York City.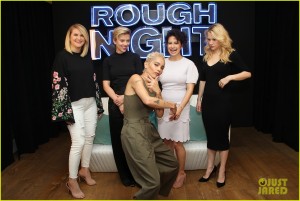 Leaky reported that Kravitz will play Blair in this circle of friends who reunite for a Bachelorette Weekend, which goes downhill fast after the accidental death of a male stripper. Hilarity ensues as the ladies panic and attempt to manage the situation. The film opens in U.S. theaters June 16, and the full gallery of promo images can be seen at Just Jared here.
While Kravitz heads to theaters, Emma Watson, our beloved Hermione Granger, heads to stores as The Circle gets Blu-ray, DVD, and Digital release dates.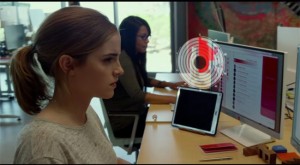 Watson plays Mae Holland, a recent graduate who lands her dream job at a large tech company. However, as Mae works closely with the CEO, played by Tom Hanks, she begins to see the far-reaching effects of the way they use the transparency of their subscribers and the wealth of personal information they acquire, and she fears the social experiment is not as desirable as it seems.
The HDRoom announced that the film will be available for digital streaming July 18 and on Blu-ray and DVD on Aug. 1. And, in case you missed it, Watson's certifiable hit Beauty and the Beast is now in stores, having released in Blu-ray and DVD format June 6!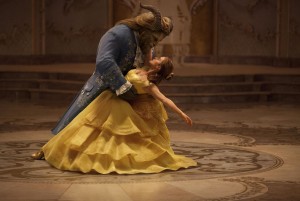 Daniel Radcliffe will also see festival success with the premiere of his upcoming film Jungle, which opens the Melbourne International Film Festival. Radcliffe stars as Yossi Ghinsberg, an Israeli who embarks on an Amazon adventure with two friends. The film, directed by Greg McLean, tells the true story of the disaster that followed.
No doubt lending an authentic air to the thriller, McLean told the Sydney Morning Herald that filming in rain-swollen rivers presented many difficulties. On one occasion, he said:
"We returned to our location the day after we'd been shooting with Daniel and Alex to find it was now 20 feet underwater. The river had risen that much over night and washed whole villages, trees and farm animals upstream."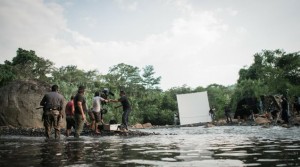 McLean added that what drew him to the harrowing tale is that it's a story about resilience and transformation. He said:
"[Ghinsberg is] a character who simply refused to give up, against incredible odds, and who via this desperate struggle to escape a hostile environment discovered a kind of spiritual awakening – really, through suffering."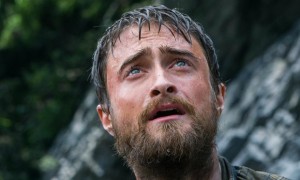 The Melbourne International Film Festival will run from Aug. 3 to Aug. 20.
Moving to the small screen, A.V. Club reports casting news for the second season of Rupert Grint's Sick Note, summarized as follows:
"Grint stars as a compulsive liar but the otherwise healthy guy who must live the illness lie to prevent embarrassment for his incompetent doctor or something. Keeping up the charade won't prove too difficult for him because of his aversion to the truth, though he also has to deal with a dead-end job in insurance."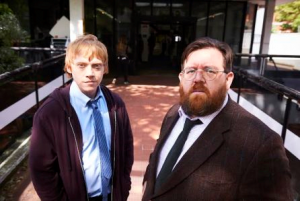 Lindsay Lohan will play the daughter of Grint's supervisor, portrayed by Don Johnson. No details have been released about upcoming plot arcs or how her character will factor in, but the UK premiere is set for the fall.
Weasley brother Domhnall Gleeson appears in a trailer for his AA Milne film, finally titled Goodbye Christopher Robin.  The biopic focuses on Milne's relationship with his son Robin, the inspiration for his famous children's stories. Empire Online reports the film, directed by Simon Curtis, is set to release in the UK Sept. 29 and will open in the U.S. Nov. 10. View the trailer below.
Bonnie Wright, known to fans as redhead Ginny Weasley, spoke to Into the Gloss about her transition to the U.S. West Coast and how that has affected her beauty regime. She said:
"I was born in London, but I live in Los Angeles now. I don't think I chose to make the move for career purposes—in reality, I think I just wanted more space. I very purposefully chose to live somewhere completely different than where I grew up—I'm very interested in how your environment affects your ideas and work and everything. You'd think that in London or New York, there's so much energy around you, and that would translate to getting work done… But I think I get more done here. There's more mental space. I've been here for the past eight months, and my hair goes lighter, and I have freckles, and my eyes are bluer. It's really strange. A lot changes when you're constantly in the sun."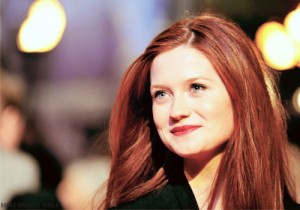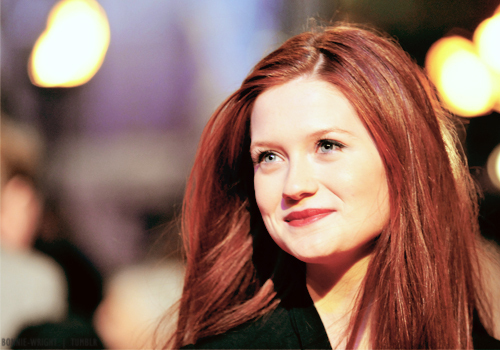 For details on her skincare, hair, make-up, and body care rituals and favorite products, read the full feature here.
Not to be outdone, Oliver Phelps, one half of the Weasley twins, spoke to the Huffington Post about the Harry Potter films. Recalling one memorable on-set moment, Phelps shared that J.K. Rowling gave the boys some additional insight into their characters:
"I remember we were in Rupert's dressing room on one of the later films, and she came in and totally blindsided all of us. I think we were doing something silly, like, we were playing darts but with a crossbow or something not very mature. And she explained where the twins characters came from and where their influences are and stuff like that. I didn't want to rock the boat too much and ask, 'Well, what do they do afterwards … what does one of them do afterwards?' But it was quite interesting learning the backstories and where the characters came from."
Whatever Rowling revealed, Phelps kept the particulars to himself, but he did feel free to offer his own explanation for what some consider a "glaring" plot hole in the early Harry Potter books. Why did the twins never mention Peter Pettigrew's presence on the Marauder's Map–and in Ron's room?!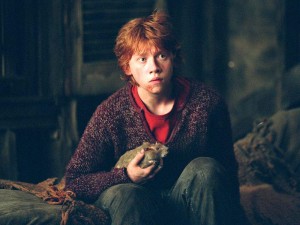 "'Maybe it's a boo in the family that no one talks of. "Who's this Peter bloke?"' said Phelps. He later added, 'Maybe it was an unspoken word in the Weasley's family,' insinuating, perhaps, that Fred and George didn't want to press Ron on a relationship he wasn't yet comfortable talking about. Sure, Ron was 11 years old when he first had brought Scabbers/Peter to Hogwarts, but maybe the relationship wasn't romantic. 

Phelps suggested that the family was probably surprised when Ron and Hermione got together.

'When it came out that he got with Hermione, they were like, "Oh."' said Phelps."
He was merely offering a humorous guess, of course, so fans will have to wait for the day Rowling gives her own explanation to know what was really behind the twins' silence–or such an egregious oversight, if they in fact never noticed!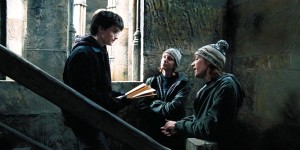 Phelps went on to discuss the series' end. After Deathly Hallows wrapped, it was an adjustment for James and him to move forward in the industry without the safety net they'd been accustomed to, but they've continued working and, though that sometimes takes them in separate directions, they've learned that they are most at home creatively when working together.
He then mentioned the show they've been developing, which Leaky covered in April when Phelps took to Instagram to tease a new project in the works. No details were revealed at that time, and fans were left to speculate over which genre the Phelps twins might settle into–scripted or reality–and what the driving theme of it might be.
Phelps has finally divulged:
"It's still under wraps to a point. I can say it's a travel documentary show, so the premise is we go to a certain city and we do two sides of the same city."
We'll continue to keep fans updated as more details emerge, but one thing is certain, any program featuring the Phelps brothers will be exceptionally entertaining! They aren't the only ones who know how to put on a good show–or goof around for a good laugh, for that matter. Tom Felton took a break from filming Ophelia with Daisy Ridley, Naomi Watts, and Clive Owen, Tuesday, and wandered the streets of Prague, singing and strumming a guitar.
He seemed mildly surprised that no one recognized him, but Felton took it in stride (and with a much more gracious attitude than a certain Malfoy would have, that's for sure!) Perhaps he enjoyed the rare moments of anonymity? Whatever the reason, it's nice to see that the Harry Potter alums are thriving in–and enjoying!–their careers and can, on occasion, still have moments where they don't take themselves too seriously.