London Is Open: 'Disco Pigs,' 'Cat on a Hot Tin Roof,' 'Antony and Cleopatra,' 'Road,' 'Pinocchio,' 'Cursed Child,' and More!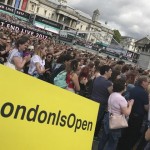 Aug 01, 2017
Many of the West End's most popular running shows banded together last week to support London mayor Sadiq Khan's #LondonIsOpen campaign. The shows, including Harry Potter and the Cursed Child, created videos aimed at encouraging visitors to discover the magic of live theater.
According to Broadway World, Khan also issued the following invitation:
"Whether you're looking for fringe theatre or the bright lights of the West End, London really is a global leader for world-class theatre. With some of the greatest musicals, drama and dance making their mark on our West End – from Wicked and Harry Potter and the Cursed Child to Les Misérables and Matilda – it is little wonder that London's Theatreland is an enormous draw for visitors and talent from around the world.

"There are fantastic opportunities for families to experience the thrill of a show-stopping performance over the coming weeks, with Kids Week providing free tickets for children. I'm saying loud and clear – London is open for business, creativity, ideas, talent, and open to everyone this summer."
Inspired by Khan's initiative, let's take a look at some of the current and upcoming productions featuring Harry Potter alums, which might draw fans young and old to the stage!
Disco Pigs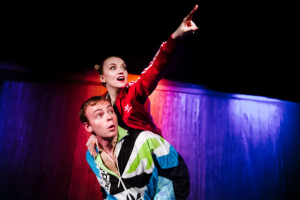 First off, Leaky previously reported on the premiere of Evanna Lynch's Disco Pigs last month. The revival opened to positive reviews, with WhatsOnStage praising her performance as one in which "her versatility and emotional honesty as an actress shines through."
Sam Clemmett (Albus Potter) and Paul Thornley (Ron Weasley) were among the first to attend, and other Potter alums have followed. Most recently, Katie Leung (Cho Chang) offered her support and called it "a brilliant, beautiful, inspiring performance," marking this as one fans should definitely plan to see!
Cat on a Hot Tin Roof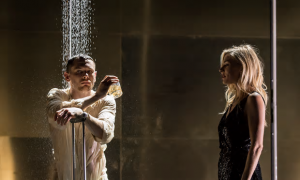 This Tennessee Williams' classic plays at the Apollo Theatre through Oct. 7. It stars Sienna Miller and Jack O'Connell, but reviews are mixed. It seems the actors haven't been able to recreate their big-screen magic on the stage. In addition to the uneven performances, Broadway World said the "lop-sided production is long and labored."
Equally unenthusiastic, the Guardian notes:
"Tennessee Williams makes his dramatic successors look like ingenues as he shows the fracture of a relationship and the despair of a nation. He does it by intense heat. But for most of the time the temperature here would not boil an egg."
However, if this play is a favorite, or simply one you've longed to see, you might be willing to overlook that which is less than stellar for the stand-out moments. Broadway World made sure to give credit where it's due, noting John Clark's lighting design and the magnificence of the sound design by Cursed Child's Gareth Fry. The review specifically calls their collaborative firework display effect a highlight of the play!
Antony and Cleopatra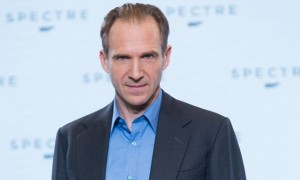 Broadway World also reported that another classic will soon return to the stage! Shakespeare's Antony and Cleopatra is coming to the National Theatre with Ralph Fiennes (Lord Voldemort) and Sophie Okonedo starring in the titular roles. Simon Godwin is in place to direct, but no schedule has been officially announced. Though that means it will miss the summer campaign, keep it on the agenda, Potter fans, as it is expected to run later this year.
Road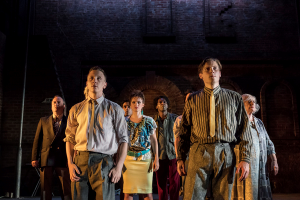 John Tiffany spoke to the Evening Standard about the productions he's directing, beginning with Jim Cartwright's Road. The play, which runs at the Royal Court Downstairs through Sept. 9, has been a favorite of Tiffany's since it was given to him by a drama teacher when he was a teenager. He recalled:
"It blew my mind…I was obsessed with theatre and loving the work of Caryl Churchill, Edward Bond, Howard Brenton and Howard Barker, people doing real formal experimentation. But Road was the first time I'd read a play written in a very true Northern dialect that seemed to have that excitement running through it."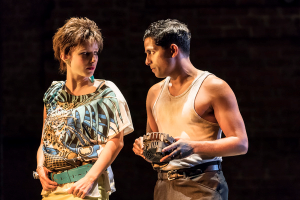 The play covers one night in the poverty-stricken town of Lancashire. Set amidst the economic, social, and spiritual emptiness of the mid-1980s, Tiffany feels it is every bit as relevant today as it was when first written. Though backed by obscure period music and fronted by classic 80s attitudes and fashions, it still manages to be timely.
Pinocchio
Next on Tiffany's agenda is the Christmas production of Pinocchio, which Leaky reported on earlier this year. It will feature memorable Disney songs, such as "I've Got No Strings," "Give A Little Whistle," "When You Wish Upon A Star," and "Hi Diddle Dee Dee," but will also include a plot infusion from Carlo Collodi's stories. Tiffany described it to the Evening Standard as follows:
"It's really dark. Kids love that, though! Of all the Disney films it feels much more like a European Grimm tale…that's why I wanted to do it here rather than over in America. It's going to take a European theatrical sensibility to pull this off."
It sounds like the play–and the puppet–will come to life through his characteristic ingenuity, as he continues bringing magic to the stage in unexpected and exciting ways!
Harry Potter and the Cursed Child
Speaking of magic, Harry Potter and the Cursed Child shows no sign of loosing steam on the London, or the world, stage. In fact, on Friday, Aug. 4, 400 tickets will be made available for the incredible price of £40 each (£20 per part) in celebration of this Sept. 1 being the actual date that J.K. Rowling's epilogue ended and Cursed Child began.
Though not all fans can make it to London, many are looking forward to the show's Broadway transfer, coming soon! Tiffany maintained that he's committed to keeping those ticket prices reasonable. He said:
"I don't think that just because people will pay a certain amount for a ticket that it's all right to charge it. It's very important to us to keep it accessible. [American producers] don't have the same sense of social responsibility, but we do. And we're calling the shots."
This is great news for fans who anxiously await any updates related to the New York opening of the production. The matter of accessibility is one less hurdle to cross in the quest to see the Harry Potter story in person!
The Ferryman and Our Lady of Perpetual Succour
Theater Mania also suggested that Cursed Child is not the only successful West End show up to a Broadway transfer. It listed two Sonia Friedman productions, which continue to draw London crowds, that would do well to consider heading that way.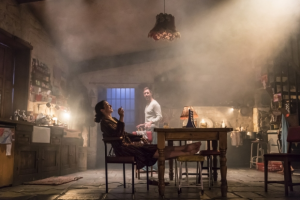 The site tapped Jez Butterworth's The Ferryman as one to watch. Currently running at the Gielgud Theater through Oct. 7, it centers on a family drama that's stirred up during "The Troubles" in Northern Ireland. The play, directed by Sam Mendes, explores the tension created by the discovery of a long-lost family member's body and the appearance of an inquiring IRA leader.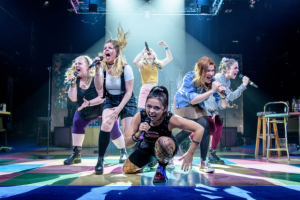 Theater Mania also picked Lee Hall's unusual musical, Our Lady of Perpetual Succour, as a possible Broadway transplant. It described the play, directed by Vicky Featherstone, as follows:
"This delightful piece also features songs interspersed throughout, a mixture of classical choral fare by the likes of Mendelssohn and Bach to (mostly) the pop hits of Jeff Lynne and Electric Light Orchestra. Admittedly, the play is hard to follow at times — on top of their thick Scottish dialects, the actors switch between characters — but when performers Caroline Deyga, Karen Fishwick, Isis Hainsworth, Kirsty MacLaren, Frances Mayli McCann, and Dawn Sievewright raise their voices in unison to deliver tunes ranging from "Agnus Dei" to "Don't Bring Me Down," it's astonishingly moving and worth the price of admission."
Given the success of any production Sonia Friedman touches, it's no wonder Theater Mania would consider these excellent candidates for a move. Hopefully, fans will soon be able to see them on both sides of the pond!
Girl From the North Country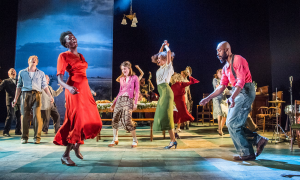 Theater Mania also selected Conor McPherson and Bob Dylan's Girl From the North Country, starring Shirley Henderson (Moaning Myrtle), as one that could make the jump and, by extension, watch in London while you can!
The Guardian heaps this unabashed praise on the production:
"It's obvious that this will be exceptional – quick and surprising – from the opening moment. A woman with peroxide hair, dark roots, a clingy red dress and a fur stole tittups on to the stage – and sits down at the drums. But you could not predict the gleaming, expansive talent of actors who prove able not only to shimmy but memorably to sing. Look at Shirley Henderson playing a woman with dementia, a frantic skewiff imp who opens her legs to anyone and, magically, her lungs to the audience. Look at Sheila Atim – last seen as a spellbinding Ferdinand in the Donmar's Tempest – as a mesmeric Madonna. Look at Ciarán Hinds, like a dolmen, wrapped in melancholy. Look at anyone: there are no weak links."
Set deep in the Depression era at a boarding house that's cracking under the pressure and built around the soulful music of Grammy-awarding winning artist Bob Dylan, it's clear why a play of this caliber would be a hit with audiences.
Follies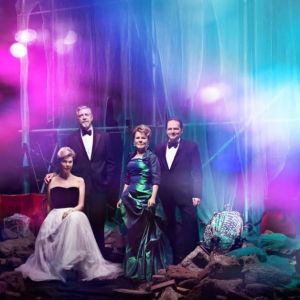 Not yet in theaters is National Theatre's revival of Follies, starring Imelda Staunton (Dolores Umbridge) as an aging actress reunited with her former cast-mates. The Stephen Sondheim musical opens Aug. 22, and the rehearsal schedule is heating up in anticipation! London Theatre shared images of the cast hard at work in preparation for an incredible run.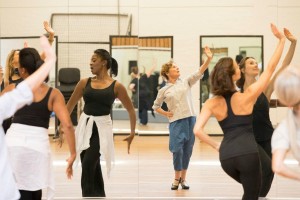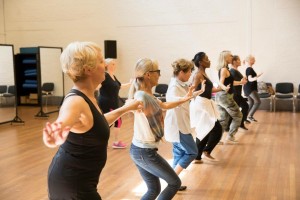 The official opening of the play, directed by Dominic Cooke, is Sept. 6, so get your tickets now.
Hamlet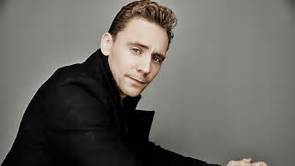 Finally, an upcoming production of Hamlet, directed by Kenneth Branagh (Gilderoy Lockhart) and starring Tom Hiddleston, is sure to be a hot ticket item. It will feature at Rada's Jerwood Vanbrugh theatre for a limited three-week run only!
Proceeds will help support the Royal Academy of Dramatic Art (Rada), of which Hiddleston is a graduate. He told the Guardian:
"Kenneth Branagh and I have long talked about working on the play together, and now felt like the right time, at the right place.

"The performing arts exist to bring people together, not to break or keep them apart. I hope the funds raised by the production will help Rada continue to provide a wider field of equal opportunity to train actors, stage managers and technical theatre artists, from every background, to a standard of excellence and professionalism. We need to keep the doors open for everyone."
Tickets are available through an open ballot which opened at noon on Tuesday, Aug. 1. The ballot continues online until 6 p.m. on Aug. 6 – or by phone until 5 p.m. Aug. 5. Tickets will be highly sought after and difficult to acquire, so don't wait to enter. Like many other offerings at London theaters this year, it will be a must-see!
View the video below, and take your cue from the Cursed Child cast, theater-goers–London is open!!