'Harry Potter' Actor Round-Up: Jim Broadbent's Graphic Novel, Domhnall Gleeson's Starring Roles, Magical Governor's Ball Inspiration, and More!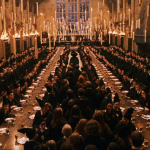 Aug 26, 2017
The past week has seen the announcement of an exciting range of Potter products at Primark, interviews from Robert Pattinson, and a trailer for Strike: The Cuckoo's Calling on BBC One (starting tomorrow!), as well as a new website from Robert Galbraith.
The Robert Galbraith website has got a new look. Check it out here: https://t.co/a4gKHMoSWC pic.twitter.com/VRMdhwSdvl

— Robert Galbraith (@RGalbraith) August 25, 2017
Our actor round-up brings the latest news from the cast of Harry Potter (and a quick update on Fantastic Beasts's Eddie Redmayne). Jim Broadbent's bringing out a graphic novel, Julie Walters is busy filming on Mamma Mia, Shirley Henderson has a new film coming out soon, Warwick Davis and Jason Isaacs continue to lend their voices to charities and Domhnall Gleeson already has yet another movie to film. It's never a dull week for Potter alumni!
Jim Broadbent Writes Graphic Novel
Fantagraphic Books has come on board to publish Jim Broadbent's graphic novel, Dull Margaret–a first for the actor. Best known to Potter fans as Slugclub founder and Potions master Horace Slughorn, the work is a surprising, and exciting, new creative endeavor for the film star.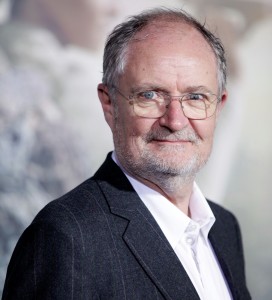 The Bookseller reported that the novel began as a script inspired by some of Broadbent's favorite works of art, the foremost being Bruegel's 'Dulle Griet.' Broadbent explained:
"I come from Lincolnshire and have long  been fixated on the flat coastal marshes, and I wanted to bring those two elements together in a film script. The story began to unfold from there, incorporating images from more of my favourite artists: Goya's witches, Daumier's pictures of Travelling Players, Rembrandt's flat, low country landscapes."
After finding it difficult to procure financing for a film production, Broadbent turned to popular comic book artist Dix, who said:
"I am immensely privileged to be working with Jim and Fantagraphics on this dark and beautiful tale. I feel I have always known the landscape and the odd characters strewn throughout its' pages. I am lost in Margaret's small world, sodden, cold, knee-deep in mud, holding a rusty knife and a severed hand and screaming at the elements."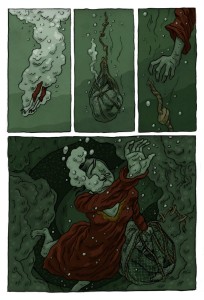 The original graphic tale will be published next summer!
Domhnall Gleeson Stars in American Made and Goodbye Christopher Robin
Domhnall Gleeson, fondly remembered as Bill Weasley in the Harry Potter series, stars in the upcoming Tom Cruise action flick, American Made, based on a true story. Gleeson plays CIA handler to Cruise's Barry Seal, a pilot turned CIA covert turned drug runner turned weapons smuggler–and the twists don't end there. Gleeson is in on the underhanded dealings, which look to make them both rich.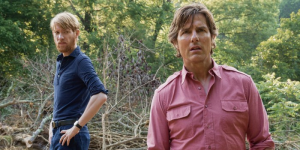 Though it sounds like your standard action thriller with a side of satire at the expense of American capitalism, reviews indicate it's more entertaining, and interesting, than might be expected. The Student Edge reported:
"Pictures about the underside of the American Dream are as old as Citizen Kane (actually, older). Still, there's no harm in [director Doug] Liman throwing one more hubristic tale into the pile; certainly not when it's this fun and frantic, shot with grimy vigour by César Charlone (City of God)."
The article likens the film to The Wolf of Wall Street, for frame of reference, and Imdb.com tags it as a comedy, so American Made must not take itself too seriously even as it unfolds this historical tale of excess and the lengths one will go to gain and keep it.
American Made is set to release in theaters Aug. 24. View the trailer below.
Up next for Gleeson is his A.A. Milne biopic, Goodbye Christopher Robin. The film, which opens in the U.S. Oct. 13, will feature at the Chicago International Film Festival, according to the Chicago Sun Times.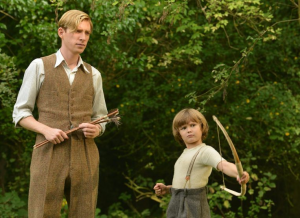 As covered by Leaky, the summary describes the film as follows:
"A rare glimpse into the relationship between beloved children's author A. A. Milne (Domhnall Gleeson) and his son Christopher Robin, whose toys inspired the magical world of Winnie the Pooh. Along with his mother Daphne (Margot Robbie), and his nanny Olive, Christopher Robin and his family are swept up in the international success of the books; the enchanting tales bringing hope and comfort to England after the First World War. But with the eyes of the world on Christopher Robin, what will the cost be to the family?"
Warwick Davis Attends Charity Event for Little People UK
Warwick Davis and family attended a quiz and raffle in a Burgess Hill pub to benefit their charity, Little People UK, which raises awareness for dwarfism and offers support to families.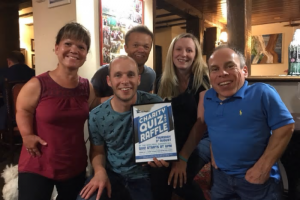 Quiz organizer Jayne Ansell spoke of how the charity has been an encouragement to her own family, saying, "Little People UK has been a great support to us." As the mother of a child with dwarfism, she was happy to partner with the charity and was delighted the Davis family could participate in the event.
The Mid Sussex Times reported on the Aug. 3 fundraiser, which brought in almost £1,300.
Jason Isaacs Seeks Support for LIDEHaiti
Jason Isaacs tweeted this week in support of another charity, LIDE Haiti, urging Star Trek fans to donate–and potentially win tickets to the series premiere and after party, hosted by Rainn Wilson.
Win a flight & 2 tix to the @StarTrekCBS premiere in LA with all the cast. 10$ donation 4 a great cause – @LideHaitihttps://t.co/MunuDzcQFd

— Jason Isaacs (@jasonsfolly) August 23, 2017
According to LIDE Haiti's official website, it is "an educational initiative that uses the arts and literacy to build resiliency and empower at-risk adolescent girls in rural Haiti, helping them to transition into academic or vocational education."
Wilson and his wife, Holiday Reinhorn, are co-founders along with Dr. Kathryn Adams. LIDE trains teachers, assists local organizations and schools, and helps them to incorporate the arts. They aid over 500 girls across 12 locations. It is most certainly a cause worthy of support–meeting the Star Trek cast would simply be a bonus!
Julie Walters' Mamma Mia Sequel Begins Filming
Express reports that a twitter account for Mamma Mia: Here We Go Again! became active Tuesday, quickly sharing evidence fans of the Abba-inspired 2008 original have eagerly waited for since the announcement of a sequel. Filming has officially begun!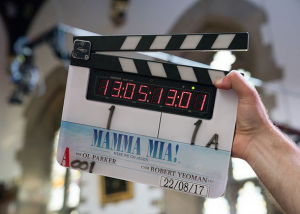 Julie Walters, known throughout the Potter fandom as the feisty matriarch of the Weasley family, is reprising her role as Rosie, one-third of the singing trio 'Donna and the Dynamos.' She joins costars Meryl Streep (Donna) and Christine Baranski (Tanya), completing the second great reunion of the longtime girlfriends. Assuming the film is as filled with fun and catchy tunes as the first, it's sure to be another magical hit!
Shirley Henderson Stars in Never Steady, Never Still
Shirley Henderson stars in the new film Never Steady, Never Still, written and directed by Kathleen Hepburn. The renowned actress, remembered by Potter fans as the whining, moping Moaning Myrtle, now plays a mother ravaged by advanced Parkinson's disease.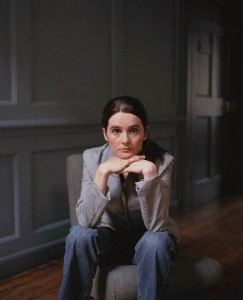 The story developed out of Hepburn's experiences with her own mother and her desire to examine the relational toll exacted on loved ones as they battle to adequately express themselves. According to Screen Daily, it began as an award-winning short film, eventually inspiring the full-length script that won Best Screenplay at the 2014 Vancouver International Women in Film Festival.
LevelK has purchased the international distribution rights, while Thunderbird will cover the roll out in the UK and Canada. It is slated to debut Sept. 9 at the Toronto International Film Festival.
Eddie Redmayne Features in New Ad Campaign
Eddie Redmayne, our lovable Newt Scamander, features in Omega's new ad campaign to introduce its 2017 Seamaster Aqua Terra watches. Matching Scamander's adventurous spirit, Redmayne gamely poses aboard a sailing yacht, emphasizing the nautical theme incorporated into the new line.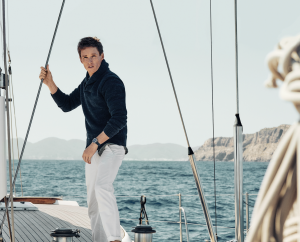 Watch Pro described the three new time pieces in great detail. Though each is uniquely crafted to suit individual tastes and style, all feature a variation on the horizontal teak decking found on luxury yachts. (It's probably too much to hope that they would some day bring back the pocket watch–though we're sure Redmayne could channel his quirky Hufflepuff and make it sell!)
Emma Watson's Beauty and the Beast Comes to Netflix
Watson, our fiercely-intelligent and happily-bookish Hermione Granger, took on a similar character in Belle in Disney's live-action revival of their animated original. Now, EW has announced that the musical phenomenon of the spring is coming to Netflix this month.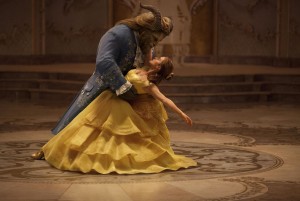 The film received widespread fan and critical acclaim at the time of its theatrical release, with the Hollywood Reporter noting:
"This remake of the company's 1991 animated hit tracks closely to the earlier version's plot and story beats, includes revamps of all the old songs and arrives just in time to exploit generational nostalgia — to lure viewers who loved the last version as kids and are just becoming parents themselves."
It was immediately cemented as a classic with fans old and new alike. So, if you've never seen it, you're in for an enchanting treat. And if you were one of the many who returned to the theater for multiple viewings, it's definitely worth another! Check it out when available for streaming on Sept. 19.
Emmy's Governor's Ball Décor Inspired by Harry Potter
Finally, Cheryl Cechetto of Sequoia Prods. told Variety that she has pulled her inspiration for the 2017 Governor's Ball from the halls of Hogwarts. Tasked with the directive to make this year's design "epic," her mind apparated to the Great Hall, resplendent with long elegant tables and an other-worldly–shall we say magical?–atmosphere. Of the room's unique allure, she said:
"It just popped in my mind, the long rows of rectangular tables lined up…It is so streamlined. It is so clean. It is so powerful. It feels like it continues forever."
According to Variety, the ceiling treatments will also be a splendid sight to behold. The article reported:
"There are uninterrupted lines of gold and white to create visual harmony and a sense of limitlessness," she says. Waves of gold will extend across the room, from the ceiling to the set pieces on the floor.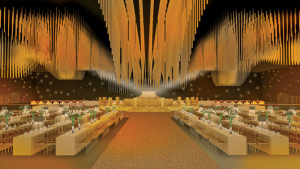 This too harkens back to that best of places, where the enchanted ceiling is aglow with golden candlelight and adorned with sashes and banners in House colors. Who wouldn't be delighted to attend an event decorated in such gorgeous and lavish detail!? The attendees are undoubtedly in for a magical night! (Now excuse us while we push play on our favorite and revisit those halls as well…)