Daniel Radcliffe on His Latest Film, His Potter Co-Stars and the Project That Didn't Fly
Feb 07, 2018
Daniel Radcliffe continues to expand his reach as an actor both on screen and stage, in front of and behind the camera. Leaky has covered his numerous projects over the past year including the title role in the 50th Anniversary Production of Tom Stoppard's Rosencrantz and Guildenstern are Dead, the lead in the survival biopic Jungle, his foray into film development as the producer of the documentary Circus Kid, and as a low-ranking angel in the upcoming TBS comedy series Miracle Workers.
In his latest film Beast of Burden, Radcliffe plays drug runner Sean Haggerty who has one hour to deliver his final shipment of cocaine over the U.S.-Mexican border, via pilot of a small plane, in an effort to appease a drug cartel and the DEA. This all while ensuring his wife's survival. Radcliffe recently sat down with Esquire to unpack the intense role and the unusual way in which it was filmed. During the interview, Radcliffe also shared a few thoughts on some of his Potter co-stars, saying "yes" to roles that test his ability, and one project he sent down the (yellow brick) road.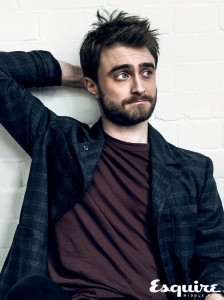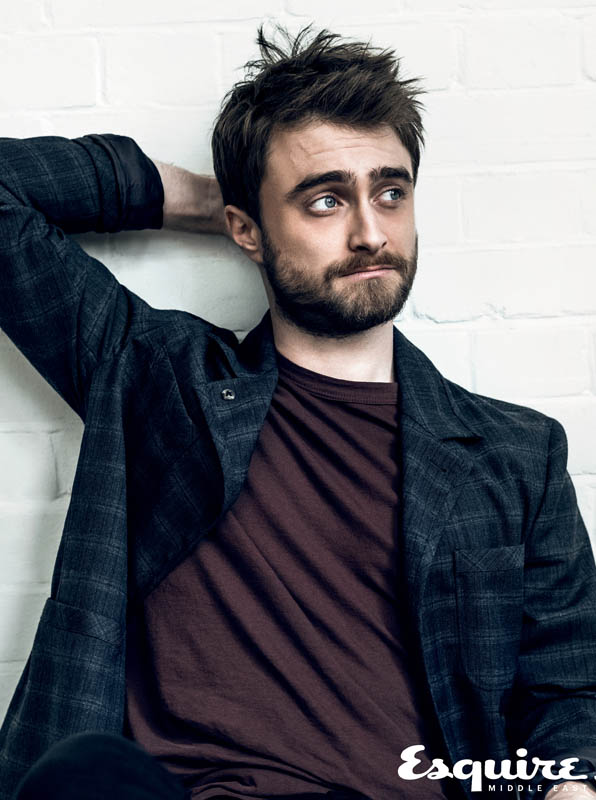 Image credit: Esquire
While explaining his attraction to the upcoming thriller, Radcliffe praised the plot of the film, remarking that it's simply about the obstacles his character encounters getting from point A to point B. Radcliffe told Esquire the following about the interesting methods used by the director, who directed live through an earpiece worn by the actor during filming,
"Most of the film was set in the cockpit of a plane. It's an interesting challenge, just to do something that is so intense and new in the way it's filmed. When the script came to me, the director Jesper Ganslandt was already attached. I watched one of his movies and it was interesting, because what I had in front of me was a quite traditional thriller and then I watched Jesper's movie, and thought 'this guy likes to get dark and weird and disturbing and very intense' and I was knew it would be an amazing film."

"Jesper would come on the radio and interrupt me or screw with me while I was trying to do lines and I think it created something really interesting", the actor continues. "I hope we've made a really interesting arthouse thriller. That was the pitch originally and I think that's what we've done."
When discussing his admiration for the other actors in Beast of Burden, Esquire ventured into Hogwarts territory and asked about his relationships with his Potter co-stars, which definitely perked up our ears. Here's the reality of their current status even if it's not exactly how we would have dreamed, though we do secretly hope that the once-rumored Harry Potter alumni group chat is still alive and well,
"It's a tricky one. There is a common bond between me, Rupert [Grint] and Emma [Watson] that will never go away, and that's lovely. We will always meet and be excited to see one another. But I would be lying to you if I said, 'Yeah, we hang out all the time."

"I hate saying that; I feel like there is a want for us to be best friends, but we are all off and busy and in far-flung corners of the world… but as I said, if we see each other we would be friendly and excited to see each other, we just aren't in each other's orbit anymore."
Radcliffe also had some high praise for some of his other fellow cast members including Alfred Enoch, a special guest at last year's LeakyCon and Matthew Lewis who's set to appear next weekend at Planet Comicon,
"I'm rooting for everybody who was in Potter. The one that's criminal is Alfie Enoch — he has done so brilliantly since Potter, yet I don't think he had a line in 10 years on the entire franchise."

"He was this great actor who was there for 10 years, never complained, delightful to have around, and you look back and think, 'Shouldn't we have used him a bit more?'"[…] "Alfie, Matt Lewis, obviously Rupert, and Tom, all those guys, I get really excited about seeing all their new projects."
Having made millions as The Boy Who Lived, Radcliffe feels grateful to be able to take less conventional projects without financial worries. He has been known to take some interesting, if not risky roles, since his days on the Potter set. Esquire did ask him if there was any part that he would absolutely turn down and he replied,
"Every role and script is a possibility if it's good enough, well-written enough. I don't think there is anything that I would immediately dismiss."[….]"I was once asked to do a remake of The Wizard of Oz, casting me and Rupert as the lion and scarecrow and Emma as Dorothy, and you think, 'That's a bit on the nose, isn't it?"
Raise your hand if, no matter how wicked this is, deep down, you wish they'd said yes!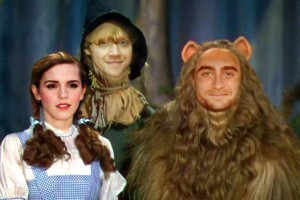 Radcliffe has spent a considerable amount of time in theater since his days as a young wizard. His first stage role was in the British comedy, The Play What I Wrote, which was directed by Kenneth Branagh, who played Professor Gilderoy Lockhart in Chamber of Secrets.
Radcliffe shared this memory of filming with the award-winning actor,
"I will always remember on the second film when there was a scene where me and Rupert couldn't stop laughing, and we were getting in trouble for it. Ken did not help at all, just kept setting us off. But really, Ken, almost single-handedly started my stage career,"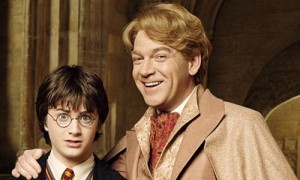 It doesn't sound like we'll be seeing Radcliffe and his fellow Potter alumni together on screen anytime soon, but you can catch Harry Potter himself in Beast of Burden when it arrives in select theaters, on VOD and Digital HD on February 23, 2018 and on TBS later this year in Miracle Workers.
Esquire's full interview with Radcliffe can be found here.