Matthew Lewis Talks Post Potter, Learning from Fear, and Being a Hufflepuff
Feb 25, 2018
Matthew Lewis, the face of beloved Dumbledore's Army leader Neville Longbottom, brought Lumos to the stage of Planet Comicon Kansas City last weekend when he shared stories of his years on the set of the Harry Potter films and how the experience shaped his career and his life. The Midwest's premiere pop culture convention was held February 15-17 at Kansas City's Bartle Hall and Leaky joined thousands of other passionate con goers as they spent three days celebrating their fandoms meeting Lewis and a host other celebrities and creators.
Lewis's Sunday afternoon panel, which was hosted by actress Clare Kramer from Buffy the Vampire Slayer, was jam packed with Potter fans waiting to get as much scoop as possible from the actor who has embodied one of the most pivotal characters in their favorite series. Lewis answered fantastic questions from Kramer, as well as the audience, on his audition for Neville, onset and offset anecdotes, and Neville as the unlikely hero of the saga, as covered in Part 1 of Leaky's weekend at Planet Comicon.
After sharing the magic from his Potter filming years, questions turned towards Lewis's post wizard career. He said that on the last day of filming he went to the incomparable Alan Rickman's trailer to thank him and Rickman actually invited him in for tea. They discussed Lewis's future in the industry and the veteran actor advised him to try working in theater if he wanted to properly learn the art of acting. Lewis took his advice and did spend some time on stage honing his craft. He shared this insight about the kinds of projects he now tends to choose, which Kramer deemed words from a true artist,
"If there's something I think I don't know how to do, that is what I want to do because that's the only way we learn and I feel like in this job we are always going to be learning[…]When something scares me, that's what I'm drawn to and I hope that by playing mean, darker sex offenders, that's as far away from me as possible, so that frightens me and that's why I choose those kinds of roles."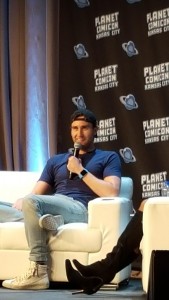 One audience member veered off from Potter completely and asked Lewis about his experience on the TruTV hidden-camera series Impractical Jokers, a prime opportunity for the actor to lean into his fears. He described the episode, which he only planned to watch, not take part in, as more frightening than facing Ralph Fiennes as Voldemort! Check out the video of the hilarious hijinks below and see if Lewis looks as uncomfortable as he confessed he was that day:
Fans relish any news of current communication between Potter alumni and they certainly got a dose of that this weekend. In answer to a question about which cast members Lewis keeps in touch with, he revealed that he lives close to Tom Felton, so sees him often, but that Felton is in South Africa for the next five months for a project. Keep your eyes open for more news on that front!
He said casually that he had dinner with Emma Watson last week and texted with Daniel (Dan) Radcliffe just a few days ago in Atlanta where he's working on Miracle Workers for TBS. See Leaky's recent coverage of Radcliffe's recent project's here.
He also shared that he sees Alfie Enoch, the actor who played fellow Gryffindor Dean Thomas, quite often and that they were "best mates" on the Harry Potter set.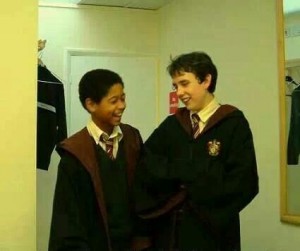 Midway through the session, Lewis was asked what his personal theme song would be. He immediately threw out "Stay Young" by 90's English band Oasis and the following candid explanation,
"I am a manchild. I refuse to grow up. Partly because of my profession; I play make believe and get paid for it. I do tend to live in a childlike wonder of everything. I love it, but it's infuriating for people around me probably. What's that saying when they say we don't stop playing because we get old, we get old because we stop playing. More people should look at the world with childlike wonder."
He then proceeded to ask the audience if they had watched the rocket launched by entrepreneur Elon Musk recently. As it did for much of the world, the event obviously captured his attention,
What a time to be alive. We're off to Mars! #FalconHeavy #SpaceX

— Matthew Lewis (@Mattdavelewis) February 6, 2018
Lewis has had numerous occasions to "play make believe" as he put it, since his days in the wizarding world, one of which was in the role of mustached Desk Sergeant Samuel Drummond in the British crime drama Ripper Street. One audience member, who was also an avid fan of British literature, mentioned the role when asking if there were any British period adaptations he would like to be involved in. He said he appreciated getting lumped in with the likes of Jane Austen and Charles Dickens just because he was British and found the idea fascinating, but couldn't think of a character he'd like to play off the top of his head. Kramer suggested, if it worked for him, that he think it about it and tweet his answer later.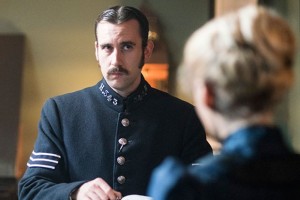 Last but not least Kramer wrapped things up with a question about Lewis's Hogwarts House and if he'd been sorted on Pottermore. As reported by Leaky a couple of years ago, Lewis turned out to be a Hufflepuff, but we got a some bonus details at the Con on his feeling about belonging to the House of the Loyal Badger,
"I didn't want to do it and be disappointed that I wasn't in Gryffindor. And I was disappointed. I wanted to be a Gryffindor naturally and I got Hufflepuff…which is fine. (Clare Kramer disclosed that she was also a Hufflepuff at that point.) You hear the cheering there because so many wonderful people are Hufflepuffs and I only learned this afterwards, the kind of people that we've got here and Dwayne the Rock Johnson and all the Hufflepuffs I've met this weekend are just lovely good people, so I'm not resigned to it, that's not the word, I'm thrilled with it."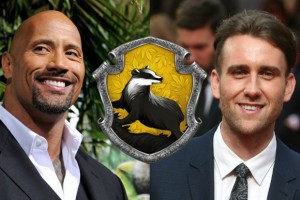 In addition to all that we learned from the lovely Lewis in his panel session, Leaky had the opportunity to meet the Hufflepuff that day as well. He graciously signed the Deathly Hallows photo to our readers and while he was at it, we had a chance to chat about one of his most recent roles in the Acorn streaming network drama Girlfriends.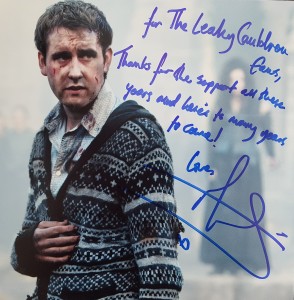 We mentioned that we had watched the series in which Lewis plays a rather loathsome single dad living under house arrest with his mother, played by Zoe Wanamaker, Harry Potter's Quidditch referee Madam Hooch. Adrian Rawlins (James Potter) plays Lewis's stepfather and Miranda Richardson, who played Rita Skeeter in Harry Potter, is a close friend of his mother's in the series. We asked Lewis what it was like working with so many Potter alumni and he said that he didn't film with all of them often but when they were together it was great to get to see them. We asked if a second season is in the works and he said he wasn't sure, but thought the final episode left it open for the series to continue. He asked if we had seen the entire season, since he had only watched the first episode and doesn't usually watch his own work. Lewis's bad boy character in Girlfriends certainly fits the bill as a role that stretches the acting ability of this inherently delightful young man.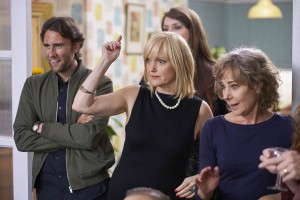 Kansas City had one more opportunity to see this nice guy in action on his way out of town:
Flight got screwed up again so I got bumped to another flight in coach. Dreaded middle seat. Nice guy nearby offers, via the stewardess, to switch for his aisle seat because he said I "must be used to sitting up front". I declined because I deserve no such thing but cheers dude!

— Matthew Lewis (@Mattdavelewis) February 19, 2018
Thank you to Matthew Lewis for sharing his insights and self deprecating sense of humor while bringing some genuine Harry Potter magic to the Midwest. Leaky had a great time at Planet Comicon 2018 and hopes to be back next year for the convention's 20th anniversary March 29-13, 2019. More information on Planet Comicon Kansas City can be found here.