Happy Birthday to David Tennant!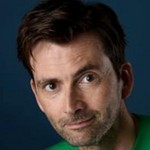 Apr 18, 2018
David John McDonald, a.k.a., beloved Scottish actor David Tennant, celebrates his 47th birthday today. Though Tennant is best known to one of pop culture's most enduring fandoms as the Tenth incarnation of Doctor Who's iconic Time Lord, he etched a place in Potter history when he played the brief but memorable role of polyjuiced Death Eater Barty Crouch Jr., in Harry Potter and the Goblet of Fire.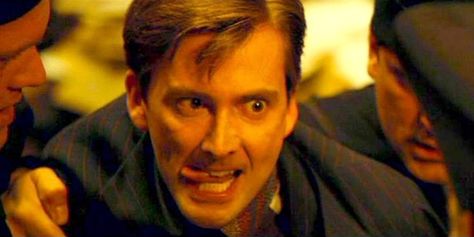 Tennant is arguably one of the busiest, most versatile actors in the entertainment industry. In addition to a surplus of roles on screens large and small, stage, voice and even comic books, he continues to connect with his avid fan base, face to face, appearing regularly at Comic Cons worldwide. Recently an unsuspecting fan, who ironically was registering for a Doctor Who convention on his phone at the time, missed the opportunity by just a few feet! 
And he'll never know. pic.twitter.com/Ry2vtgyXs1

— Georgia Tennant (@georgiaEtennant) April 15, 2018
Tennant, who has spent almost as much time on stage during his career as he has on screen, won the What'sOnStage Award for Best Actor earlier this year for his 2017 portrayal of the title role in Don Juan in Soho at the West End's Wyndham Theatre. During that same time period, fans of the award-winning British crime drama Broadchurch saw his run as the moody yet endearing DI Alec Hardy come to a close after three seasons on the BBC. He could also be seen on Netflix brandishing his Death Eater colors as villain for the ages Kilgrave in Marvel's Jessica Jones. SEASON 2 SPOILER-Fans didn't see much of him in season two of the edgy superhero drama, but Netflix announced approval of a third season last week, so let's keep our fingers crossed that Tennant will be back in all his purple glory.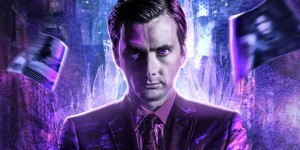 The actor's recognizable brogue could be heard on a plethora of different channels over the past year. He voiced Uncle Scrooge McDuck in Disney HD's DuckTales, played Lord Commander in the TBS adult animated sci-fi series Final Space and stepped into the hooves of Scottish Highland bull Angus in the Oscar-nominated animated feature Ferdinand. Gamers might also recognize his call to action in the first person shooter video game Call of Duty WWII. His familiar voice could be found behind the mic last year in three Doctor Who audio dramas from Big Finish reprising his role as the Tenth Doctor alongside Billie Piper, Ten's companion Rose Tyler. In addition, Leaky recently reported that Tennant's Doctor persona would be gracing the pages of a new Doctor Who comic book series released this summer prior to the premiere of Jodie Whittaker as the show's first female lead.
For fans that couldn't get enough of Tennant in Jessica Jones as truly one of the most egregious characters on television, he can be seen on the big screen as the Kilgrave-esque lead in the thriller Bad Samaritan out in theaters May 4. And later this year he can be found in the historical biopic Mary Queen of Scots co-starring two of this year's Oscar nominees for Best Actress Saoirse Ronan and Margot Robbie. Just ahead of the Bad Samaritan release, director Dean Devlin told this to EW on Tennant's casting being a "no-brainer",
"I'm a big Doctor Who nerd," says the filmmaker. "I fell in love with him when he started playing that role, then I saw him playing Kilgrave in Jessica Jones, and of course the incredible performance he did in Broadchurch. He literally became my favorite actor, and I was desperate to work with him. So, we set up this Skype call — he was in the UK, I was here — and we're speaking on Skype, and I'm trying not to fanboy, you know, I'm trying to act like a serious director. But I just couldn't take it, and at some point, I opened my shirt and exposed that I was wearing a Doctor Who T-shirt, at which point he pointed out that I had the logo for the Eleventh Doctor, and he was the Tenth Doctor. [Laughs]. But luckily he forgave me and he still agreed to do the movie."
Tennant has two television projects in the works that seem to be a perfect display of his flexibility as an actor. Leaky recently reported his casting in the HBO comedy Camping where he plays obedient husband Walt opposite Jennifer Garner. Fans are also anxiously awaiting his upcoming role as the ultimate antagonist, the devil himself, in the 6-part BBC/Amazon series Good Omens scheduled for a 2019 release. During production Tennant was seen out and about sporting his new ginger locks, which certainly added to the hype surrounding the show:
Ginger David Tennant is the cutest thing in the world. 😍💖😩 pic.twitter.com/DlY3cu3VOX

— francesca (@azirxphale) September 13, 2017
Keep an eye out next year for Tennant as demon Crowley when he teams up with the angel Aziraphale to prevent the Apocalypse with the help of Potter alum Miranda Richardson, (Rita Skeeter), as Madame Tracy, a psychic who helps the pair save the world from Armageddon. Michael Sheen, who plays the other half of Satan's "double act" had this to say in a recent interview on Zoe Ball's new ITV talk show Zoe Ball on Saturday, about working with Tennant as covered by Digital Spy
"I got to just spend six months doing a double act essentially with David Tennant," Sheen shared.

"You know David, he's just the nicest man in the world. We would do scenes and I would literally be watching him and half way through the scene I'd have to stop and go, 'That was very good, you are good aren't you?' It was a real treat."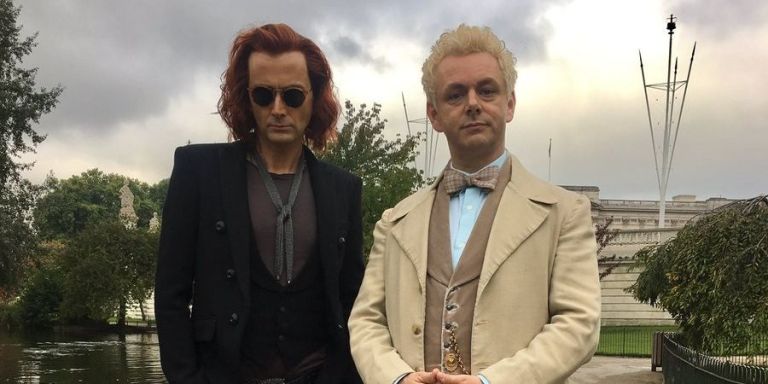 Recently Tennant has been out promoting his newest film You, Me and Him with the project's producer, wife Georgia Tennant. In a recent interview with The Guardian he had this to say about their relationship on set and off,
"I love working with my wife. She was the boss on the set of You, Me & Him, and I think she's my boss anyway, so it wasn't noticeably different from everyday life. We complement each other well. It was a gamble because the older I get, the more cynical I become."
In tandem with the film about a lesbian couple, one of which becomes pregnant by their flirtatious neighbor, the Tennants have become ambassadors for Baby Lifeline, a charity which supports the care of pregnant mother and newborn babies in the UK.
Baby Lifeline is the official charity of @youmeandhimfilm, in selected cinemas from today! Check out the photos from the Birmingham premiere: https://t.co/AQBCLRLnPX If you would like to make a donation to help us continue our work visit https://t.co/kNKaXi5rXE Thank you. ❤️ pic.twitter.com/MpR60TdXtq

— Baby Lifeline (@babylifeline) April 12, 2018
It's obvious why Tennant was voted the Most Popular Actor by the UK's National Television Awards four out of five years in a row when you watch the video below of the 2015 NTA's Special Recognition awarded to Tennant in a touching surprise presentation:
Along with accolades like, "he welcomes people in", and "David makes the world a better place" on top of his incomparable talent, the Harry Potter family is lucky to have David Tennant as member. We wish him the happiest 47th today!