'Harry Potter' Actors Round-Up: Trailers for David Tennant's 'You, Me and Him,' Helena Bonham Carter's 'Ocean's 8,' Julie Walter's 'Mamma Mia' Sequel and Much More!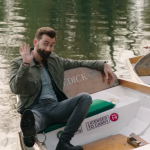 Dec 23, 2017
In this week's actors round-up, there are scores of new films from Harry Potter alums to consider. Though there have been teasers and hints in weeks and months past, trailers have finally been released showing off these talented actors at the height of their game, and they aim to woo their viewing audience, many devoted Potter fans among them.
View trailers from Helena Bonham Carter's Ocean's 8, Matthew Lewis' Girlfriends, David Tennant's You, Me and Him, Domhnall Gleeson's A Futile and Stupid Gesture, Julie Walter's Mamma Mia: Here We Go Again!, and Jim Broadbent's Mary and the Witch's Flower. Plus get the latest on Clémence Poésy's television series The Tunnel: Vengeance, Helena Bonham Carter, Robbie Coltrane, and John Hurt in The Gruffalo, Mark William's animated We're Going on a Bear Hunt, and exciting casting news for Kenneth Branagh's directorial effort Artemis Fowl!
Helena Bonham Carter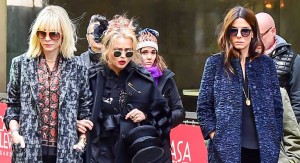 Production on Ocean's 8, the continuation of George Clooney's popular remakes, began over a year ago, and Leaky reported on early on-set photos of Helena Bonham Carter, known to Potter fans as the crazed Death Eater Bellatrix Lestrange. Now, Entertainment Weekly shares the first trailer for the new heist film, featuring Sandra Bullock as Danny Ocean's sister Debbie.
Like her brother before her, she secures her parole from prison on the promise of good behavior, but the teaser quickly reveals she plans to go quite another way, proceeding to recruit her own team of individuals, each with a very unique skill set. Her objective–the jewelry-laden guests of the annual Met Gala in New York City.
Carter plays Rose and joina Mindy Kaling, Rihanna, Cate Blanchett, Anne Hathaway, Sarah Paulson, and Awkwafina, and Imdb.com reports that Matt Damon will reprise his role as Linus Caldwell. The film, set to open in theaters June 8, 2018, is directed by Gary Ross, of Hunger Games fame, who co-wrote the script with Olivia Milch.
Check out Carter in action in the video below!
Fans can see Carter much sooner, however, with a voiceover role in the television adaptation of the children's classic The Gruffalo on Dec. 27. The Sun describes Julia Donaldson's picture book as follows:
"The Gruffalo tells the magical tale of a quick-witted mouse who takes a walk through the woods in order to find a nut.

However, the mouse soon comes across three predators who all wish to eat him – a fox, an owl and a snake –

Coming up with a plan to survive, he announces that he is meeting a monster with terrible features, a 'gruffalo'."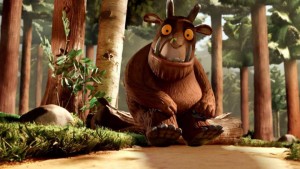 Carter voices Mother Squirrel in the story, and she's not the only famous Harry Potter alum bringing these memorable characters to life. Robbie Coltrane, the beloved half-giant Rubeus Hagrid, voices the titular Gruffalo, and the late John Hurt, the renowned wandmaker Ollivander, leant his voice to the Owl.
Tune in to BBC1 next Wednesday to enjoy this classic in the making!
Matthew Lewis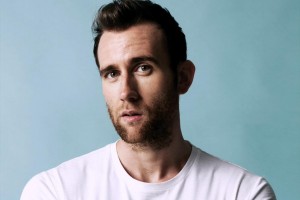 Matthew Lewis, best known for playing fan favorite Neville Longbottom, is set to appear in the upcoming new drama Girlfriends from Kay Mellor. The Sun gives the following synopsis of the show:
"Girlfriends is a contemporary story of Linda, Sue and Gail as they struggle with the responsibilities that come with being a modern woman of a certain age.

Each of the ladies have their own set of problems to deal with and the sudden death of Linda's husband brings the friends together again.

From divorce, job loss, ageing mothers and their responsibilities as grandparents, the Girlfriends' friendships will be tested in a dramatic fashion."
Lewis appears with series stars Miranda Richardson, Phyllis Logan, and fellow Potter alum Zoe Wanamaker (Madam Hooch). See Lewis and Wanamaker in the official ITV trailer below. The series premieres Jan. 3!
Kay Mellor's brand new @ITV drama #Girlfriends starts on 3rd Jan with @MattDaveLewis https://t.co/IGUyB4Cq1P

— Multitude Media (@MultitudeMedia) December 19, 2017
Clémence Poésy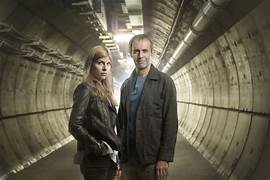 Clémence Poésy, the Beauxbatons champion Fleur Delacour, stars in the Sky Atlantic crime drama, The Tunnel: Vengeance, based on the Swedish-Danish detective series The Bridge. Poésy works alongside Stephen Dillane in the excellent final season of the series. According to the Guardian, the thrilling third season far outpaces the second:
"Part of the reason is surely the fact that Poésy and Dillane exude little of that will-they-won't-they? sexual tension so often found, in fact now near mandatory, between cop characters of similar age and romantic availability – he's too damaged, she too quirkily spectrummed – and thus you're able to shrug and phew it off and concentrate instead on the many enthralling twists and subplots. Yet they remain the backbone: the interplay, the rare flashes of pawky humour (Poésy deadpans with sly brilliance), the mutual respect, the froideurs, the undoubted yet unspoken warmth are the glue: you could wait a long time for a thriller of such class, and there will doubtless be uproar at its being the last ever season."
The Guardian review clearly taps Poésy as a highlight of the gripping drama, and given that these are the concluding entries in the series, take the opportunity to discover an unusually-good, high-quality program in an well-saturated genre.
David Tennant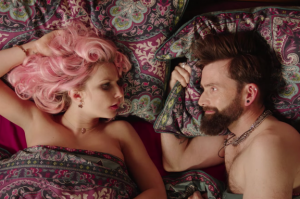 David Tennant, known as the Death Eater Barty Crouch Jr., has a wealth of experience playing a wide variety of eclectic characters, from the tenth Doctor in Doctor Who, DI Alec Hardy in Broadchurch, the lead in Don Juan in Soho, RD Laing in Mad to Be Normal to a part in the upcoming television adaption of Neil Gaiman and Terry Pratchett's Good Omens.
Now Radio Times reports Tennant will portray a bearded hipster in the film You, Me and Him in UK theaters April 2018. He plays John, the neighbor of 40-year-old Olivia and her partner, "party girl" Alex. He has a one-night stand with the rebellious Alex, and it's later revealed that both women are pregnant–Olivia by artificial insemination and Alex by John–complicating the lives of all three. When John surprises everyone by demanding to be involved, they are forced to figure out a new normal.
View the trailer below!
Domhnall Gleeson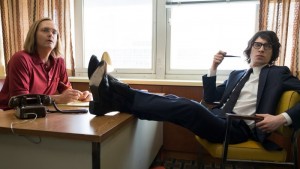 Domhnall Gleeson, remembered for playing Bill Weasley, is currently starring in the latest entry into the Star Wars saga, Star Wars: The Last Jedi, as the New Order's General Hux.
Next up he's set to appear in the Netflix original A Futile and Stupid Gesture, and he's virtually unrecognizable in the film which takes viewers back to the founding of comedy giant National Lampoon. Gleeson takes on Henry Beard, who partnered with Will Forte in a magazine venture turned cinematic coup. The Joe Show describes the story as follows:
"The movie, which is narrated to screen by Martin Mull as an older Doug Kenney, deals with the rise of popularity in the company, every bump (you'll get that joke when you watch the trailer) along the way, and displaying the kind of debauchery that humanity has scarcely approached since Ancient Rome."
Catch the film on Netflix Jan. 26, 2018, and view the trailer below. (Warning: Some explicit content.)
Julie Walters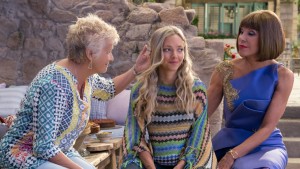 Julie Walters, our favorite wizarding matriarch, reprises her role as Rosie in the sequel to the hit musical Mamma Mia! Mamma Mia: Here We Go Again! opens in theaters this summer with the original cast. In addition to these unforgettable dancing queens, the film boasts a new slate of ABBA songs and actors portraying the young versions of the leads: Lily James, Andy Garcia, Alexa Davies, Jessica Keenan Wynn, Jeremy Irvine, Josh Dylan, and Hugh Skinner.
The newly-released trailer now hints at the plot details of the highly-anticipated film. It appears that Sophie (Amanda Seyfried) finds herself pregnant, much like her mother Donna once did. Old friends Rosie and Tanya (Christine Baranski) join the women to offer their support, and they revisit Donna's story in an effort to help Sophie adjust to the unexpected news. Along the way there's plenty of incredible music, dancing, comedy, and drama–and a cameo by Cher!
Enjoy the trailer below, and mark your calendars for July 20, 2018!
Mark Williams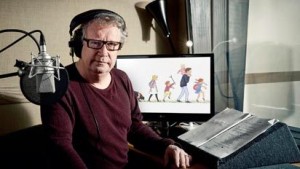 Mark Williams, known as the lovable Arthur Weasley, lends his voice to the animated adaptation of We're Going on a Bear Hunt, the classic children's book. The Sun gives the following synopsis of the story:
"We're Going on a Bear Hunt follows the story of a family who decided to go on an adventure to find a bear in the woods.

On their journey Stan, Katie, Rosie, Max, an unnamed baby and Rufus the dog go through the forest, they encounter a lot of barricades they have to cross to get to their goal.

However, once they get lost, they're going to need all the help they can get."
Williams voices the Dad in the tale, a character specially created for the film version to round out the children's adventure. Last year Leaky reported that he described the new character to Channel 4:
"He's a loving Dad, and being a Dad is the best job in the world. Dad is with Mum and they have five children including a baby, plus Rufus the dog. I think it's a bit of a confused household, he can't find his keys et cetera – I think that's mostly his problem. I think there is a case for saying there is something called Dad-Head which is when your family lives in your head like a swarm of bees. Mums are much better at just swatting the bees away but dads sometimes get a bit overwhelmed. He's one of those dads."
The film premieres Christmas Day on E4. It would be a fun addition to your family holiday plans!
Kenneth Branagh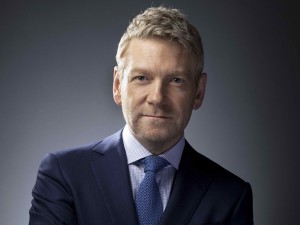 Kenneth Branagh, best known to Potter fans as the arrogant and flaky Gilderoy Lockhart, is not only a consummate actor, but also a talented director. He most recently starred in and directed the Agatha Christie adaptation Murder on the Orient Express.
Branagh has also been attached to the upcoming book-to-film adaption of Artemis Fowl. Disney brings the film, based on the book series by Eoin Colfer, to the screen and tells the story of Artemis Fowl II, a 12-year-old criminal mastermind. Josh Gad, Judi Dench, Lara McDonnell, and Nonso Anozie were previously announced to star, but it took Branagh and casting director Lucy Bevan to find their lead.
Variety just reported that the role of Artemis Fowl has finally been cast! Ferdia Shaw was selected out of a pool of over 1,200 young actors, so production can finally move forward! Filming is expected to begin next year in the UK. Given that Branagh has experience with recent fantasies Cinderella and the other-worldly Thor, he will undoubtedly do an excellent job bringing the thrilling story to the silver screen, currently scheduled for release Aug. 9, 2019.
Jim Broadbent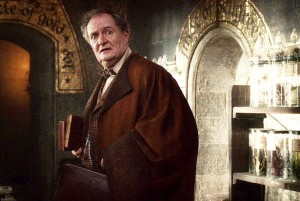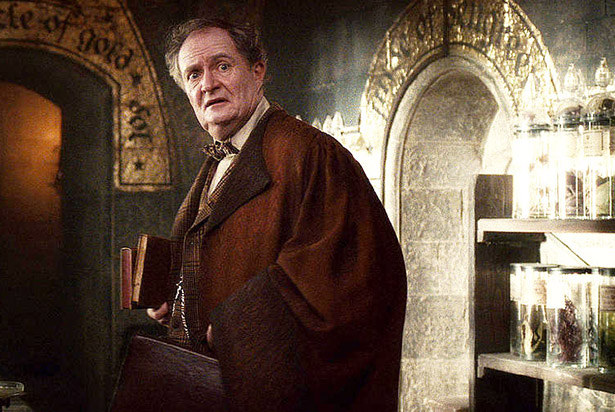 Finally, Jim Broadbent, potionsmaster Horace Slughorn, also lends his voice talents to an animated feature. Deadline gives the following summary of Mary and the Witch's Flower, based on Mary Stewart's The Little Broomstick:
"The film centers on Mary (Barnhill), an ordinary young girl stuck in the country with her Great-Aunt Charlotte (Lynda Baron) and seemingly no adventures or friends in sight. She follows a mysterious cat into the nearby forest, where she discovers an old broomstick and the strange Fly-by-Night flower, a rare plant that blossoms only once every seven years and only in that forest. Together the flower and the broomstick whisk Mary above the clouds and far away to Endor College – a school of magic run by headmistress Madam Mumblechook (Winslet) and the brilliant Doctor Dee (Broadbent). But there are terrible things happening at the school, and when Mary tells a lie, she must risk her life to try to set things right."
Potter fans clearly have no trouble suspending disbelief for a good magical tale, so this might be one worth considering! The film will run in select theaters beginning Jan. 18. View the English-language trailer below!