'Today Show's' Hoda Kotb Interviews J.K. Rowling and 'Fantastic Beasts' Cast!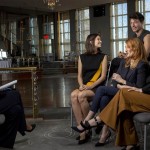 Sep 26, 2018
Following yesterday's day-long fan event, J.K. Rowling and cast members Katherine Waterston, Ezra Miller, Dan Fogler and Alison Sudol returned to the set of the Today Show for an extended interview before introducing the final Fantastic Beasts: The Crimes of Grindelwald trailer this morning.
Hoda Kotb kicked off the interview by asking the cast about the natural chemistry that exists between them, wondering if it was something that developed along the way or if it had been present from the beginning. Katherine Waterston jumped in with a ready answer, observing:
"I think it's a sort of prerequisite we didn't realize that David had when he was casting us all. He had the long-game vision that we were all going to be working together for a long time and that it was crucial that we had a kind of inherent chemistry, and I think we sort of just happily discovered it as we went along."
And, clearly, Potterheads have responded to that chemistry, which comes through onscreen, and have enthusiastically welcomed these actors–and their respective characters–into the fandom. Kotb hit on this, wondering what sort of questions they get asked when inevitably approached by fans in public.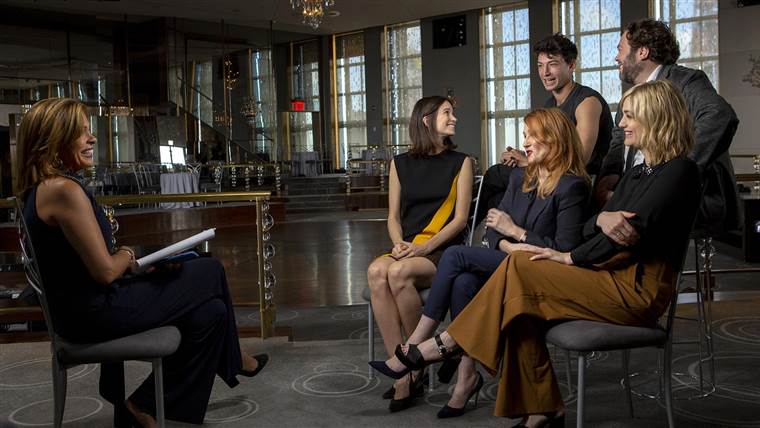 To the surprise of her co-stars, Sudol revealed that she almost never gets recognized. Rowling added that, as a woman, it can be easier to blend in by simply adding accessories or changing hair. Waterston chimed in that, for her, fans' suspicions are generally confirmed when they hear her accent.
This led Hotb to note that it must have been an adjustment for Rowling, who seems to prefer her privacy and reserve, when fans began to take notice of her all those years ago. Rowling confirmed:
"It was an adjustment–yah, it was a huge adjustment. I'm much more comfortable with it now. You know, part of it is I always love meeting readers and fans. I genuinely do. But when you set out to write a children's book, you do not imagine so many of the things that have happened to me since. That's not a typical trajectory."
Hotb then tapped Fogler to discuss what it's like for the cast when Rowling steps on set. He obliged, saying:
"You know, it's been, from the very first time I met her–it's crazy talking at the back of her head like this–but the first time I met her was, like, rehearsals for the first movie and, yah, she's like a Rockstar, you know? So, I mean, but she is so down to earth."
Of their first meeting, he recalled:
"She was standing there and she had a script, a manuscript, next to her that was as tall as she was, and I said–you can verify this–but I said, 'Do I have to memorize all that?' And then she said, 'Oh, no, no, this is everything.' And how I interpreted that was that was all five movies…that was EVERYTHING."
Bringing it back to the film at hand, Hotb asked them to elaborate on the big reveals in the trailer. Waterston interjected that questions like that are so scary to answer, they could only leave it to one woman–Rowling, of course. So Rowling gamely waded into those murky waters, saying:
"There's a big reveal that we definitely shouldn't reveal because it's not in the trailer, but I think the thing that will probably excite fans most is that you see Claudia Kim's character and hear her character named." 
Rowling was referring to the not too surprising but undoubtedly exciting confirmation that Claudia Kim's Maledictus is, in fact, Nagini. This is a clear plot reference which harkens back to the Harry Potter series, since fans know that Nagini eventually becomes one of Voldemort's horcruxes, whether by force or by choice. (We hope to find out!) Hotb then wondered if other "Easter eggs" might pop up in the film, which set Ezra Miller, a huge Potterhead himself, grinning happily as he bobbed his head up and down. He acknowledged, "I'm about to explode." 
Speaking to his well-known love for the series and knack for recalling Potter trivia, Miller explained:
"It's also just, like, I had a relationship to this material as a child, like, it was my Bible and security blanket."
Hotb noted that this is true for many fans, that the Harry Potter series defined their childhood. Rowling replied:
"It's a privilege. It's the most beautiful thing to hear. It really is. Particularly, as Ezra says 'comfort blanket,' I know the books were a refuge for people who were going through certain things. The books are, you know, full of themes of loss, lost love, the protective nature of love, safety, complex moral choices, what makes a good person, so I, you know, I think I wrote something that I needed as much as I wanted to write."
Hotb commented on that time in Rowling's life, when she balanced her responsibilities as a single parent with her drive to write this story and, in so many ways, rose from the "ashes" in the processes. Rowling reflected:
"I think if you've been through a period like that it never leaves you, not in a traumatic sense, but that is my touchstone. That period in my life is my touchstone, and for all that it was really tough, I always feel privileged–I knew who my real friends were, you know, they were there for me then, and that is a gift. So, you know, the crazy thing that happened to me subsequently was sometimes scary, but I always had that fact, I had certain, a kind of bedrock there of real friendships and relationships that had lasted through very tough times. So there was a lot to be thankful for, and I always say I was very lucky because my dream just involved literally a pen and paper, you know, it's not like I was trying to build a business. I could, I could create, you can create in that way anywhere."
Rowling fondly recalled posting her rejection letters on her kitchen notice board because it proved she was a "real" writer! She also observed, in all seriousness, that the hardest part about that time was the poverty and that she dislikes when poverty is romanticized–but those memories give her a great empathy for anyone in that situation, and she's able to look back, now, and still see much love, hope and happiness there.
Speaking of how much the passing of her mother was reflected in the story, Rowling noted that she is sometimes sad her mother, an avid reader, never got to read the books. At the same time, she is very aware that "the books wouldn't be what they are if she hadn't passed on. It's a bittersweet situation."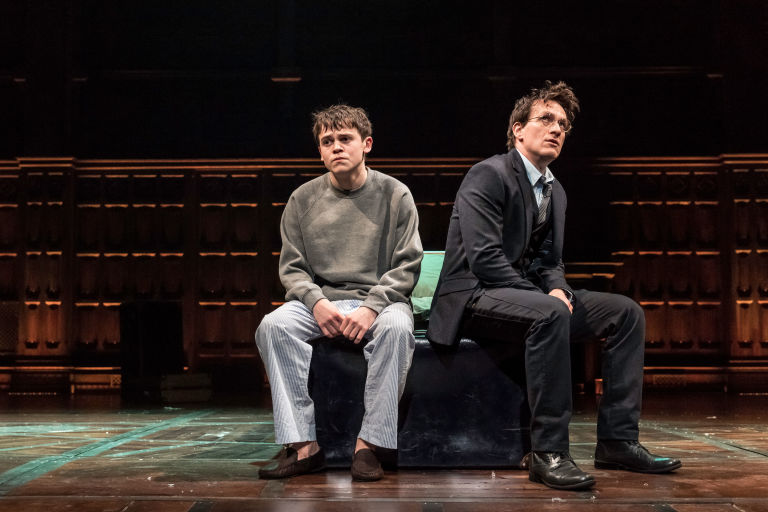 Rowling also noted that, though she doesn't stop thinking about Harry Potter, she "scratched that itch" through collaborating with Jack Thorne on the Cursed Child production. She said that the character she was most interested in was Harry's son, Albus, and that she gave those ideas to Thorne.
Acknowledging the inescapable comparisons between her works–and the pressure that might bring–Rowling made her perspective on it clear, saying:
"[Writing Harry Potter] was a privilege. It was extraordinary. I knew in 2000 it would never, nothing I wrote–I remember thinking in the year 2000–nothing will ever be close to this, and you know what, that's fine. I write what I want to write, and I love everything I write and, in a sense, it's not a burden really. It's freeing…Yah, I'm free. I can write whatever I like. That's bliss to me."
Rowling then spoke about the time after she completed Harry Potter and the Deathly Hallows as a period of bereavement and commented that it's good to be back in the wizarding world with Fantastic Beasts. She said:
"I'm back in the world, and I'm dealing with my, some of my favorite characters, so it's been a gorgeous experience."
Going beyond her role as creator and screenwriter, Hotb wanted to know how involved Rowling had been in the casting. Rowling replied that director David Yates had been extremely generous, allowing her to see audition tapes throughout the process. She indicated that Waterston, Sudol and Miller were clear choices for their respective characters but that they had quite a difficult time finding the right actor to portray our favorite No-Maj. Rowling explained:
"We couldn't find Jacob and, for some reason, Jacob, who I think we'd all thought will be the easiest to cast, was really hard. And then we, David Yates called me and said, 'I've found him,' and he sent me some stuff [Dan had] done, and I said, 'Yah, you've found him, thank God.' "
And as for the experience of bringing the screenplay to the screen, Rowling shared that she loved it, saying:
"I actually love it, because although I am, I'm definitely a born novelist, and I'm very comfortable with that quite solitary existence, it is fun to collaborate. It's a really nice change of pace, and movies do have this particular magic. You know, to walk onto one of Stuart Craig's sets, right? And I think you would agree, particularly on this movie…he made New York stunning, but I think with Paris I actually feel we're on the next level."
Katherine Waterston added:
"Also, for actors in this day and age, you know, it's like being in the Golden Age of Hollywood to have sets like this. You know, we never imagined we would ever be on sets that looked like real streets as far as the eye can see. It's like Cleopatra, you know? The scale is extraordinary."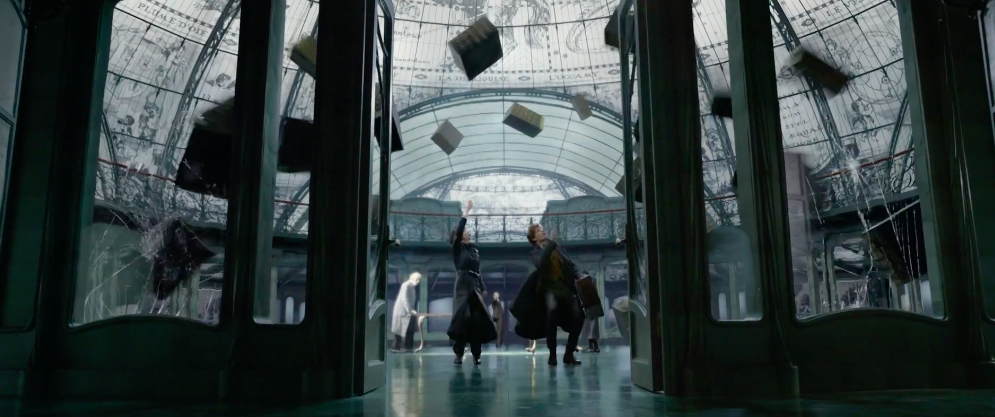 Rowling noted that it's very unusual in the digital age, with the advances in CGI technology, to build as much as they do for Potter. But, as fans, we see and appreciate the authenticity it brings to the films and to the stories! She went so far as to say that the prop department, responsible for all the intricate props used by the actors–from ledgers to posters to books to stacks of papers within desk drawers–is her favorite.
After some discussion of how Rowling's children view the films and the profession of writing, Hotb asked them to "tee up what fans can expect" from Crimes of Grindelwald, tapping Ezra Miller for the task. He said:
"I would say that, you know, if you're a fan, this is, we start to get so much deeper into the connections, the fabric that binds us to the stories we know and love from Harry Potter but with these characters that we now know and love from Fantastic Beasts, and I would say it gets really deep and really dark really fast."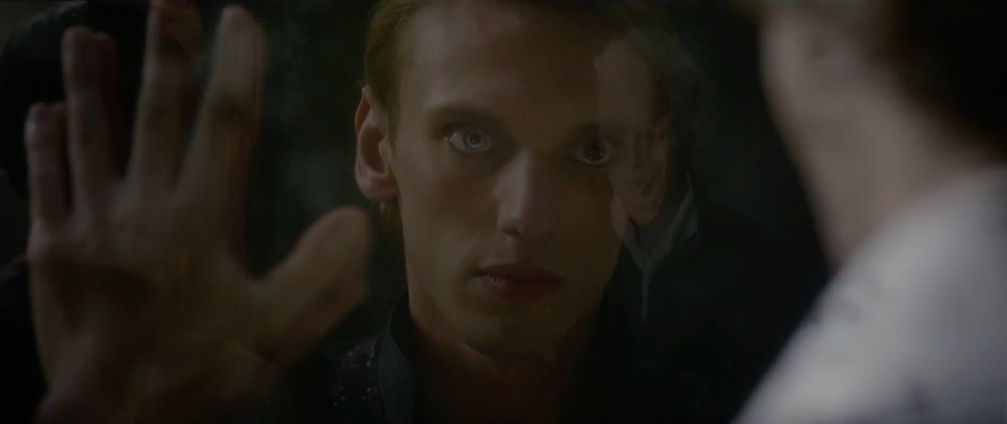 Dan Fogler even likened the film to Empire Strikes Back and its place in the Star Wars series as a fan-favorite and linchpin film. He and Miller agreed fans would not want to go into the third film without having seen Crimes of Grindelwald.
Of course, there are still three films left to make and a lot of story to cover before we get to plot points previously revealed in the Harry Potter books. Rowling confirmed:
"This isn't a big reveal, this story finishes in 1945, and people who have read the Potter books will know what happens in 1945 and why that's where we're heading. In fact, that's why we ended up doing five movies, because we're spanning a 19-year period."
Rowling also confirmed that her next novel will probably be another Robert Galbraith entry and acknowledged that, though she prefers to avoid the publicity that comes with being a popular writer, being outspoken on the political front is nothing new for her. Given the current climate in both the U.S. and the UK, she said "people need to stand up."
Watch the Today Show interview with Hoda Kotb in its entirety below, and check out the final trailer, along with Leaky's shot-by-shot breakdown, here!!