'Harry Potter' Actor Chris Rankin Launches 'Best Adoptive Parent' Award (& Other Non-Profit News!)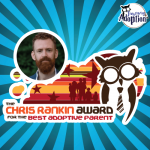 Oct 02, 2018
Having previously supported Transfiguring Adoption's mission to assist and raise awareness of adoptive families across the United States and United Kingdom by unveiling their Elf Squad Kits, Chris Rankin (Harry Potter's Percy Weasley) recently helped the Potter-inspired non-profit launch their latest campaign: the Chris Rankin Best Adoptive Parent Award!
Chris has previously opened up on his experience with being an adoptive child, and his personal thoughts on foster families and adoption via his personal blog (reported by Leaky here), and also recently wrote a guest post for Transfiguring Adoption. He commented on the need for awareness of adoption:
"There are more than nearly 4,000 children in the U.K. and more than 100,000 in the U.S. available for adoption. I'm proud to help shine a light on the creative and self-sacrificing heroes, adoptive parents like mine, who step up to the challenges of caring for these children on a daily basis."
**Contest NOW OPEN**
Nominations are now open through October 18th for the annual Chris Rankin Award for Best Adoptive Parent. Don't let that unsung hero in your life go unrecognized.
Visit the official event page:https://t.co/zPXWd0myNz pic.twitter.com/XVLoaOcJD7

— Transfiguring Adopt (@TransfigurAdopt) October 1, 2018
Transfiguring Adoption is a Potter-inspired nonprofit organization that supports adoptive families with various resources, including a unique curriculum based on the Harry Potter books. Harry himself, of course, was an orphaned child, and adoptive and foster parents can use Transfiguring Adoption's guides to help children work through their experiences and traumas in an approachable, nonthreatening manner. The organization chose to name their latest award after Potter's Percy Weasley, Chris Rankin, acknowledging his important presence in the adoptive community.
Full details on the award are as follows:
"Parents anywhere in the U.S. and U.K. are eligible for the Chris Rankin Best Adoptive Parent Award. The public may participate in both the nominations and final voting phases of the contest  at transfiguringadoption.com. Transfiguring Adoption leadership volunteers will select three finalists to advance to the public voting phase, and each finalist will be paired with a Celebrity Advocate, who will use social media and other digital platforms to campaign for their finalist."
Nominations are open until October 19, and voting (by donation) will run next month, between November 1– November 18. The contest winner will be announced the first week of December. All proceeds from this award will help support Transfiguring Adoption's work to provide resources, information and tools for foster and adoptive families.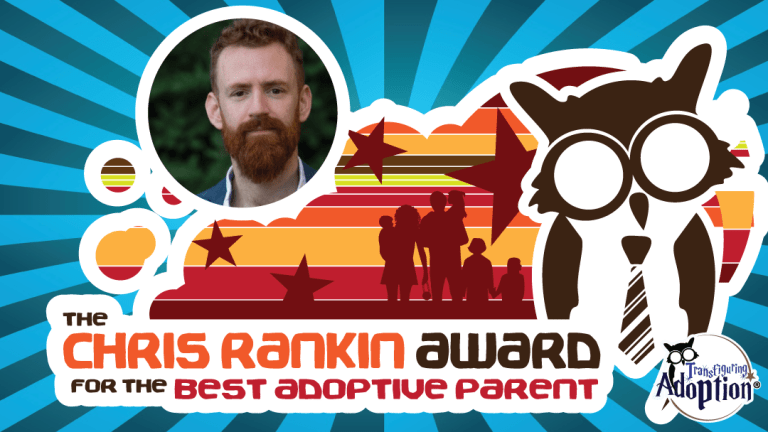 Transfiguring Adoption Co-Founder Darren Fink – whom Leaky interviewed this summer – said on the new award:
"We created the Chris Rankin Best Adoptive Parent Award to celebrate the dedication and love of adoptive parents, while creating awareness of their need for community support. "Nearly every child entering foster care has suffered trauma, so it takes specialized parenting to create and maintain a new 'family of choice.'"
Their national Elf Squad will also be asking and empowering the public to fill out thank-you notes throughout November which are to be delivered to foster agencies in time for end-of-year parties, helping to encourage and support the hard work of foster parents, sending "appreciation and empathy for the tough battles they're enduring"!
Finally, Transfiguring Adoption are searching for a volunteer illustrator to help add some magic to help convert their Harry Potter Discussion Guide and A Guide to Magical Creatures Around Your Home: Therapeutic Activities for Foster & Adoptive Families blogs, into ebooks – and possibly hard copy books! If you believe in their mission and think this could be for you, get in touch with their team at  Transfiguring Adoption's website.
In other Potter-inspired charity news, animal rights non profit The Protego Foundation recently launched their fundraiser (offering plenty of signed Harry Potter merch), as well as their Vegan Butterbeer campaign. Hogwarts Running Club announced their 2018 year-end Time Turner event, and the Harry Potter Alliance are sending Owls of Hope to refugees. Lumos continue to work to reunite children with families and raise awareness of the negative impacts of volun-tourism and orphanages, and will soon see a huge Fantastic Beasts wand installation in London launch in support of their mission, and Tales of Beedle The Bard published TODAY in aid of Lumos!
Owls don't belong in cages. 🦉

Get our new shirt for a limited time only at https://t.co/CraBkw2DNt. All funds go back into our campaigns to help animals like owls! A perfect gift for fans of #HarryPotter and #FantasticBeasts! pic.twitter.com/1zs0hxuLHJ

— Protego Foundation (@ProtegoFDN) September 9, 2018
EVENT ANNOUNCEMENT: The 2018 Time Turner!

All six past #virtualrun events of 2018 are reopened for unlimited registration, as well as the amazing Phoenix challenge medal!

All our 2018 charity partners will enjoy proceeds from this year-end celebration!https://t.co/y4AhG6bRij pic.twitter.com/odjhq7JRrg

— Hogwarts Running Club (@HogwartsRunners) September 29, 2018
When #HarryPotter was 11, owls brought him letters welcoming him to Hogwarts, his brand new home.

Today, do the same: join Dumbledore's Army as we write welcome letters to refugees & deliver Owls of Hope https://t.co/pjCmGexMNA #DAFightsBack #RefugeesWelcome #MondayMotivation pic.twitter.com/7S5mOMI7LP

— The Harry Potter Alliance (@TheHPAlliance) September 24, 2018
It's here! The new illustrated edition of The Tales of Beedle the Bard is out TODAY with stunning illustrations by @chrisriddell50. Published in aid of @lumos. #TheTalesofBeedleIllustrated #HarryPotterIllustrated – Get involved: https://t.co/YydWwalVIx pic.twitter.com/iAFIClT8W6

— Lumos (@lumos) October 2, 2018
That's a lot of real-world magic you can help support: get to work, Dumbledore's Army!