Weekly Round-Up: A Special Potter-Themed DWTS Performance for Evanna Lynch, A New Directorial Project for Bonnie Wright, Jason Isaacs Supports Indonesian Disaster Relief and More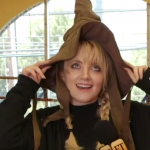 Oct 07, 2018
It's been a week of exclusives for the Leaky Cauldron! We got a sneak peek of the new Wizarding World of Harry Potter thrill ride direct from Universal Orlando, a first look at Lifeprint's new Harry Potter Magic "Hyperphoto" and Video Printer, a preview of Harry Potter: A History of Magic Exhibition at the New York Historical Society and a new essay from Potter-expert Dr. Beatrice Groves on some of the themes and objects found at the exhibition, and we had a magical day at New York Comic Con with the Broadway cast of Cursed Child, Tom Felton and Natalia Tena of the upcoming Youtube Sci-fi series Origin, Audible's Harry Potter Pensieve Experience and a visit with Fantastic Beasts Dan Fogler. In addition, Empire Magazine's new Wizarding World issue hit newsstands with exclusive new Crimes of Grindelwald images, footage was leaked of a possible new Harry Potter role-play game, and the BBC announced that Lethal White is heading to television. On top of all of that news, we reported on all the latest updates from Harry Potter inspired non-profit organizations including the Best Adoptive Parent Award launched by Chris Rankin and Transfiguring Adoption.
This week in our Harry Potter and Fantastic Beasts Actor's Round-Up we have an interview with Bonnie Wright on her latest directorial project, Evanna Lynch on how Harry Potter impacted a personal issue and how it may inspire an upcoming Potter-themed Dancing with the Stars performance, Emma Watson authors an open letter to a woman whose death affected reproductive rights legislation in Ireland, Zoe Kravitz shares her "first time" story to encourage getting out to vote, Jason Isaacs supports the British Red Cross's appeal for victims of the Indonesian earthquake and tsunami, Julie Walters narrates ITV series The Big Audition and more!
Bonnie Wright on her Latest Directorial Project
Bonnie Wright, the director, producer, and actress best known to Harry Potter fans as Ginny Weasley, announced via Instagram today, her latest directorial project, a music video for duo Pete Yorn and Scarlett Johansson current EP Apart. The video for their new single "Iguana Bird" premiered on entertainment and fashion website Paper along with an interview with Wright, who was commissioned by Capitol Records to pitch the duo her vision for the video. Yorn, who was looking to convey more of a feeling of a short film rather than a typical music video, said this about working with Wright,
"I have been a fan of Bonnie's work and she came to us with a visual concept that really captured the emotion behind the song in an original way."
Wright told Paper the following about her inspiration for the project and working with its on-screen star Nicola Collie,
"Pete Yorn and Scarlett Johansson's new single 'Iguana Bird' evoked for me that new loneliness you feel in the wake of a break up, having spent every moment with someone you now have to create new memories that feel forced and out of touch with what you know,"[…]"I was inspired by the dance scene in Jean Luc-Godard's film Bande à Part, most particularly Anna Karina's character, and the vulnerable beauty often explored in French cinema during the '60s. I have been an admirer of Los Angeles-based choreographer and dancer Nicola Collie for a while and it was such a joy to direct her in this enclosed world we created for the music video."
Paper also asked Wright what starting her own production company has meant to her career after being a part of the Harry Potter franchise, to which she replied,
"I formed my production company in the last year of film school, it was actually an assignment to build a website as part of our degree and by that point bonniewright.com was taken so I saw is at as an opportunity to dream up a name. Bon is my nickname and Lumière is light in French and film captures light so my company was named BonBonLumière. Being able to produce my own work has given me the freedom to express and process my ideas and feelings. I love directing because I get to (be a) part of every element of filmmaking and I have been fortunate to collaborate with such a wide variety of my contemporaries from London to Los Angeles."
Congratulations to Bonnie Wright! Take a look at the magic she's created behind the camera:

Evanna Lynch Shares Personal Message Through Upcoming Potter-Themed DWTS Performance
Team Kevanna, Evanna Lynch and her Dancing with the Stars partner Keo Motsepe moved on to week three of the competition on Tuesday after much praise from the judges on their desert-themed jive. While preparing for next week's performance, which to the delight of Wizarding World fans, will be set to the iconic Hedwig's Theme, Lynch and her partner had a conversation with ET about the upcoming Potter-themed performance, keeping her Potter connections and how Harry Potter helped her cope with a very personal issue.
Most die hard Potter fans know that Lynch was a Potterhead herself prior to getting the role as Luna Lovegood. Lynch revisited what a life changing experience it was for her, not only because of her part in the phenomenon, but because the book series helped her cope with an eating disorder at the time, which she described as,
"The only light I saw in the world at a very dark time."
When ET asked what message Lynch would like to send to fans about dealing with situations like she has confronted, she said,
"I want people to know that these kind of issues are a fight everyday. You're constantly having to choose between the negative voice that's in your head telling you you're terrible at everything–I suck, and no, I can be something."
She said there was no way she would be able to participate in Dancing with the Stars or gotten the role in Harry Potter if she had continued down the same path.

As words Lynch probably learned through experience and maybe as words of encouragement she said,
"When you believe in yourself things happen."
She knows from communication she's had with fans that Luna helped others cope with various issues by giving them permission to be themselves. ET asked Lynch's DWTS mentor how he would translate that important message into dance next week and he replied,
"I'm feeling pressure every day because I think that's what [Harry Potter] fans are looking forward to,"[…]"But also I don't want to run away from her story. I need to be very careful in what I do and how I choreograph this dance because it's very special to her."
It sounds like next Monday's performance will be a special one for fans viewing on TV as well as Scarlett Byrne, who played Slytherin Pansy Parkinson in the last three Harry Potter films and has attended every performance of this DWTS season to date. ET asked if Lynch had invited J.K. Rowling to a performance, to which she responded she hadn't yet, but does continue to stay in contact with the author,
"I love her and we still write letters occasionally, but I don't like to bother her with every little thing,"[…]"I invite her to my shows and films, and she's amazingly supportive. But she's got a franchise and a book series and everything going on."
We'll definitely have our Spectraspecs on Monday night to watch this magical performance. Continued good luck to Team Kevanna!
Watson Pens Letter in Memory a Woman Whose Death Impacted Irish Reproductive Rights Legislation
It was a great honour to be asked by @PORTERmagazine to pay the deepest respect to the legacy of Dr Savita Halappanavar, whose death powered the determination of activists to change Irish abortion laws & fight for reproductive justice all over the world. https://t.co/KZWRpp7btO pic.twitter.com/yLDXgcHKyh

— Emma Watson (@EmmaWatson) September 29, 2018
Emma Watson, who's best known to the Potterdom as Hermione Granger, but in recent years has become a prominent voice for women's rights, was asked by Porter Magazine to author an open letter to Dr. Savita Halappanavar, a 31 year old dentist who died following a septic miscarriage in 2012 that may have been prevented if she was allowed an abortion. The request came just weeks after Ireland overturned its Eighth Amendment, which gave unborn fetuses the same rights as their mothers, heavily restricting abortions. According to Porter, Ireland will be introducing new less restrictive legislation in the next few months deemed "Savita's Law". Watson's letter begins as follows,
"You didn't want to become the face of a movement; you wanted a procedure that would have saved your life,"
The letter can be seen in its entirety in Porter Magazine.
Zoe Kravitz Encourages First Time Voters
Zoe Kravitz, Fantastic Beasts Leta Lestrange is leading the charge in a new star-studded campaign to encourage voting in next month's midterm election. In the video below, she and her other fellow celebs joke about their "First Time" in an effort to get people to the polls and registered to vote before the October 9 deadline.
Jason Isaacs Supports Indonesian Natural Disaster Appeal
Last week a devastating earthquake and tsunami hit the Indonesian island of Sulawesi killing more than 1400 people in the city of Palu and the surrounding area. Jason Isaacs, Harry Potter's Lucius Malfoy has joined forces with the British Red Cross to raise financial aid for the 200,000 plus survivors currently in need of humanitarian assistance. Isaacs says in the appeal below that a donation of just £50 will supply food for one family for a month. There are multiple ways to donate listed at the end of the video including at the British Red Cross website.
Thank you to British Red Cross supporter and actor @jasonsfolly for supporting the Indonesia #Tsunami Appeal.

Will you join him? https://t.co/LWXTRkzJto pic.twitter.com/RZ4gbwWZjV — British Red Cross (@BritishRedCross) October 5, 2018
Good Omens with David Tennant at New York Comic Con
David Tennant, Harry Potter's Barty Crouch, Jr has his (Dark) mark on multiple projects, but none may be as anxiously awaited as the upcoming television adaptation of Neil Gaiman and Terry Prachett's 1990 fantasy novel Good Omens. Tennant will be seen as demon Crowley who teams up with the angel Aziraphale, played by Michael Sheen, to prevent the Apocalypse with the help of Potter alum Miranda Richardson, who played Rita Skeeter, as Madame Tracy, a psychic who helps the pair save the world from Armageddon. As the show's New York Comic Con panel approaches this weekend, EW caught up with its two stars who had this to say about their on screen chemistry,
"They really annoy each other," Sheen said, "But they do really enjoy each other."

"And they enjoy being appalled by each other," Tennant adds. "Yet throughout the eons, they've been saving each other's bacon, repeatedly."
Take a look at the all new first trailer for Good Omens below that premiered today at New York Comic Con. Good Omens can be seen sometime in 2019 on Amazon. 

Julie Walters Narrates New ITV Series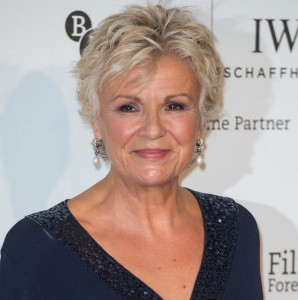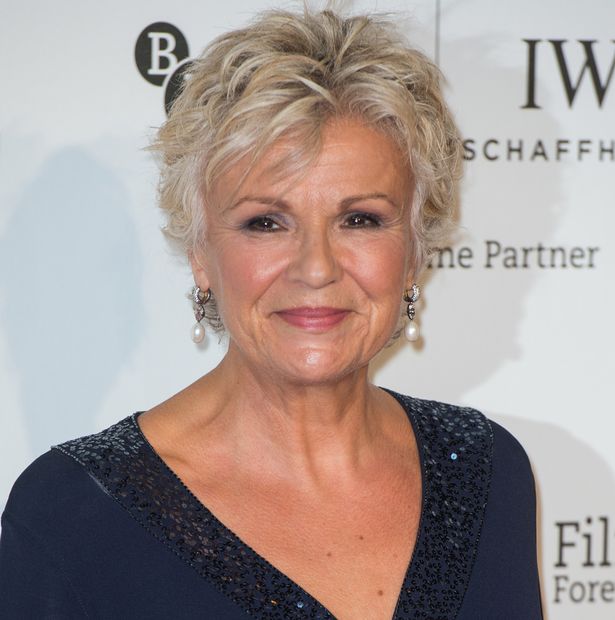 Want to hear Mrs. Weasley tell a story? The actor who played her in the Harry Potter films, Dame Julie Walters, will be narrating a new six-episode series called The Big Audition, a reality program that shows individuals auditioning for actual parts that could have real life changing consequences. Walters will take viewer through the entire step by step audition process. The Big Audition begins Friday, October 5 on ITV
That's all the news for this week from the Harry Potter and Fantastic Beasts actors, but fear not, we'll surely have more to report from this group of spellbindingly talented and conscientious wizards next week!