Weekly Round-Up: Ralph Fiennes Discusses Voldemort, Potter Trivia with Tom Felton, Rumors of 'Fantastic Beasts 3' Sighting & More!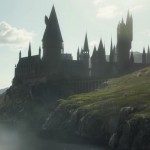 Apr 07, 2019
Another magic filled week in the Potterverse! Leaky apparated to Planet Comicon for a Weasley sibling reunion, and to the unveiling of the new Gringotts Wizarding Bank feature at Warner Bros Studio London, we're making room in our Potter collections for an illustrated version of Quidditch Through the Ages, a new Chocolate Frog Card and hoping Leaky readers take part in the exclusively extended Chamber of Secrets contest from Classic Stills. We topped off the week with our analysis of the Crimes of Grindelwald screenplay–yes we definitely think it's worth the read, and the HUGE news from Team Starkid, creators of A Very Potter Musical on their 10th Anniversary reunion performance including Darren Criss!
This week in our Harry Potter and Fantastic Beasts actors round-up, films from Dames Maggie Smith and Emma Thompson preview at Cinemacon, Jason Isaacs unwinds that crazy The OA season two ending, Ralph Fiennes talks Voldemort's wand, makeup and hating Harry Potter, Wizarding World trivia with Tom Felton and more!
RUMOR: Johnny Depp Possibly Seen Filming At Lacock Abbey
To begin, we'll share this interesting sighting posted by Fansided's Wizards and Whatnot – Johnny Depp has reportedly been seen filming in the English village of Lacock!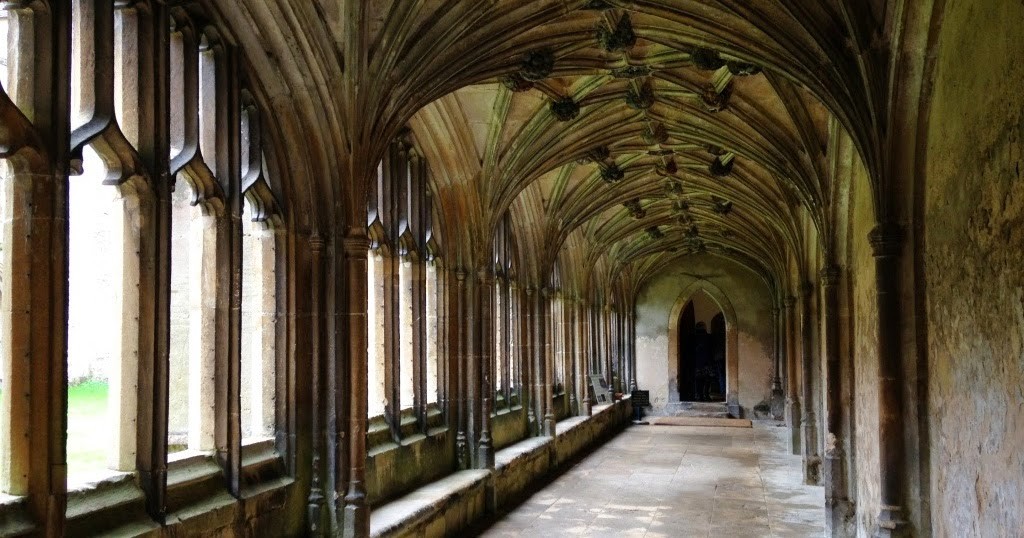 For those who aren't aware, that's where many Hogwarts corridor and classroom scenes were filmed, so it's interesting to consider the possibility that Grindelwald would be visiting the school, especially as he can't move against Grindelwald due to the blood pact.
However, seeing as production on Fantastic Beasts 3 isn't supposed to begin until this Fall, and there are no photos or official confirmation of the sighting, we're leaving this as a food-for-though rumor for now!
Cinemacon Previews for Maggie Smith and Emma Thompson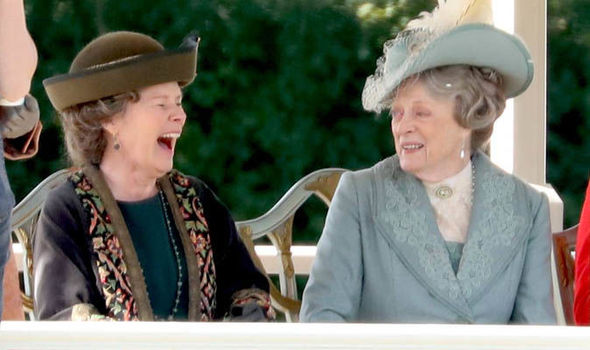 Two beloved Harry Potter alums were in the spotlight at this year's Cinemacon, the annual gathering of the National Association of Theatre Owners held in Las Vegas earlier this week.
Attendees at the convention got a sneak peek of the anxiously awaited big screen adaptation of the popular British period drama Downton Abbey starring Dame Maggie Smith, Harry Potter's Professor McGonagall, as matriarch Violet Crawley Dowager Countess of Grantham. The film also includes Imelda Staunton, might-just-as-well-be-a-Death-Eater Dolores Umbridge, in the role of Lady Bagshaw according to IMDB.
The first trailer revealed that the King George V and Queen Mary, the reigning monarchs of the time, would be stopping by Downton. According to Deadline, Smith's Dowager Countess says to Penelope Wilton's Isobel about the Royal visit,
"Do you have enough clichés to get you through the visit?" Isobel retorts, "If not, I'll come to you."
Downton Abbey's official release date is September 20, 2019 for North American audiences and a week earlier internationally.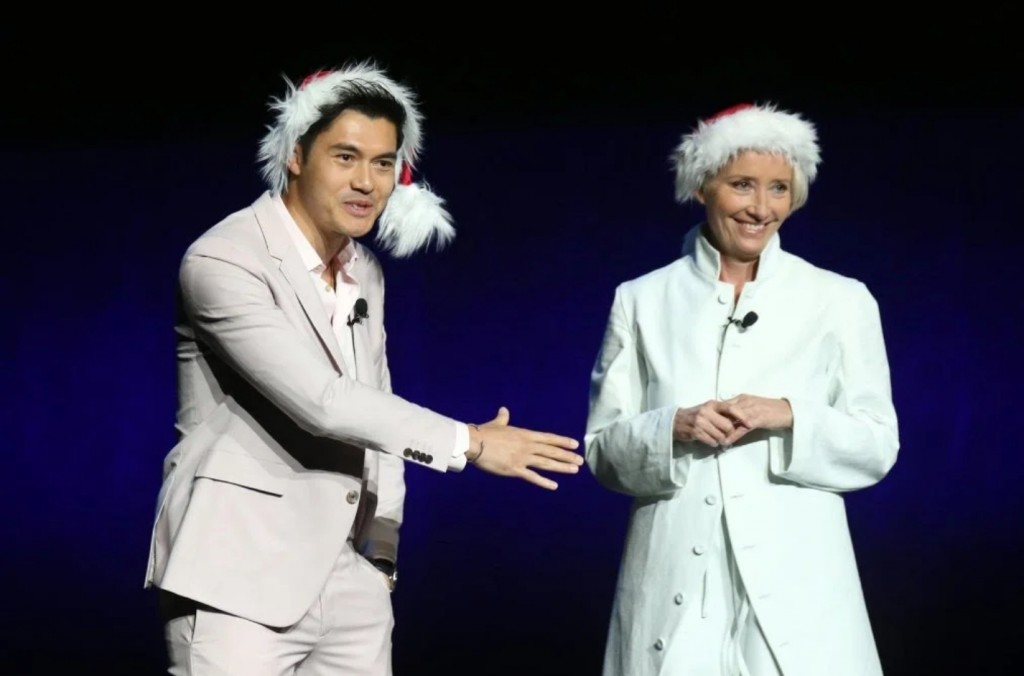 Dame Emma Thompson who played Divination Professor Sybill Trelawney also gave Cinemacon guests a preview of the upcoming holiday rom com Last Christmas, based on the Wham's 1984 song by the same name, with a script written by the acclaimed actress herself.
Another trailer still under wraps, EW describes the film from their sneak peek,
(The trailer) "introduced down-on-her-luck Kate (Clarke), who returns to London with dreams of being a singer and takes a job in a year-around Christmas shop. Her dislike for all things Yuletide is evident in her work, as her taskmaster boss (Michelle Yeoh) calls her a lazy elf. But Kate's luck changes when she meets Tom (Golding), who comes to her store (only for a bird to poop into her eye) and asks her out, starting a romance that'll include a date at a ice skating rink."
Thompson had this to say at the event about her involvement in the project,
"I was asked if I would like to write a story based on the song 'Last Christmas,' and I said no, not really, because I didn't really like the song,"[…]"Then I thought of the lyrics, 'Last Christmas, I gave you my heart,' and I think I could think of something, and we spent seven years writing this story."
Last Christmas opens in theaters November 15, 2019.
US Distribution Rights Secured for Playmobil: The Movie with Daniel Radcliffe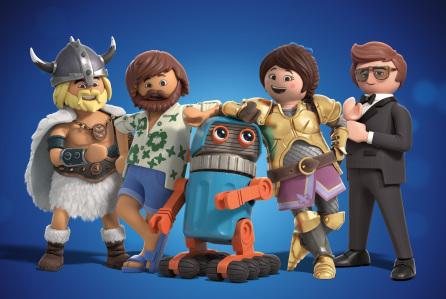 Thanks to STXfilms, US Potter fans will be able to hear their favorite Boy Wizard voice the dashing secret agent Rex Dasher in theaters, in the upcoming animated feature Playmobil: The Movie based on the German toys and figurines by the same name. Here's a synopsis according to Deadline,
"The story follows a brother and sister who disappear into the animated universe of Playmobil where they encounter new friends and dangerous enemies along the way."
Radcliffe's Dasher appears to be one of those friends. No word yet on a theatrical release date, but of course we'll let you know when Harry Potter returns to the world of family friendly films! In the meantime Radcliffe is scheduled to appear on the Graham Norton Show to discuss his animated role Friday, April 19.
Jason Isaacs Talks Season 2 of The OA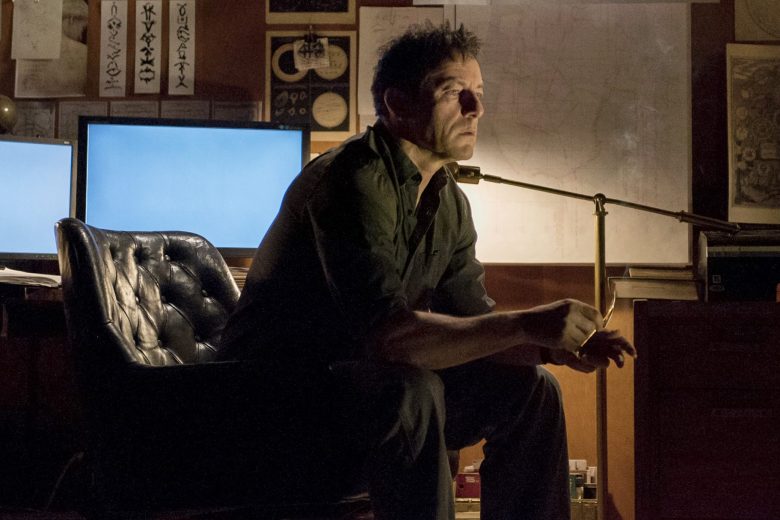 We are NOT going to spoil the mind blowing second season of The OA starring Jason Isaacs, who's known best in the Potterdom as Death Eater Lucius Malfoy, for those of you who haven't watched it yet, but just give you a little teaser of his recent interview with IndieWire on the newest installment of the Netflix series,
 'If you think about what happened in season two, the noir-ish tech thriller aspect of it, one thing's for sure, they're never gonna repeat themselves. 'It's not like The Fast and the Furious. You don't add a road a couple more cars. It's likely to be something entirely different. Season one and season two in many ways couldn't be more different. 'And I have no doubt they'll do the same, because they don't bore themselves, or they don't want to bore the audience.'
Once you've seen Isaacs in action for yourself as Hap in the sci-fi fantasy drama, make sure you read the full Indiewire article with his speculation on what he hopes will be a third season. It's truly hard to wrap our heads around! ICYMI-check out our coverage of the new Gringotts Bank feature at Warner Bros Studio Tour London where we had the privilege of chatting with Jason Isaacs directly about The OA, among other things!
Ralph Fiennes Shares a Voldemort Secret
Ralph Fiennes, the Oscar winning actor who brought The Dark Lord to life on screen, sat down recently with Digital Spy along the White Crow press tour to discuss his most iconic characters. It's no surprise that Voldemort was included on the list, and he had some great anecdotes to share from the set, including some secrets about that well known hooked wand, those snakelike special effects, and what it took to conjure the emotion for his final scene in the Battle of Hogwarts, "You just had to hate Harry Potter…"!

Fiennes is also being eyed for a role in the upcoming film, The Menu with Emma Stone. Collider says this about what appears to be a comedy,
"Set in the world of high-end culinary culture, The Menu follows a young couple who travel to a remote island to attend an exclusive restaurant where the acclaimed chef has prepared a lavish tasting menu, along with some shocking surprises. Sources say that Fiennes will play the twisted chef, while Stone is poised to play one half of the young couple."
We love when He Who Must Not Be Named makes us laugh! Stay tuned for more on this upcoming Fiennes project.
Killing Eve Premiere and Press Tour for Fiona Shaw
The second season of the hit BBC spy drama Killing Eve is around the corner and series star Fiona Shaw, Harry Potter's Aunt Petunia Dursley, is making the media rounds ahead of its April 7 premiere. Shaw, who plays head of the MI6 Russia Desk Carolyn Martens made appearances recently on both US coasts after the red carpet premiere of the series' next installment earlier this week with various other interviews in between. During a char with Out.com Shaw was asked if Aunt Petunia would like Killing Eve, to which she replied,
"That's a crazy question. No, she really wouldn't like it.[…]She wouldn't like it at all. I don't think she would like it at all. I think she would like to turn the television off."
And her host hilariously followed up with,
"Well, maybe that's a good thing? Maybe that means you're doing something right".
Take a look at her first interview with Los Angeles CBS Affiliate KTLA when she tells the hosts how children, who recognize her from Harry Potter, react to her in public.

Later in the week she sat down with New York Live and revealed an off set secret pretty surprising to Killing Eve fans! Do you have your DVR set for the premiere of the second season of Killing Eve Sunday, April 7 at 8p ET on BBC America?

Harry Potter Trivia with Tom Felton
Tom Felton, better known as Slytherin Draco Malfoy, recently sat down with Syfy for a little Harry Potter fun and games along the press tour for Universal Orlando's new roller coaster Hagrid's Magical Creatures Motorbike Adventure. In the first video Felton plays Weasley twins trivia with his host, which is timely for Leaky since we spent the weekend with the actors that played them at Planet Comicon. Take a look at the first video and see how you do:

The next challenge covers all areas of Potter with a twist. Felton's host had to eat a Bertie Bott's Every Flavor Bean with each wrong answer. There's few we missed, so it's lucky we didn't have to indulge. Give it a try for yourself!

William Nadylam on Joining the Wizarding World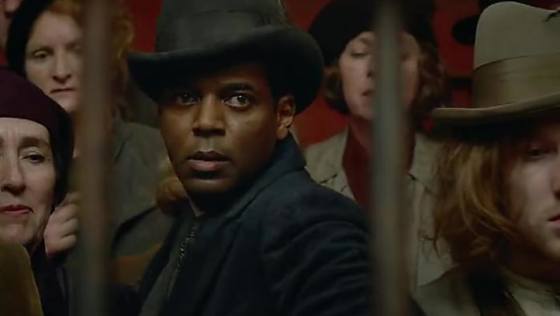 William Nadylam, the French actor who played new Fantastic Beasts character Yusuf Kama, Leta Lestrange's half brother in Crimes of Grindelwald, recently sat down for an interview with JournalduGeek to talk Potter, what it was like joining the Fantastic Beasts cast and an interesting fact about his character we hadn't heard.
When asked if he was familiar with the Harry Potter universe before winning the role, he said he considered himself a fan but didn't realize until speaking with the cast and creative, how much he had to learn,
"I realized that every person who interviewed me knew more than me about the universe. But it's a universe that I really like. I had seen all the films, I was at that stage, let's say I was in the first stage, in the first circle of the Potterheads.So I knew all the movies, the sequence, but I did not know all the lots by heart, I did not know all the words, I did not necessarily know the whole story of the Lestrange, for example."
He had much to share about his fellow wizards, all of it wonderfully positive,
"Johnny is a guy who lives to play. It is improbable. As soon as he plays, he lights up. Eddie Redmayne is a very great technician. He really reminded me of Charlie Chaplin because he works all the time. As soon as there is a break, we see him repeating, moving, working his gestures, repeating his text, and so on. All others are hyper concentrated. Zoë Kravitz, who looks completely relaxed … As soon as you say action, it's a dynamite."

"Claudia Kim, the actress who plays Nagini, who is a love. Ezra Miller, do not even mention it. There was also Dan Fogler, who plays Jacob, who made me laugh all the time because he watched me play, and then he replayed my own scenes."
Interestingly, it sounds like Kama was originally planned to be an Animagus perhaps. How might that have changed the plot?
"At first it was a character who turned into an animal. There was a lot more work of prosthetics, so it amused me a lot. I could already see myself turning into a bird, etc. And when I was told that this part was removed, I was at first a little sad. I thought, oh so thin, I would not have super power. But in fact it was to make the character more human, more endearing, and to dig his humanity. And after that was the gift."
Nadylam's full interview including video can be found on JournalduGeek.
Warwick Davis in New Star Wars Behind the Scenes Book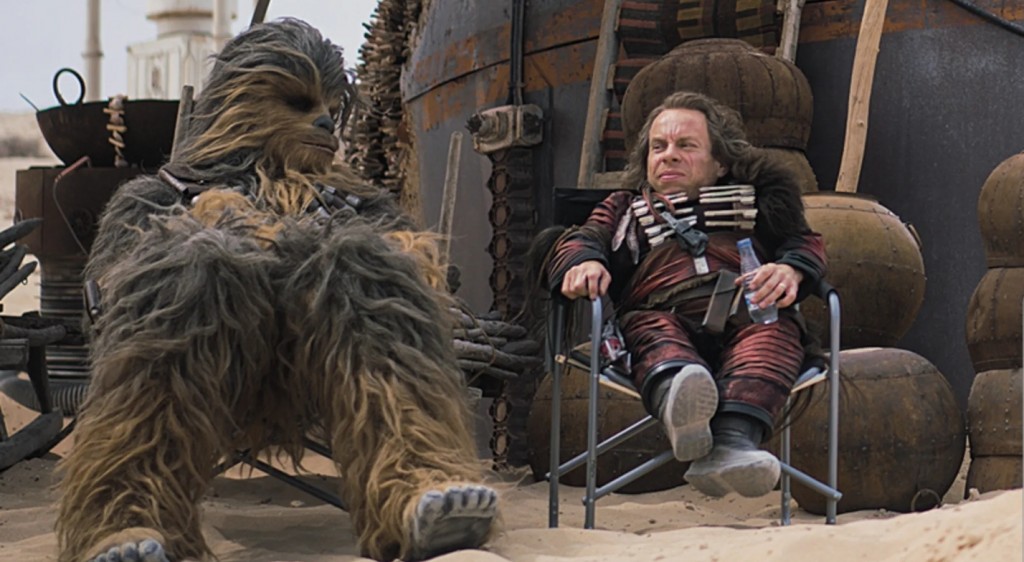 A new book that chronicles the making of the Star Wars: A Solo Story is on the way from visual effects company Industrial Light and Magic. The behind the scenes look at the film, that tells Star Wars icon Hans Solo's backstory, includes images of franchise crossover Warwick Davis who played Professor Flitwick and Griphook in the Harry Potter films. In this exclusive look from io9 we get a glimpse of Davis as Weazel taking a break with Joonas Suotamo who played Chewbacca.
Industrial Light and Magic Presents: Solo A Star Wars Story hits shelves April 16.
Domhnall Gleeson Writing a Comedy Series with Brother Brian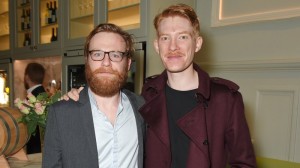 Domhnall Gleeson, who Potter fans know as cool Weasley brother Bill, told RTE recently that he and his real life brother Brian are writing a six-part half hour comedy for Channel 4. If the program is commissioned, he and Brian plan to star in the series as well. The two have worked together in the past, most recently in a television movie directed by and co-starring their father Brendan Gleeson, who is another Potter alum, Mad-Eye Moody. The Peter Rabbit star said this about working in comedy,
"I'd like to keep doing funny stuff, I think if I was going to do something it would have to be funny, the drama thing I adore but trying to work on something that's funny keeps you alive."
No word yet on the future of the Gleeson project but we'll keep you posted.
That's all the news for this week Potterheads! Join us here next week for more info on those busy Harry Potter and Fantastic Beasts actors and in the meantime don't miss the Wizarding World news from the stage in our latest Theater Round-Up.