Verified Fan Registration Open for Next Cursed Child Broadway Ticket Sale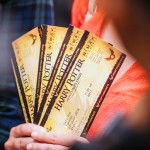 Jan 25, 2018
The opening of Cursed Child on Broadway is just around the corner and another group of lucky muggles are closer to scoring a ticket to the award-winning Harry Potter play.
If you hadn't downed your vial of Felix Felicis during the first ticket sale for the show last fall, another batch of tickets go on sale Wednesday, February 7 at 11am ET, as reported by Leaky late last year. In order to purchase tickets to the Broadway production of Cursed Child you must first register with Ticketmaster for a Verified Fan Access code. According the the play's social media, Verified Fan Registration is NOW open through January 31. Fans must establish a Ticketmaster account in order to register for the Verified Fan access code.
Registration for the #CursedChildNYC Ticketmaster Verified Fan pre-sale on Feb 7 is open now through Jan 31 only! Registered genuine ticket buyers will be randomly selected to receive an Access Code for the chance to purchase tickets on Feb 7. https://t.co/SFH6gqHH1D pic.twitter.com/Dqsfz2LT0m

— Cursed Child NYC (@HPPlayNYC) January 25, 2018
Once you have successfully registered for your code, the screen below should come up and you should receive an email from Ticketmaster stating they have received your registration and to expect to receive another email on February 5 confirming your access. If you are randomly selected to receive a code, you will receive it via text message one to three hours prior to the sale on February 7.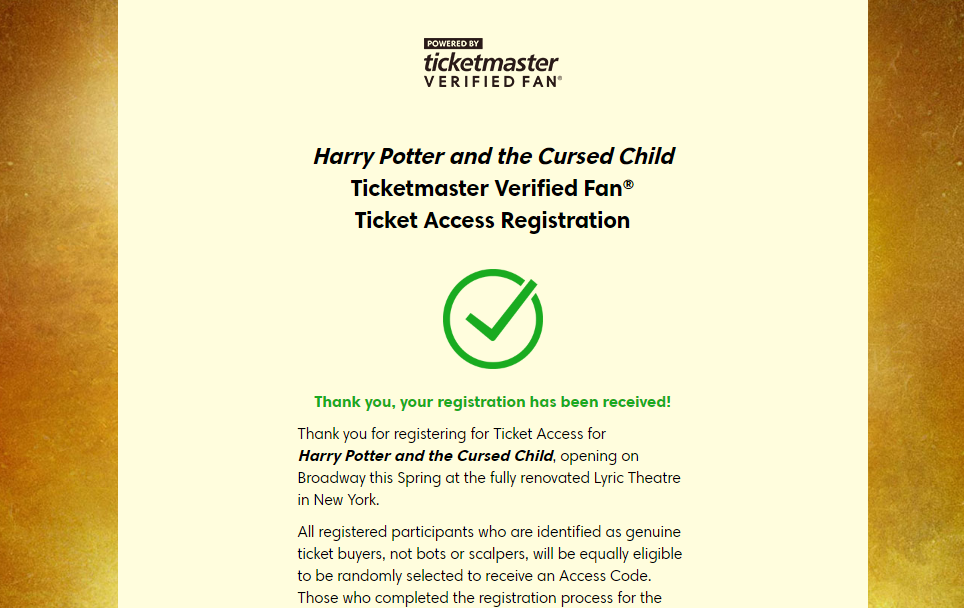 The excitement is building on Broadway! The original London cast crossed the pond and have begun rehearsals. Even the Lyric Theater is starting to reflect the magic that's getting ready to take place on stage as covered in this week's Leaky theater round-up.
Exterior display for @HPPlayNYC coming together on the 43rd Street side of the Lyric Theatre. pic.twitter.com/Ydu3Id3Yo1

— Howard Sherman (@HESherman) January 24, 2018
Will you be in front of your screen February 7 trying to get tickets to Harry Potter and the Cursed Child Broadway, or are you one of those lucky muggles that already snagged one? Let us know and good luck!!