Weekly Round-up: Warwick Davis Hosts Harry Potter Quiz Night at WB Studio Tour, David Tennant Live in London With The Muppets & More!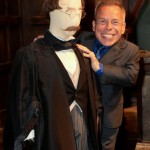 Jul 08, 2018
This week in the Potterverse, Cursed Child announced a production opening in Germany in 2020, a first-edition copy of Philosopher's Stone sold for £56k, a special new Chocolate Frog Card made its debut at Universal Studios Orlando, Hogwarts Castle was nominated as the castle schoolchildren in the UK would most like to visit, J.K. Rowling made the Variety500 list, and we released our complete guide to recent and upcoming Wizarding World publications, just to help you navigate the latest updates that little bit easier!
We also announced that we're recruiting volunteer writers, edtiors, designers & reporters, so be sure to check out our vacancies here – if you're a dedicated writer, social media poster, editor or artist and, above all, a huge fan of all things Wizarding World, we'd love to have you on our team!
Our round-up this week brings updates from Warner Bros Studio Tour London's Harry Potter Quiz Nights, Evanna Lynch's upcoming cruelty-free beauty box, new projects for Jude Law, Jim Broadbent and David Tennant, updates on David Heyman's collaboration with Quentin Tarantino and Emma Watson's latest Our Shared Shelf pick:
Warwick Davis Hosts the first Harry Potter Quiz Night at Warner Bros Studio Tour London: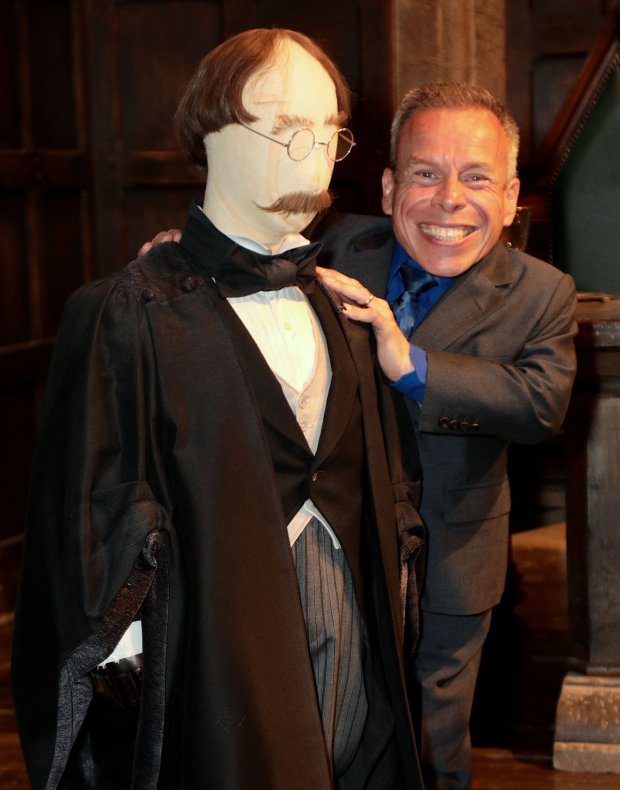 Photo credit: Lexi Jones / WENN.com
Warner Bros Studio Tour recently hosted the first of their Harry Potter Quiz Nights, held in the Great Hall at Leavesden Studios. Warwick Davis (Professor Flitwick) was quizmaster for the evening, testing guests on their knowledge of J.K. Rowling's series. Tickets are now on sale for the quiz nights, occuring this month – find out more in our original coverage, here, and see a video from the first event below:
Evanna Lynch Set to Launch Cruelty-Free Beauty Box
Announcing via her Instagram stories (featuring Puff, of course) that she was launching a cruelty-free vegan beauty box, Evanna Lynch (Luna Lovegood) asked for input from fans on what they'd like to see in the box via a survey, which you can find here.
She said on the incentive behind her idea:
"Basically, as most of you know by now, I am very passionate about animals and I also love makeup, and I do not believe that the two should intersect. I don't think that you should need to use animals for makeup. However, that is the way the industry is at the moment so that is something we're trying to change."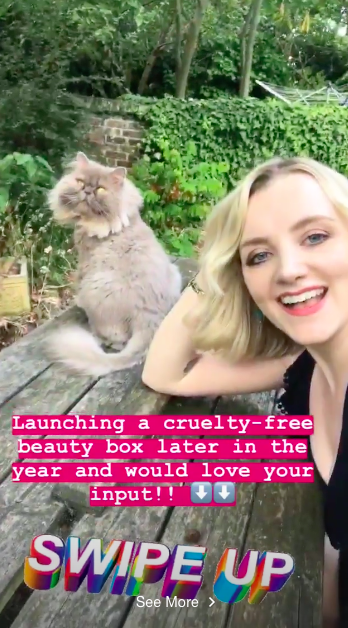 Evanna's vegan podcast The Chickpeeps  – with Robbie Jarvis, Tylor Starr and Momoko Hill – featured an episode on cruelty-free beauty products, as well as multiple other vegan discussion topics, such as vegan athletes, why eggs and honey aren't vegan, ethical vegan fashion and much more, as well as two Harry Potter themed episodes! Season One of The Chickpeeps just wrapped, but you can find the entire season here. Also check out Evanna and Robbie's support of The Protego Foundation's campaign to get vegan Butterbeer on the menu at The Wizarding World of Harry Potter here.
Evanna also caught up with Katie Leung (Cho Chang) at London Pride this week! Were you at the parade? We hope you had a wonderful, pride-filled time and managed to visit The House of MinaLima, which was – as per tradition – fully decked out for Pride 2018!
Jude Law in The New Pope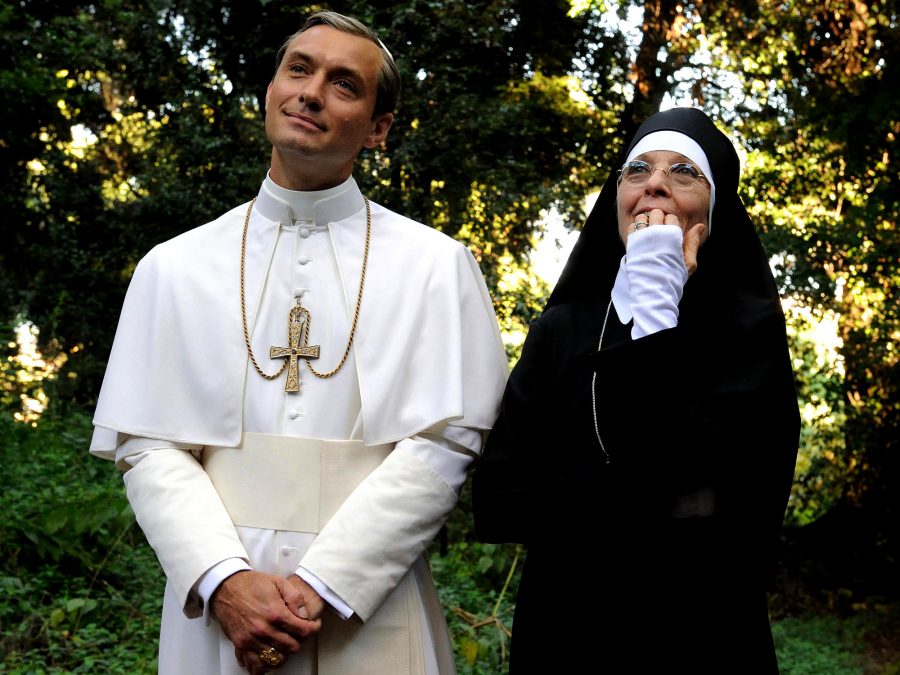 Fantastic Beasts star Jude Law (young Albus Dumbledore) will star in The New Pope, a follow up to his previous starring role as Lenny Belardo, or Pius XIII – the first American pope in history – in The Young Pope. The HBO / Sky series will not be a second season of the show, but rather Paulo Sorrentino's "second limited series set in the world of the modern papacy". Details of Law's role in this series are unknown at this point. John Malkovich recently joined the cast, and production is scheduled to begin in November. Read more here.
New Details on David Heyman & Quentin Tarantino's Once Upon A Time in Hollywood Revealed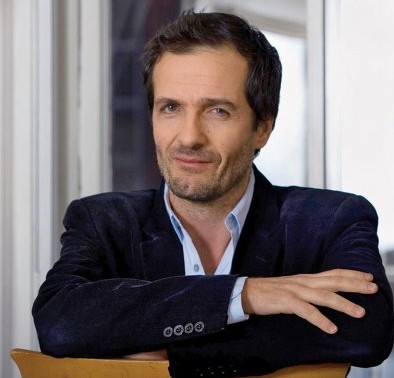 As previously reported by Leaky, David Heyman (producer of Harry Potter / Fantastic Beasts) will produce Quentin Tarentino's next movie, Once Upon a Time in Hollywood. Tarantino's ninth feature film will star Brad Pitt, Leonardo DiCaprio and Margot Robbie, and will tell a variety of stories (similar to the format of cult classic, Pulp Fiction) including the Manson Family murders.
Tarantino said on the film:
"It is a story that takes place in Los Angeles in 1969, at the height of hippy Hollywood. The two lead characters are Rick Dalton (Leonardo DiCaprio), former star of a Western TV series, and his longtime stunt double Cliff Booth (Brad Pitt). Both are struggling to make it in a Hollywood they don't recognize anymore. But Rick has a very famous next-door neighbor …..Sharon Tate [portrayed by Margot Robbie]."
Read more about the film here, and catch a first look at Brad Pitt and Leonardo DiCaprio in-costume below:
The film will release on August 9th, 2019 – the day after the 50th anniversary of the murder of Sharon Tate.
Emma Watson Announces Latest 'Our Shared Shelf' Pick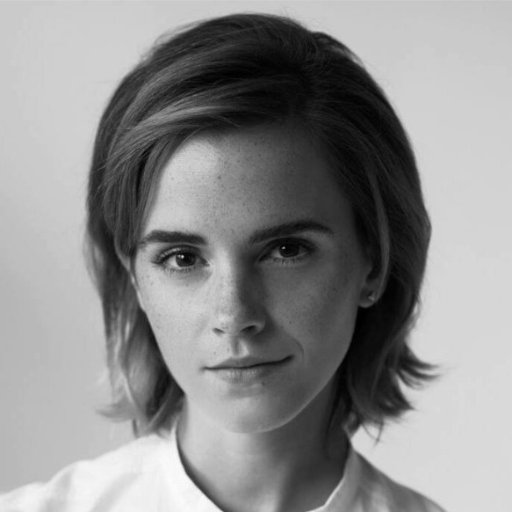 The latest Our Shared Shelf pick for July / August is Rupi Kaur's poetry collection, Milk and Honey – a first for the reading group! Watson's announcement on the official Goodreads page for her feminist book club  included her thoughts on the importance of poetry, and the part it played in her life:
"Over my lifetime, I have fallen in and out of love with poetry. Performing poems was what got me into acting (I had a primary school teacher that made everyone learn one a week, and eventually I won a poetry recital competition!) In secondary school and at university, I loved deciphering the codes of poems in class discussion, but I honestly wondered if poetry would continue to feature in my life outside of an academic context."
Enter poets like Hollie McNish, Sabrina Mahfouz and Rupi Kaur- I demolished whole books in single sittings. Unlike poems I have often spent weeks unraveling, Rupi's poems are not designed to obscure meaning or entertain too much ambiguity – they hit you like punches to the stomach. They are immediate, visceral and not easily digested. I am loathe to say Rupi has made poetry "accessible" because while this is the truth (Rupi's poems and illustrations fit well into those famously square shaped Instagram frames), there is nothing easy or accessible about what Rupi chooses to talk about. In fact, the topics she chooses, are audacious."
Read her full announcement here. Are you part of Our Shared Shelf? Are you excited about this selection? Let us know in the comments!
Jim Broadbent Begins Filming on Six Minutes To Midnight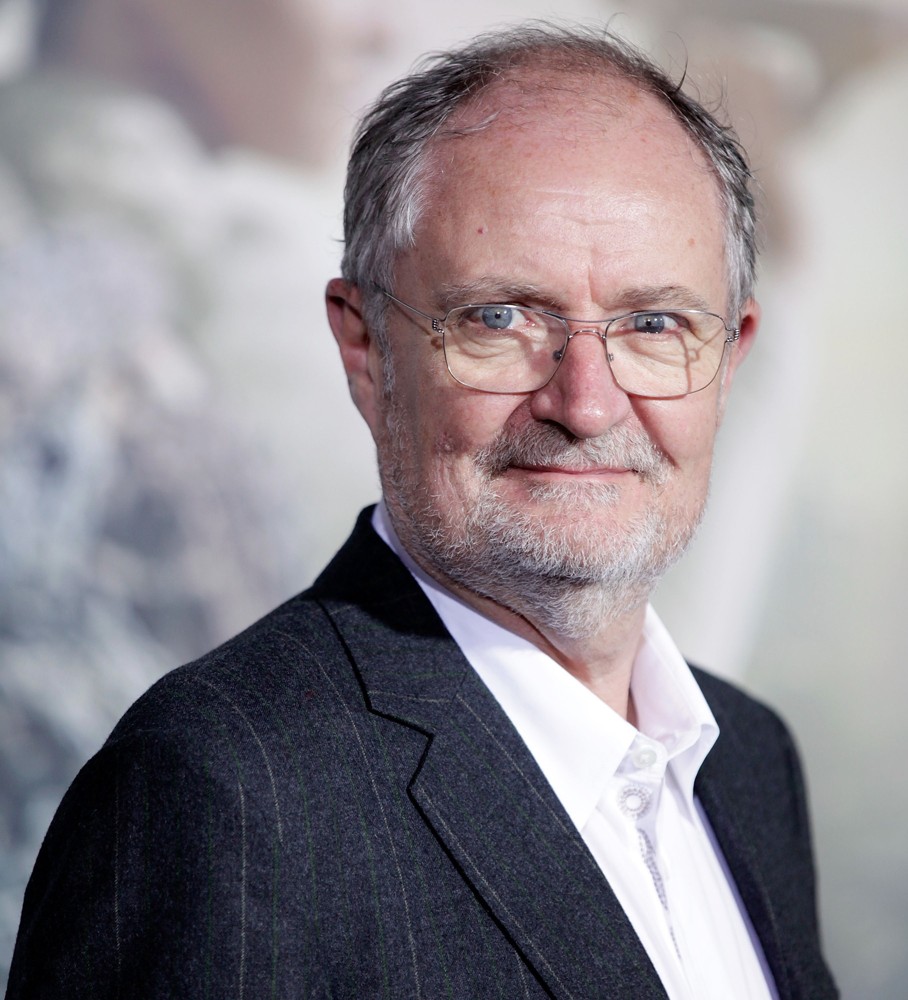 Jim Broadbent (Professor Slughorn) will star in Lionsgate's upcoming thriller, Six Minutes To Midnight, also starring Eddie Izzard, Judi Dench, James D'Arcy and Carla Juri. Filming is currently taking place across Wales (U.K.), and the film will be directed by Downton Abbey's Andy Goddard, and written by Celyn Jones (Keepers), Izzard, and Goddard. A summary is as follows:
"Based on true events from 1939, the film follows teacher Thomas Miller (Izzard) who has taken a last minute and controversial role teaching English to the daughters of high-ranking Nazis at the Augusta-Victoria College, Bexhill-on-Sea – a finishing school on the south coast of England. Under the watchful eye of their headmistress Miss Rocholl (Dench), and her devout assistant Ilse Keller (Juri), the girls practice their English and learn how to represent the ideal of German womanhood.
When the body of a former teacher is discovered, it triggers a sequence of deadly events and leaves Thomas running from the police with the threat of being hanged for murder."
Read more here.
David Tennant to Join The Muppets Live On Stage at London's O2 Arena
David Tennant (Barty Crouch Jr) will feature in The Muppets Take The O2 in London this month, where the iconic Kermit the Frog & co will perform a variety of sketches and musical numbers.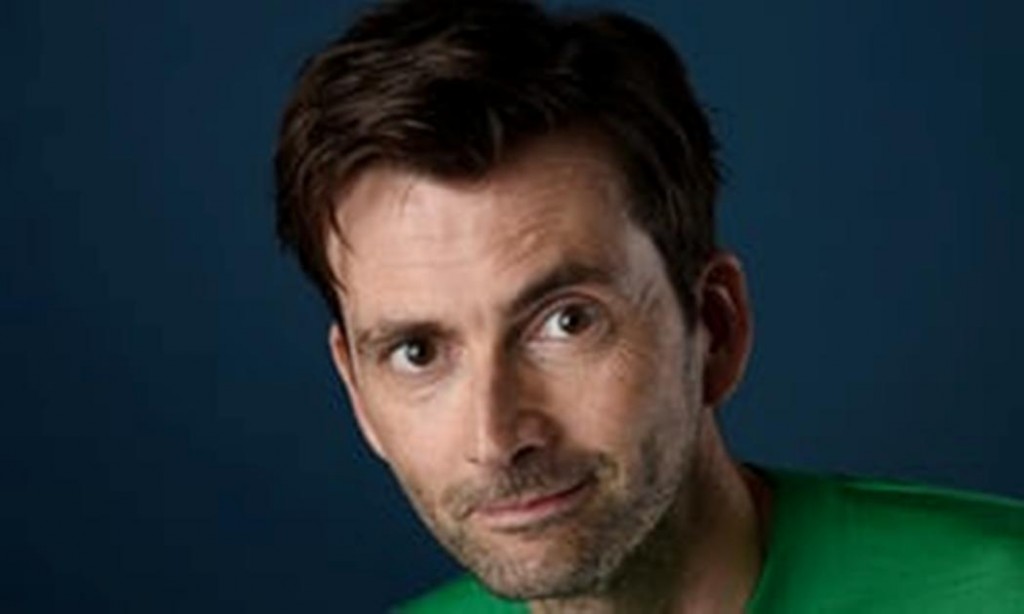 Tennant will appear on Friday July 13th, along with special guests Kylie Minogue, Kevin Bishop and Charles Dance. Get tickets here, and read more here.
David Bradley Joins Ricky Gervais's Netflix Series, After Life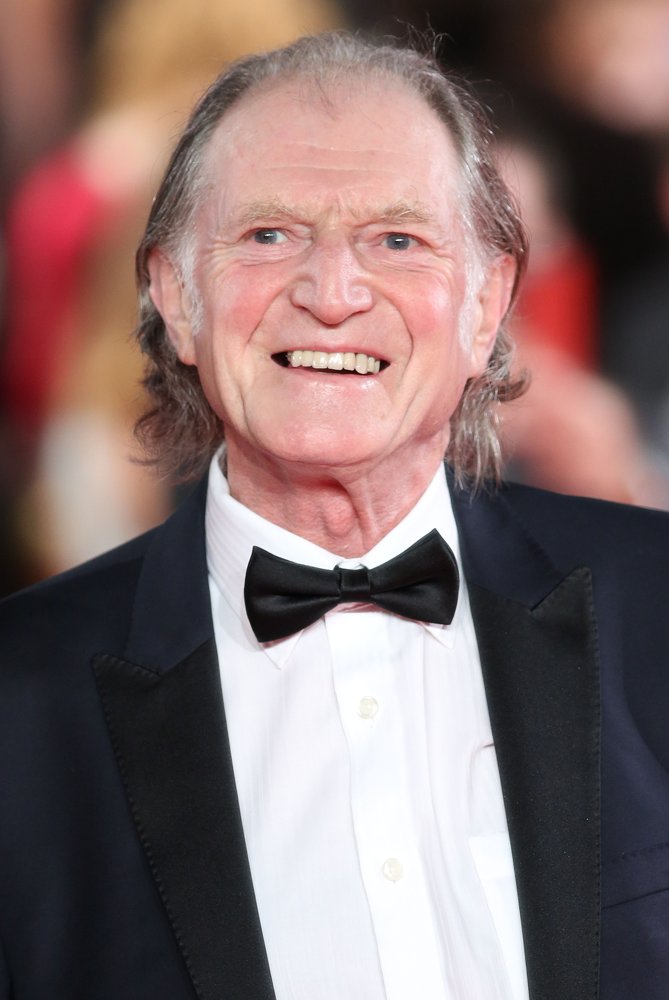 A new Netflix 'dark comedy' series created by and starring Ricky Gervais is currently filming in London, and will also star David Bradley (Argus Filch)! The six-part season will also feature Penelope Wilton(Downton Abbey, Doctor Who), Ashley Jensen (Extras), Tom Basden (Plebs), Tony Way (Edge of Tomorrow), David Earl(Cemetery Junction), Joe Wilkinson (Him and Her), Kerry Godliman (Derek), Mandeep Dhillon(Bulletproof), Jo Hartley (Eddie the Eagle), Roisin Conaty (Man Down), and Diane Morgan (David Brent: Life On The Road).
Gervais says on the show:
"It's a 6 part, dark comedy, in which I play a man who, after the death of his wife, becomes suicidal but decides to live long enough to punish the world by saying and doing whatever the **** he likes from now on"
The release date has not yet been announced, but we'll keep you updated! For now, read more here.
That's all for this week! Catch last week's actor round-up here, and our theater round-up here.