"Fantastic Beasts: The Crimes of Grindelwald" nominated for trailer awards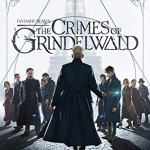 May 11, 2019
Yes, there are awards for best movie trailer.  This is a real thing.  Leaky is not making this up.  Film marketing is a major industry in itself and merits its own awards.
When the trailers for Fantastic Beasts: The Crimes of Grindelwald were released, we were so excited by the substance in them that we might not have focused as closely on the presentation.  When the final trailer came out in September, Warner Bros. teased it with a fan event the previous day, which Leaky got to attend, and then once that final trailer was released, we provided a shot-by-shot breakdown.  There was lots to unpack in that trailer but the big news was encapsulated in one word: "Nagini".  On further viewings, the trailer continued to provide more tantalising clues about the film, especially concerning the mystery of Credence's identity, and some exotic new beasts.  Back when the first trailer came out in August, we were so, dare I say it, spellbound by the return to the familiar with Hogwarts and Dumbledore, that we recorded our gobsmacked faces watching it.
The Crimes of Grindelwald trailer has been nominated for a Golden Trailer Award in three categories: Best Fantasy Adventure, Best Home Entertainment Fantasy Adventur, and Best Fantasy Adventure.
Last year, the first trailer won in the Best Fantasy/Adventure movie category.  Back in 2006, Goblet of Fire won.
The 20th Annual Golden Trailer Awards will be presented in Los Angeles on May 29th.  Tickets for the public to attend are available here.  We obviously hope Crimes of Grindelwald continues its winning streak.  Speaking of trailers, we can hardly wait for the next one.