Weekly Round-up: Michael Gambon and Jim Broadbent Reunited in 'King of Thieves', a First Look at Eddie Redmayne in 'The Aeronauts', and More!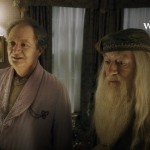 Aug 04, 2018
This week has certainly been one of the most magical of the year since fans were able to celebrate the birthdays of the author responsible for the Wizarding World as well as the boy wizard she created. To mark the occasions, we conjured a spellbindingly epic timeline of events from 1996 to the present which tapped into the depths of the Leaky archives. It's definitely worth a ride on your broom down Privet Drive if you missed it on July 31. The New York Historical Society announced their complete schedule of events for the U.S. edition of the Harry Potter: A History of Magic Exhibition, which opens this fall, and the London production of Harry Potter and the Cursed Child celebrated their second anniversary as well as announced a special relaxed performance later this month for those with autism. J,K, Rowling's children's charity Lumos launched a new Crowdrise campaign that sends the winner to New York to see Cursed Child Broadway. And on top of all of that, as well as a Barnes and Noble LEGO event, a Cinemark Theater Wizarding World movie marathon and chocolate wands from Jelly Belly, LeakyCon announced that Fantastic Beasts Alison Sudol will be joining their incredible lineup of special guests next week in Dallas, Texas.
In this week's Actors Round-up Eddie Redmayne is in costume and on set filming The Aeronauts, new trailers for Michael Gambon and Jim Broadbent, Tom Felton, Natalia Tena, and Brendan Gleeson, a new animated series for David Tennant, an interview with Emma Thompson and more!
Eddie Redmayne Begins Filming of The Aeronauts
Fantastic Beasts star Eddie Redmayne began production this week on the adventure biopic The Aeronauts for Amazon Studios. The film, which reunites Redmayne with his Theory of Everything co-star Felicity Jones, chronicles the true story of pilot Amelia Wren and scientist James Glaisher who in 1862 attempt to find the secrets of the heavens via hot air balloon. In the process, the two make history flying higher in an open balloon than anyone had to that point or has since. We get a good look below at the actors' Victorian transformation from the set. The Aeronauts, which was written by Harry Potter and the Cursed Child playwright Jack Thorne, is due out in theaters sometime in 2019.
Michael Gambon and Jim Broadbent Together Again in King of Thieves
King of Thieves, the improbable story of the 2015 Hatton Garden diamond heist undertaken by a clan of greying burglars, reunites two of our favorite Hogwarts professors, Michael Gambon and Jim Broadbent who played Albus Dumbledore and Horace Slughorn in the Harry Potter films. From the looks of this new trailer for the film, fans might think that these Potter alums have been polyjuiced into the other! King of Thieves opens in theaters  September 14.
A New Trailer for Tom Felton and Natalia Tena's Origin
Tom Felton, Draco Malfoy and Natalia Tena, Nymphadora Tonks premiered their upcoming YouTube sci-fi series Origin recently at San Diego Comic Con. This week a new trailer has been released, narrated by our favorite Slytherin himself. Take a listen below. You may not recognize his voice as space traveler Logan! Tena's accordion band Molotov Jukebox also announced the release of a new album today:
BIG NEWS! 'Hi Life Crisis' is available to buy on iTunes and Spotify!! pic.twitter.com/xT1hc7V7oz — Molotov Jukebox #molotovjukebox10 (@Molotov_Jukebox) August 3, 2018
Emma Thompson Interview with Good Housekeeping on Relationships and Ageing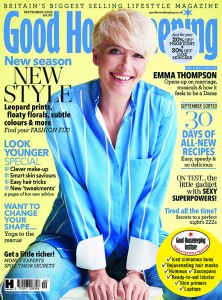 Emma Thompson, who portrayed Hogwarts Divination Professor Sybill Trelawney in the Harry Potter films, recently gave her first interview since being made a Dame in a Queen's Honour ceremony at Buckingham Palace earlier this summer. She sat down with Good Housekeeping to discuss aging and her thoughts on relationships. This is what she had to say about her self perception at 59 years old,
"It's all very well saying 'I don't care what anybody thinks,' but the most important thing is not to care about the little voice in your head. That's the voice you need to be able to ignore and that's the voice I've learnt to ignore over the last 20 years." 
She also had this to say about keys to a happy relationship,
"I think people in long, happy marriages tell a lot of fibs, like, 'Yes it's been marvellous,' whereas I say 'No, sometimes it's been awful.' I hope it carries on, but we don't know. We're very clear about it, we say, 'Well this is nice, isn't it?' We don't take anything for granted."
Thompson's full interview with Good Housekeeping can be found in their September issue which hit newsstands August 1.
A New Animated Series for David Tennant
Yes, he's on our round-up again! This week David Tennant, a.k.a. Potter's Barty Crouch, Jr. and Doctor Who's Tenth Doctor, has been cast in the 3D animated series gen:LOCK from the online media and entertainment company Rooster Teeth. genLOCK is a sci-fi tale about a group of scientists helping to fight giant robots in a global war for the Earth's last free society. Tennant voices Dr. Rufus Weller, a lead scientist and inventor of the gen:LOCK technology. The series can be found on Rooster Teeth through iOS, Android, Xbox One, Apple TV, and on their website in January 2019.
Meet Dr. Rufus Weller, voiced by David Tennant, and one of his new Vanguard recruits! #RTXAustin pic.twitter.com/qdHZzMU93A

— Rooster Teeth? (@RoosterTeeth) August 4, 2018
Brendan Gleeson in a New Trailer for Mr. Mercedes
Season 2 of the television adaptation of Stephen King's Mr. Mercedes starring Harry Potter's Mad-Eye Moody, Brendan Gleeson, premieres August 22 on the Audience Network. The series gave San Diego Comic Con participants a sneak peak of the second season though Gleeson, who plays detective Bill Hodges, wasn't in attendance for the panel. The series released the new trailer below leading up to the season premiere that gives further insight into Gleeson's character. Fans of Auror Alastor Moody won't want to miss Gleeson's performance in Mr. Mercedes!
Emma Watson Supports a Project Starring Katie Leung
Emma Watson has been a key player of the #Timesup movement, an effort to promote the empowerment of women in all situations. Last month Watson chaired the opening session of a global summit geared towards securing philanthropic support to assist in ending violence against women and girls. Recently Watson showed her support for the movement by sharing a clip of the film below, Leading Lady Parts, a project inspired by this current campaign for change that also supports the UK #Timesup group's Justice and Equality Fund:
Though she doesn't appear in the clip, Katie Leung, who played Cho Chang in the Harry Potter films, is one of the actresses featured in the short film by Rebel Park Productions:
Harry Potter Cast Headline UK Convention
A hoard of wizards are appearing this weekend at The School of Witchcraft and Wizardry, an unofficial Harry Potter-themed fan event taking place in Musselburgh, Scotland. The line-up for the Con includes Chris Rankin, who played Percy Weasley, Louis Cordice, Slytherin Blaise Zabini, and Stan Yanevski, Viktor Krum, all of which will be appearing next week at LeakyCon in Dallas, Texas. Joining those three this weekend in Scotland are Sean Biggerstaff, who played Gryffindor Quidditch captain Oliver Wood, Hugh Mitchell, who played Colin Creevy, and John Herdman, one of Malfoy's Slytherin sidekicks. Take a look at their mini-reunion courtesy of Yanevski's Instagram account:  
Colin Farrell Joins Mel Gibson in War Pigs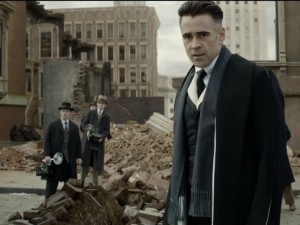 Colin Farrell, who played Percival Graves the MACUSA auror, transfigured by Gellert Grindelwald in Fantastic Beasts and Where to Find Them, has been cast in the film War Pigs with Mel Gibson. Here's a brief summary of the plot according to Deadline:
"A group of disillusioned ex-marines go on one last mission to get revenge on the cartel that murdered one of their own while making off with millions of dollars in drug money. Farrell plays Drex and Gibson plays The Pastor."
Since we don't think we'll be seeing Farrell in the second Fantastic Beasts film, we look forward to some of his upcoming projects; a former circus star in the 2019 live-action Dumbo and as Oliver North in an Amazon miniseries on the Iran Contra scandal.
That wraps up all the Harry Potter and Fantastic Beasts actor new for this week. ICYMI-this weeks' Potter news from the stage can be found in our most recent theater round-up and you can find that incredibly epic 20-plus year Wizarding World timeline in honor of J.K. Rowling's and Harry Potter's birthdays here.