Exclusive 'Fantastic Beasts: The Crimes of Grindelwald' Cast Q&A Panel Hints at Big Reveals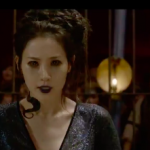 Sep 26, 2018
Leaky had the chance to ask the cast of Fantastic Beasts: The Crimes of Grindelwald some questions ahead of the release of the final trailer at an exclusive fan event in New York this week, and after plenty of reveals in the trailer, we can finally release the video!
Ezra Miller (Credence), Dan Fogler (Jacob Kowalski), Claudia Kim (the Maledictus / Nagini) and Callum Turner (Theseus Scamander) were in attendance, and after viewing the trailer three times before the rest of the world, they gave us their thoughts on the plot and characters in the film.
Dan Fogler begins by explaining that the movie will see the quartet disbanded, and having to find one another again. His answer about love being at the centre of the story echoes a description of the film from our interview with David Yates, who called Crimes of Grindelwald "a very interesting synthesis between a sort of political thriller and love story", which was repeated by David Heyman. Fogler told us:
"There's a lot of getting the band back together. There's a lot of chasing down your lover in this movie — everybody's trying to chase their lover, which makes for a very exciting series of events!"
When asked if we'll find out how Jacob remembers Queenie and the wizarding world, Dan says:
"Yeah, you do – he lays it out the first moment you see him!"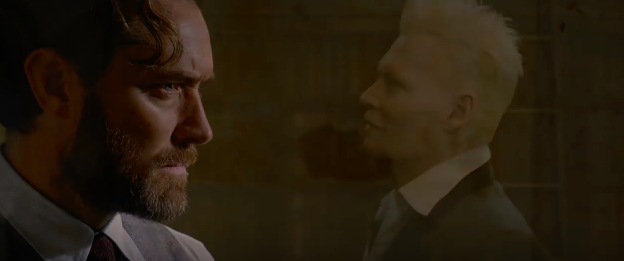 At the mention of love stories, fans also wanted to know if there would be any "gay tension" between Dumbledore and Grindelwald – that's assuming the two actually meet – we see a sorrowful moment in the final trailer where Dumbledore is emotionally looking at the Mirror of Erised, which Ezra Miller immediately cites:
"What does the Mirror of Erised show you?" He asks, "Someone say the full quote – I wanna hear it!" 
Quoting Dumbledore himself, Miller continues, "Nothing more or less than the deepest, most desperate desires of your heart."
He feels the tension and connection between them is obvious from the trailer:
"I mean, if somebody is really trying to bury their head so deeply in that particular bucket of sand, then… It's the muggle inability to see magic, right?"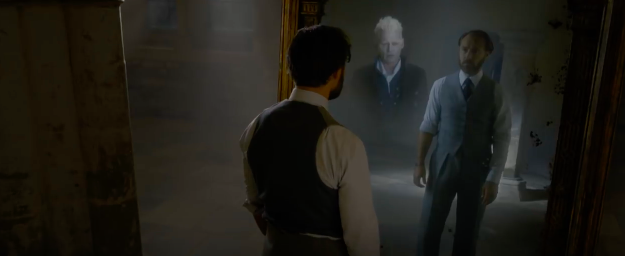 When the cast are asked if they were 'Wowed' by any particular scenes and if the creatures matched what they'd seen in their imaginations when acting their scenes, all four actors immediately say yes:
"We're working with puppets or we're working with a green screen for so many of the aspects, even some of the beasts we hadn't seen in the first film…" Miller begins.
Dan is also impressed with the special effects, "Seeing the Zouwu, that cat-dragon in action – it's amazing! There's always that extra 25% that goes into CGI, and it's just WOW"
"We have all those illustrations, too, from Newt's book!" Ezra reminds us.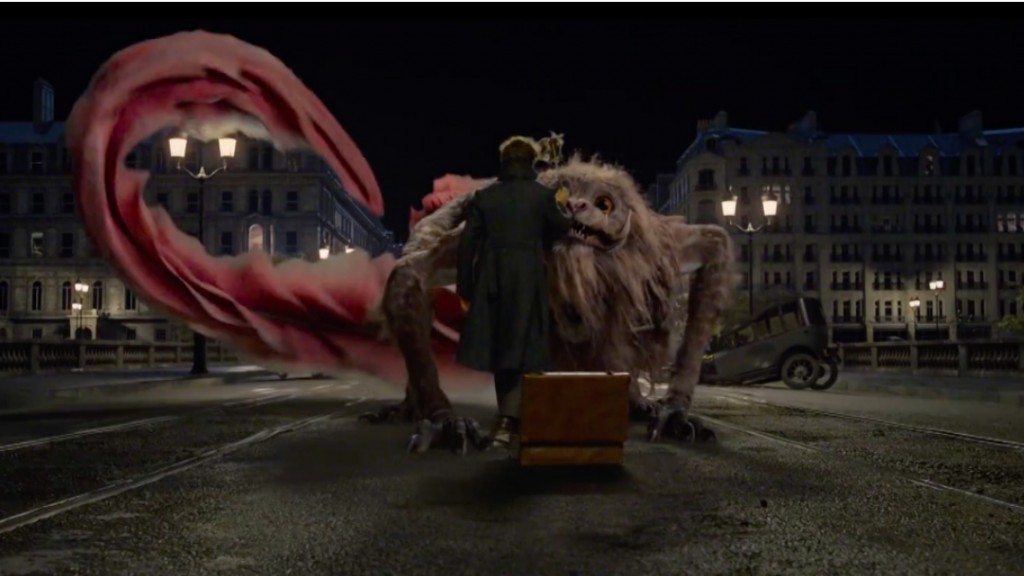 One fan asks what house Theseus is in, and – much to the audience's surprise – Callum Turner reveals that he's a Hufflepuff, like his little brother Newt!
Ezra was intent on finding out why fans were so surprised:
"You thought what? It's okay! If you wanna be a theorist you gotta get it wrong sometimes!" 
"Based on the trailer, you seemed like a Slytherin," One fan began, to multiple "ooooh!"s.
"But being a war hero – he'd be a Gryffindor!" Another continued – it appeared Ezra had opened a can of Potter Debate!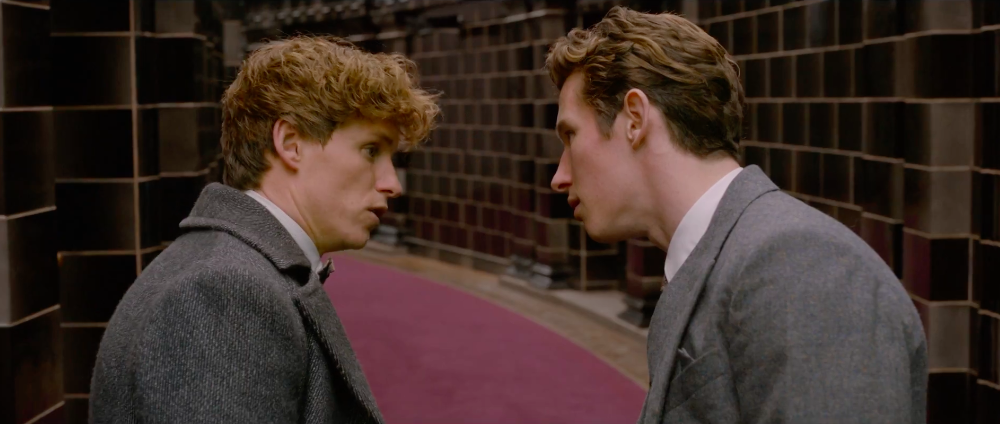 One fan noted how Theseus holds his wand strangely, and wanted to know why Callum Turner chose that position – if it perhaps imitated the use of a gun, seeing as he'd been involved in war (though the extent to which wizards got involved in Muggle warfare is unclear):
"I have no idea why I made that decision – I was just trying to be different! Well spotted!"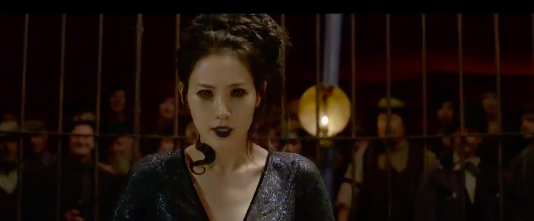 Attention turned to Claudia Kim, who had been newly revealed as Nagini. She said on her feelings at being outed:
"I'm still so nervous! I've never set the name, not even on set! At the table reads I would – can I say that? – I introduced myself as Natalie" 
"You guys know that Nagini is a word – it's a word from mythology?" Ezra asked the audience, and was met with nods, "Right, divine snake woman – it comes from that tradition"

Ezra and Dan simply respond with wide eyes and nods when asked how dark this movie will be, which is just a tad unsettling – Jo's track record for killing off favorite characters is lingering at the back of our minds!
"I always refer to Empire Strikes Back," says Dan, "Like, what's a great sequel that I love? That's like, my favorite movie. In Empire good guys take a hit, and the bad guys even the score, in a most delicious way that leaves you wanting more, right? And that's what happens in this!"
Ezra accuses Dan of spoiling the whole movie, to which he dramatically responds, "I am a monster, I manage to give as much information as possible without actually saying a goddamn thing."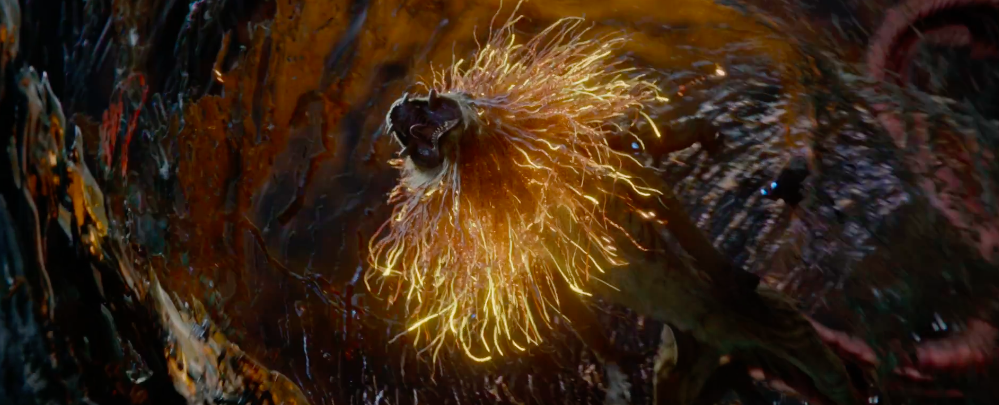 Finally, everybody's favorite beasts: Ezra's is (obviously) the baby Nifflers, and everybody else solidly agreed that they're the cutest creatures in the wizarding world! Leaky asked if Newt's Niffler has a name, and Dan seemed certain it did at first, but after some contemplation and coming up with nothing, raised his eyebrow and said to the audience, "You guys would know that though, wouldn't you?" 
Speaking about fan theories, Ezra said he didn't want to said his favorites as it'd give away if they were incorrect or not, which he says defeats the point of good theories, but that he was super impressed by those theorising early on that Claudia Kim's character would be Nagini (10 points to everybody at The Leaky Cauldron!).
On Fantastic Beasts 3, Ezra joked that they crowded J.K. Rowling for information:"We crowd her like a group of hungry feral cats!"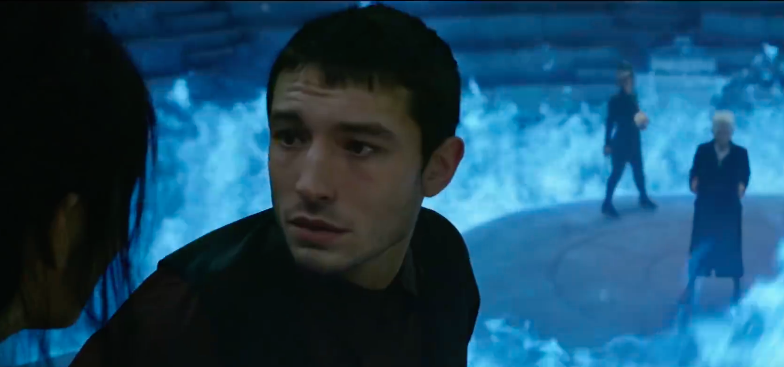 When asked if any of the cast have any secrets from Jo herself (like how Alan Rickman was told years in advance about Snape's love for Lily), Ezra looked mischievously: "Some of us might…." and Dan turned to look at him sharpish – was he worried he was about to spoil something (as if Ezra The Secretest Secret Keeper would do such a thing!), or was he merely offended he didn't know the secret? Time will tell!
What did you think of the new trailer? Be sure to view our shot-by-shot breakdown, and our full coverage of the fan event where this Q&A took place (and we met J.K. Rowling again!), and check out another interview with the cast – and J.K. Rowling – on Today Show. November 16th can't arrive fast enough!