'Fantastic Beasts: The Crimes of Grindelwald' News Round-Up: New Clip Shares Grindelwald's Vision, Cast Interviews, New Tracks Released, ScreenX Release Announced & More!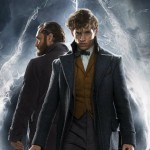 Oct 26, 2018
We're into the final weeks leading up to the release of Crimes of Grindelwald, and news is popping up in all corners of the wizarding world! From new footage featuring J.K. Rowling and new cast interviews, to a new 270 degree surround-screen theatrical technology being used for select Crimes of Grindelwald screenings, we've got plenty of updates to share with you:
We were honored to be asked to contribute to Newsweek's special edition – Fantastic Beasts of The Wizarding World, which debuts on October 30th. Pick up the edition to read about our favorite magic creature, our set visit, and the magical creature we'd most like to see in the Fantastic Beasts series! Take a sneak peak here.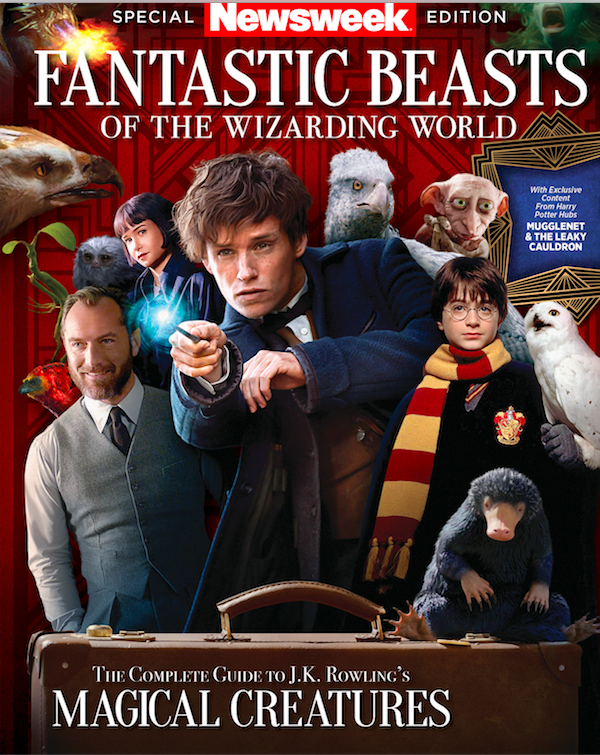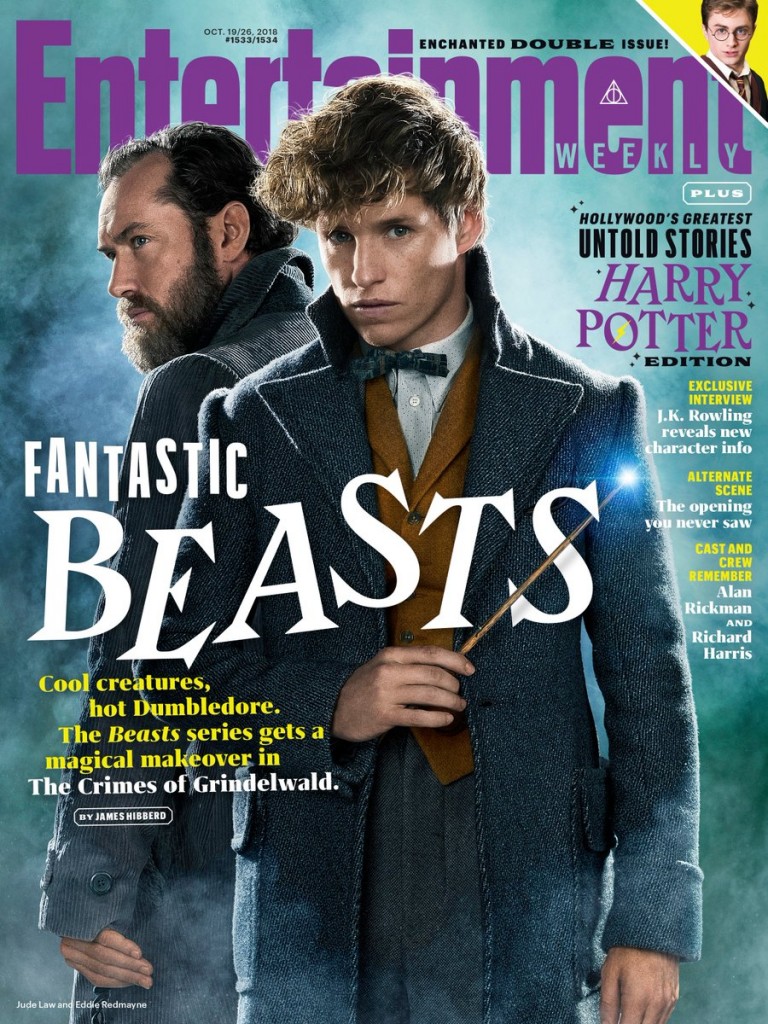 Entertainment Weekly recently released more information on new character Yusuf Kama, a first look at Nicolas Flamel's house (and the Philosopher's Stone), interviews with the cast, as well as details on Claudia Kim's audition process for the role of Nagini, all promoting their special Harry Potter and Fantastic Beasts issue, containing exclusive insights, as well as a rare interview with J.K. Rowling. The issue is now available – find out more here.
New Crimes Of Grindelwald Promo Footage Shows J.K. Rowling Discussing Grindelwald's Vision
Firstly, a video recently released by AT&T shows brand new footage of Grindelwald, promoting his vision and sharing his power of manipulation with viewers – J.K. Rowling shares her thoughts as we see Grindelwald promise a wizard that "Your name will be written in glory", and his hopes that wizards will rule the world:
"What I consciously wanted was to have this gallery of people whose backstories we understand. We get to know their own personal struggles, biases, traumas… and in the middle of it, we have Grindelwald. Now, which of these characters will hear his siren call? For some of these characters, he is the answer."
Which of our favorite characters might be swayed? Take a look at some recent spoilerific footage here for a few hints, and more recent TV spot footage here.
Eddie Redmayne and Jude Law discuss Crimes of Grindelwald on The Graham Norton Show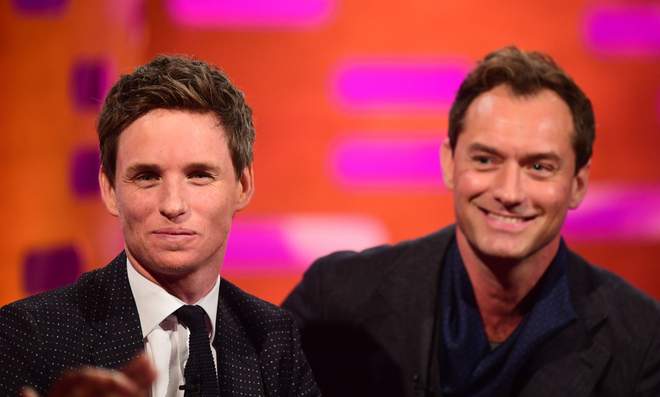 Jude Law and Eddie Redmayne appeared last night on The Graham Norton Show, speaking on their experience of learning to cast spells, with Law confessing that he studied Picasso to help him learn how to wield a wand – he even learned some tricks on sleight of hand from a magician, only to be told that he wouldn't need to use his skills on set:
"I actually studied these wonderful films of Picasso painting through glass to see how he held his brush and I watched films of conductors conducting, and I get to do just one spell in the film and it was at a distance where I vaguely waved it in the air.  It was so disappointing."
Redmayne said that he felt pretty out of his depth when he first arrived in the wizarding world:
"When you get to be in JK Rowling's world, you suddenly get a wand – you've pretty much waited all your life for this moment and you think you are going to be a pro at it, but you really don't know what to do with it."
"So, I actually got a movement coach to help me work out how to use it – whether to do it over the top or minimal – we really studied it!"
Read more here! It looks like Eddie & Co are currently on a press tour in China – have you seen them in local coverage?
And the #CrimesOfGrindelwald tour begins! First stop: China. #Repost @iris09076040
"eddie is in beijing now!he went to DAD-Dashanzi Art District(via 木然花生活)hope I could see him the day after tomorrow🙏🏻#eddieredmayne #fantasticbeasts" #newtscamander pic.twitter.com/hTiM1WeURP

— BespokeRedmayne (@bespokeredmayne) October 26, 2018
Claudia Kim Discusses Nagini Casting Controversy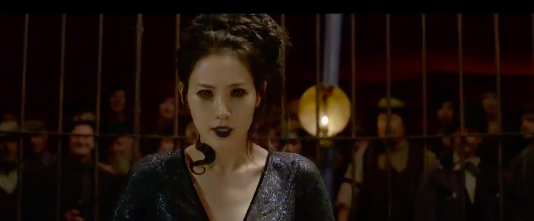 Claudia Kim also further discussed her role as Nagini, specifically giving her opinion on the controversy surrounding the trope of an Asian character as a snake-woman:
"It was unexpected. When I found out that I'm playing Nagini, I thought it was meaningful because it's an important character in the 'Harry Potter' series. 'Harry Potter' is a franchise film with many caucasian actors, so I thought many Korean viewers would be happy."
She says that she hopes the controversy will fade after people have seen the film, and says she does think Nagini should have been played by an Asian actress, but that controversy can also be a useful tool for promoting better representation in future:
"I don't perceive such controversy solely in a negative way. I believe changes can be made by giving attention to an Asian's promotions (like this) and through the people that look into such issues."
More Tracks from Crimes of Grindelwald Debut
More of the Crimes of Grindelwald soundtrack by composer James Newton Howard has been released, this time three solo piano tracks including Leta's Theme and Dumbledore's Theme! Give them a listen below:
New Poster Debuts For Early Screening Attendees
Attendees at the November 13th early fan screening of Fantastic Beasts will receive a new poster, seen below, showing the core characters of the films surrounded by the deep emerald green and insignia of the French ministry, the Deathly Hallows, and the bird shown on a curtain in the trailer with Queenie (in the top left):
Get this exclusive #FantasticBeasts poster when you join us for our Fantastic Fandom early screening event, only on November 13! Get tickets now: https://t.co/JDjIHConRj pic.twitter.com/lNQiHFuNJQ

— Fantastic Beasts (@FantasticBeasts) October 26, 2018
Take a look at early ticket availability (for showings from November 16th onward) via Fandango, and recent character posters here.
270 Degree Surround Theatre Technology ScreenX Announced for Crimes OF Grindelwald Release 
If you fancy seeing the film in a theatre hosting the first multi-projection technology, ScreenX, then you're in luck! Crimes Of Grindelwald will bring the Wizarding World to this immersive format for the very first time. You'll remember that guests at the San Diego Comic Con Warner Bros panel were treated to a 270 degree panoramic full-theatre experience when viewing the trailer for the first time (read a firsthand account here), and that's exactly what ScreenX offers! The technology plans to expand worldwide, and currently hosts 164 theatres, with plans to open in 100 Cineworld theatres across the U.S. and Europe:
"We are thrilled to bring the ScreenX experience to 'Fantastic Beasts: The Crimes of Grindelwald' through our partnership with Warner Bros. Pictures," stated CJ 4DPLEX. "We are certain the expansive, 270-degree screen will immerse audiences in the Wizarding World as never before and deliver all the magic, mystery and adventure this much-anticipated epic has to offer."
Here's a preview of what ScreenX technology looks like: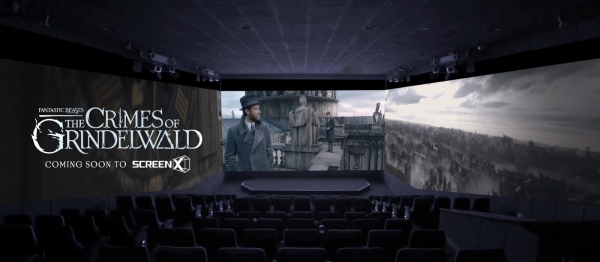 Find out more at CJ 4DPLEX, creators of ScreenX.
Excited yet?! Crimes of Grindelwald releases on November 16th. Watch the final trailer, read our full set report, read about our experience at an exclusive fan event with Warner Bros, purchase a Lumos pin to win tickets to the London premiere (details on the premieres here), and if you really can't wait, find out how you could get your hands on tickets for a November 3rd screening below: