Weekly Round-Up: 'Harry Potter' and 'Fantastic Beasts' Actors Feature in New Trailers and Interviews!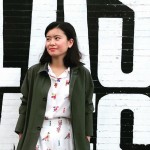 Aug 26, 2018
It's been another magical week in the Potterverse. Universal Studios Orlando announced their Back to Hogwarts celebration, and Warner Brothers Studio Tour London revealed their Halloween plans,  We had news about a new film and an upcoming interview for Emma Watson and we even saw a LEGO Diagon Alley! This week was especially spellbinding for Leaky as we finally were able to share all we learned from our exclusive visit to the set of Fantastic Beasts: The Crimes of Grindlewald including interviews with the cast and creative team, the props, costumes, art departments and more!
Fantastic Beasts: The Crimes of Grindelwald Set Report Links
Art Department & Plot Run-Through with Martin Foley   | Walking the French Wizarding World: French Diagon Alley & the French Ministry   |  Props Department with Pierre Bohanna    | Interview with Director David Yates    | Interview with Producer David Heyman    |  Interview with Eddie Redmayne (Newt Scamander)    | Interview with Callum Turner (Theseus Scamander)    | Interview with Ezra Miller (Credence Barebone)    | Interview with Costume Designer Colleen Atwood    |     
This week in our Actor's Round-Up we have an interview tomorrow morning for Katie Leung on her upcoming show Strangers, Evanna Lynch speaks at the Animal Rights March in London, new trailers for Harry Potter alums Emma Thompson, Jim Broadbent, Bill Nighy, Natalia Tena and David Bradley and for Fantastic Beasts actors Zoe Kravitz and David Sakurai, interviews with Domhnall and Brendan Gleeson, and David Tennant and so much more!
Katie Leung Talks New Drama Strangers on Lorraine Monday
Katie Leung, who portrayed Cho Chang in the Harry Potter films, stars in the upcoming dramatic thriller, Strangers, set to air later this year on ITV. She'll appear on Lorraine at 8:30 a.m. to discuss her role in the exciting new series.
— Katie Leung (@Kt_Leung) August 26, 2018
RadioTimes summarized the plot of the eight-part series, describing a web of conspiracies, intrigue and secrets:
"Strangers see John Simm star as Professor Jonah Mulray, whose world comes crashing down when his wife is killed in a car crash in Hong Kong. Though his wife lived and worked there for six months, Jonah's fear of flying as stopped him from ever visiting.

"Now forced to abandoned his sheltered life, he must venture across the world to identify her body. However once he arrives he finds out a shocking truth and is drawn deeper in a web of conspiracy in a foreign and unfamiliar place."
Hopefully, Leung will provide some clues as to the part she'll play in the ensuing debacle! Watch the trailer for the series below.
First Look at Bill Nighy in Hope Gap and Clip of The Bookshop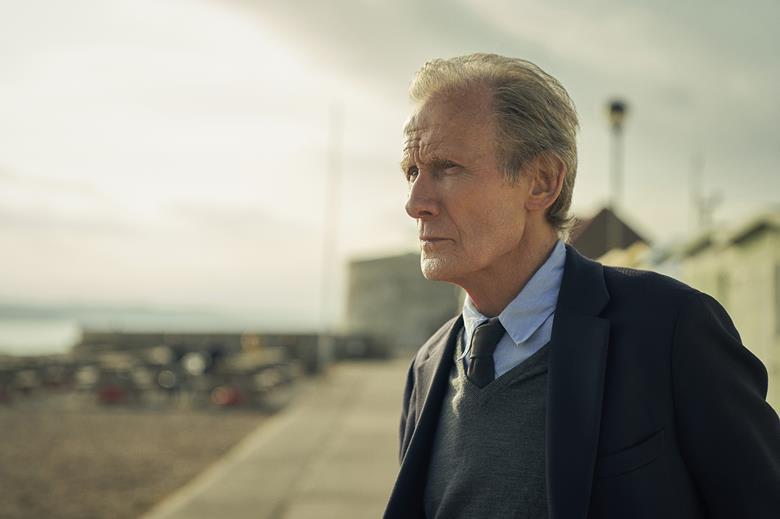 In this newly-released image of Bill Nighy (Rufus Scrimgeour), Screen Daily reveals a first look of the upcoming film Hope Gap, which recently concluded production after five weeks of shooting. Nighy plays half of a couple whose relationship is falling apart after 29 years of marriage, plunging his family, including their adult son, into "stages of shock, disbelief, anger and resolution."
Nighy stars alongside Annette Benning and Josh O'Connor. No release date has been announced for the drama. Nighy can be currently seen in The Bookshop, which opened in theaters Aug. 24. The film, based on the book of the same name, tells the story of two women who clash over the opening of a bookstore in a traditional British town. Nighy, playing the part of Edmund Brundish, befriends owner Florence Green and attempts to act as mediator.
ETonline posted the official synopsis, which reads:
"England, 1959. Free-spirited widow Florence Green (Emily Mortimer) risks everything to open a bookshop in a conservative East Anglian coastal town. While bringing about a surprising cultural awakening through works by Ray Bradbury and Nabokov, she earns the polite but ruthless opposition of a local grand dame (Patricia Clarkson) and the support and affection of a reclusive book loving widower (Bill Nighy). As Florence's obstacles amass and bear suspicious signs of a local power struggle, she is forced to ask: is there a place for a bookshop in a town that may not want one?"
Watch Nighy in the trailer below!
Kenneth Branagh to Star in Season 3 of Upstart Crow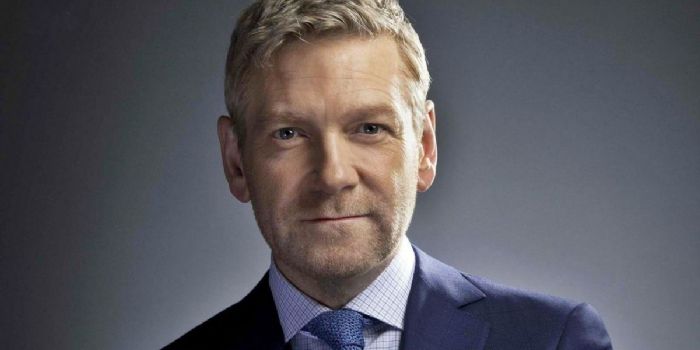 Kenneth Branagh is perhaps best known to Potter fans for his portrayal of the arrogant Professor Gilderoy Lockhart, but his lengthy experience with high drama doesn't end there. He's also well-versed in the realm of Shakespeare, having appeared in Henry V, Much Ado About Nothing, Othello, Hamlet and Macbeth.
Digital Spy has reported that Branagh will star in an upcoming episode of Upstart Crow, which centers on the life of William Shakespeare. Now beginning its third season, the show will address the difficulty of balancing "his roles as father, husband, commuter and literary genius." Digital Spy also teases:
"The new series will also explore workplace politics as Shakespeare puts on the first ever performance of Julius Caesar, as well as the world's first charity fundraising benefit, 16th century catfishing and the arrival of a mischievous sprite with a love potion in the woods around Stratford."
Look for Branagh to play a "mysterious stranger" in the season which debuts Aug. 29 at 8.30 p.m. on BBC Two. 
Harry Potter Alums Reunite for Afshan Azad's Wedding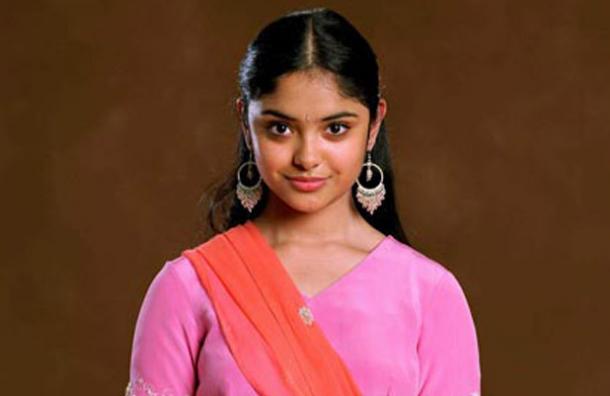 Afshan Azad, who played Padma Patil in the Harry Potter series, married fiancé Nabil Kazi on Sunday, Aug. 19. According to People, her former co-stars, Katie Leung (Cho Chang) and Bonnie Wright (Ginny Weasley), were in attendance to join in the celebration!
Trailer Released for Rupert Grint's Second Season of Snatch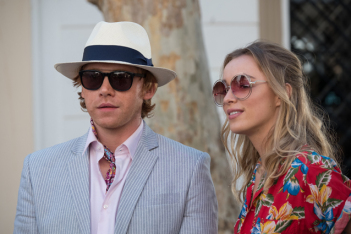 According to Deadline, the second season of Rupert Grint's crime series, Snatch, will premiere with 10 all-new episodes on Thursday, Sept. 13 via Sony Crackle.
The gang find themselves in Costa Del Sol, where they "run afoul of the local kingpin and find themselves pressed into the malevolent crime boss' service. The heroes attempt to outsmart their enemies even as they take over the town."
Grint, best known to fans as Harry Potter alum Ron Weasley, is a stand-out in the talented ensemble cast. He returns as the fashion-saavy Charlie Cavendish-Scot, and you can catch him in the official season two trailer below!
Evanna Lynch Spoke at London's Animal Rights March and Narrates Vegan Film
Livekindly reported that activists around the world joined together to march for animal rights on Saturday, Aug. 25, and Harry Potter alum Evanna Lynch, noted Vegan activist and podcast host, was selected to deliver a keynote address to London marchers.
According to animal rights group Surge, "the purpose of the march is to unite the vegan community globally and to inspire vegans to become active."
Carrying her commitment to animal rights advocacy into her work, Lynch also recently narrated a pro-vegan film, now shortlisted for the Raindance VRX Award in the Best Social Impact Experience category.
The brief film, titled iAnimal: The dairy industry in 360-degrees, is described by Plant Based News as follows:
"The five-minute film, released in June 2017, is narrated by Harry Potter star Evanna Lynch and features 360° footage filmed by Animal Equality investigators inside intensive dairy farms and slaughterhouses – including farms in Devon and Somerset — which challenges people's idyllic image of dairy farming."
In a statement released to Plant Based News, Lynch commented on the issue, saying:
"If you're actually paying to support this you should know where your money is going or you should take ownership of what you're doing. I think it's the passivity of most people that makes this OK, that makes it go on. And the fact that it's all behind closed walls."
See her reaction to the film here: Jim Broadbent Talks Graphic Novel Dull Margaret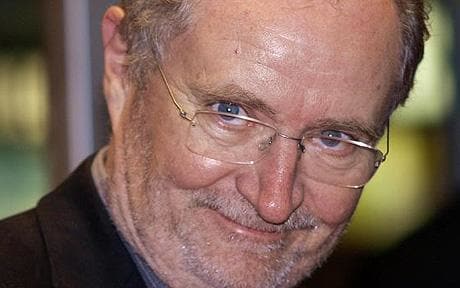 Jim Broadbent, of Horace Slughorn fame, spoke to the Herald Scotland about his new graphic novel, Dull Margaret, which debuted at the Edinburgh International Book Festival last Thursday. The story was originally conceived as a film script, but evolved into a graphic novel over time. Broadbent partnered with the artist Dix to bring the story, discussed below, to life.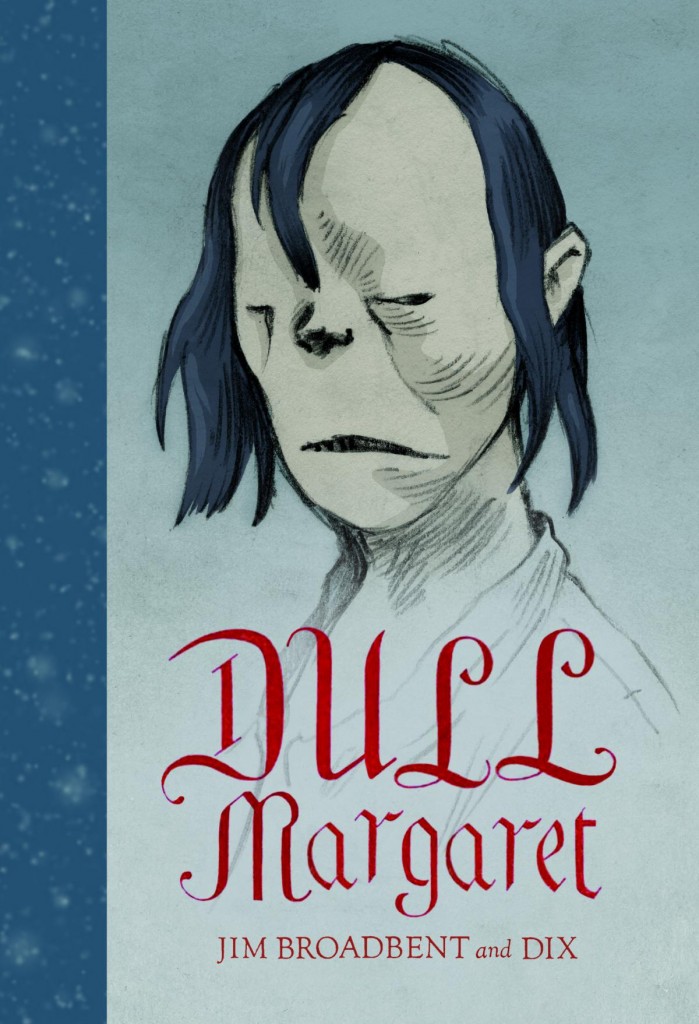 Asked about the odd titular character, a mysterious middle-aged woman living in a world of eels and spells, Broadbent commented:
"I don't quite know where the idea of her being witchy came from. I read a lot of fairy stories. I suddenly got hooked on fairy stories. I got hooked on the succinct narratives. Keep it very tight. "And then I suppose the idea of Margaret evolved out of those things really. Eels have fascinated me for a long time. Eels, I started investigating early on in research. The life cycle of the eel and the eel catchers and the eel hives. And the story started to evolve."
As for how he hit on the idea of creating a graphic novel, Broadbent explained:
"I definitely tried to work it into a film script, but couldn't get anyone to make it or fund it. It didn't fit any known genre. A lot of directors wanted to do it but the people who had to put up millions didn't see it as viable I don't think… "It occurred to me early on that it could be a graphic novel. It's a series of images. It's not a dialogue-heavy piece by any means. And around that time, I was enjoying Dix's strip in the Guardian, Roll Up Roll Up, which ran for a year or two. I thought if I ever did go for a graphic novel I'd get onto him. Years later I thought I'd try him. I Googled him and introduced myself. "I said: 'Would you be interested in reading the script?' He nervously said yes and he loved it."
Now, Broadbent is hoping others will love the story as well! The novel is published by Fantagraphics Books and is currently priced at £25.99.
Brendan Gleeson on the Upcoming Season of Mr Mercedes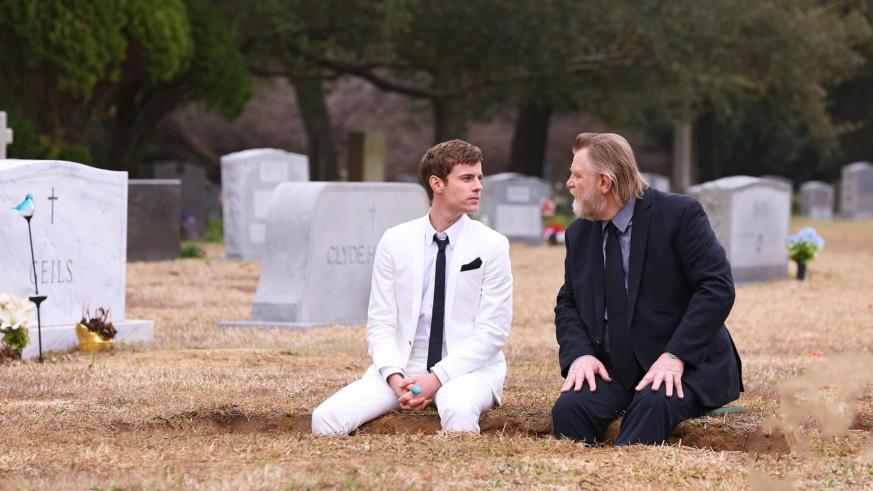 Season Two of the crime drama Mr Mercedes, adapted from the popular Stephen King novel, premiered last Wednesday on the AT&T Audience Network. It doesn't give viewers a second to catch their breath, jumping in where season one ended with Gleeson's Bill Hodges gripped by a heart attack, while the major antagonist, serial killer Bill Treadaway, enters a coma.
This season reportedly delves more into the supernatural, or seemingly unexplainable, so common to King's work, but Gleeson told Metro that creator and producer David E. Kelley handled the material deftly, saying:
"The adaptation is almost word-for-word from the books, thought it was mixed up a little bit because it had to be…The nature of the books made it imperative that we didn't just stick to the script. Some readjustment was necessary. And we needed to be careful, because it can be fun, but I was still trying to hold onto the practical credibility of it all."
In an interview with Collider, Gleeson dove into a deeper discussion of how they adapted King's character for the screen. He commented:
"[Hodges] is very flawed. In the book, he was suicidal, in the opening part. We tried to tone that down a small bit, but it's apparently true that a lot of retired detectives and police officers take their own lives. People who have given themselves over to a particular life, have seen an awful lot of really bad stuff, and have maybe lost their families through over-commitment to it, amongst other things. They feel very alone when their job goes. He was very challenged, and at the heart of him was a stubbornness about holding up certain principles, of what he felt was acceptable, as proper human behavior. There was a very beaten up, flawed nobility about his soul, somewhere hidden amongst all the booze and the desperation. This kind of stuff is what you want to get your teeth into, so it's been pretty great."
Gleeson went on to further address King's propensity for edgy storylines, which are often tinged with horror and the paranormal, but maintained:
"We said, from the very beginning, that what we're trying to maintain is that the worst demons are within, and we've never lost sight of that."
Read the full interview with Collider here, and watch the trailer for season two below!
New Posters for Michael Gambon and Jim Broadbent in King of Thieves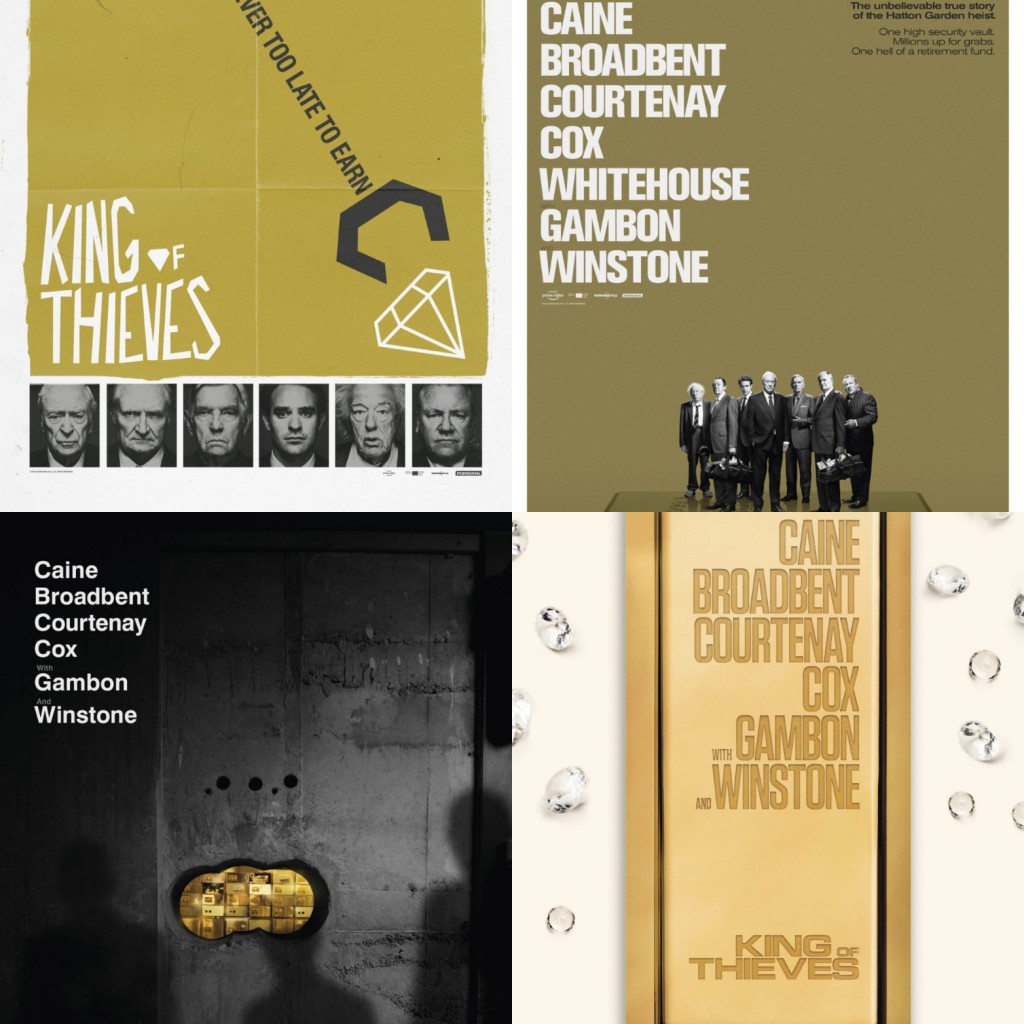 Ahead of the opening of King of Thieves, the improbable story of the 2015 Hatton Garden diamond heist by a clan of greying burglars, Flickering Myth has revealed four new posters for the film. The British crime drama, sprinkled with plenty of comedy, reunites two of our favorite Hogwarts professors, Michael Gambon and Jim Broadbent who played Albus Dumbledore and Horace Slughorn in the Harry Potter films. King of Thieves opens in theaters  September 14.
Emma Thompson and Jim Broadbent in a New King Lear Trailer
Amazon has released a new trailer in advance of the US release of the recent BBC adaptation of Shakespeare's King Lear starring Sir Anthony Hopkins in the title role. Dame Emma Thompson, Harry Potter's Divination Professor Sybill Trelawney plays the role of the King's eldest daughter Goneril, and is reunited with Potter alum Jim Broadbent, Professor Slughorn, who plays the Earl of Gloucester. Take a look at the preview below for the retelling of this classic that begins streaming on Amazon September 28.
Domhnall  Gleeson on Harry Potter as Career Magic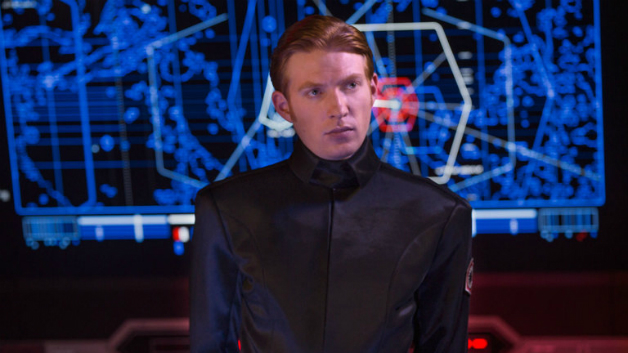 Domhnall Gleeson, who has gone on to star in numerous films of varying genres, got his first role in a major movie as older brother Bill Weasley in Harry Potter and the Deathly Hallows. In a recent interview with EW on his upcoming drama horror The Little Stranger, Gleeson shared his experience becoming part of the Weasley Clan and how it impacted his role in another iconic franchise. On his family connection to the series and the benefits of having Potter on his resume,
"I was a massive fan. When they asked my dad to play Mad-Eye I was so incredibly excited. I said, "Listen, if one of the other brothers' parts comes up, you need to get me in for an audition." I met some amazing people on that set. I loved how they all handled themselves; they were all good, generous people—that thing about art requiring suffering was just kind of dispelled. Then there was about a year between shooting and the movie's release where I was going into meetings and people didn't know I only had two lines in [Harry Potter], so I probably got auditions for things that I may not have otherwise."
Gleeson followed with this on how one huge franchise prepared him for the other,
"Harry Potter was the best possible training for that. I felt a little worried about fan reaction, but you can't control that; all you can do is your job. General Hux is ridiculous in lots of ways, but not in a hilarious way. But just anything to do with that level of…what's the word? Pomp and all the rest of it, the higher reigns of military, all the badges and the medals. At a certain point you say, "Why is that man wearing that hat? That doesn't make him more powerful."
Domhnall Gleeson can be seen next in The Little Stranger when it opens in theaters August 31. 
David Sakurai Stars in Housewife
David Sakurai, who makes his debut in the Wizarding World this fall as Grindelwald henchman Krall in Fantastic Beasts: The Crimes of Grindelwald, appears to have the creepy villain thing down pat. Sakurai stars in the upcoming psychological thriller Housewife, and he recently took to social media to share a behind-the-scenes look at the film:
Here's the official synopsis and exclusive first look at the trailer from Bloody Disgusting:
"Holly's childhood was a nightmare—at age 7, she watched her mother kill her sister and father. Twenty years later, Holly's dreams remain plagued by that painful memory. An unexpected reunion with an old friend further complicates matters, introducing Holly to a strange cult-like group that follows a celebrity psychic, one who takes a special liking to Holly… And because of him, her worst nightmares become shockingly real."
Housewife will be released direct to VOD and DVD October 2. Find out more about Sakurai's Fantastic Beasts role as Krall in the Character Profiles Report from our exclusive Crimes of Grindelwald set visit.
Twilight with Robert Pattinson Celebrates 10 Years
Robert Pattinson is known to the Potter fandom as ill-fated Hufflepuff Triwizard Champion Cedric Diggory, but rose to fame as sultry vampire Edward Cullen in the film adaptations of Stephenie Meyer's popular Twilight series. It's been 10 years since the release of the first movie and the franchise is celebrating this milestone with a 4K Ultra HD Combo Pack containing all five Twilight Saga installments from Lionsgate Summit Entertainment.  MTV News has revealed new collectible artwork for the discs from award-winning artist Justin Erickson. The 10th anniversary Twilight Saga Combo Pack will be available October 23 on Blu-ray and DVD.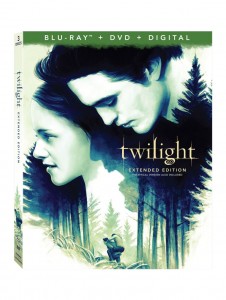 An Interview with Zoe Kravitz for Kin
Zoe Kravitz who plays confidant of Newt Scamander, as well as the fiancée of his brother Theseus in the upcoming Fantastic Beasts sequel Crimes of Grindelwald, heads to the big screen this week in the sci-fi crime thriller Kin. Flickering Myth has released an interview with Kravitz on the movie, which is based on the short film Bag Man by Jonathan and Josh Baker. Kravitz plays Milly, girlfriend of a man forced on the run with his adopted teenage brother who's in possession of a dangerous weapon being eyed by a vindictive criminal and some otherworldly soldiers.
Kin opens in theaters August 31 and fans can find out more about Kravitz's Fantastic Beasts role as Leta Lestrange in the Character Profiles Report from our exclusive Crimes of Grindelwald set visit.
David Tennant on his Upcoming Role in HBO's Camping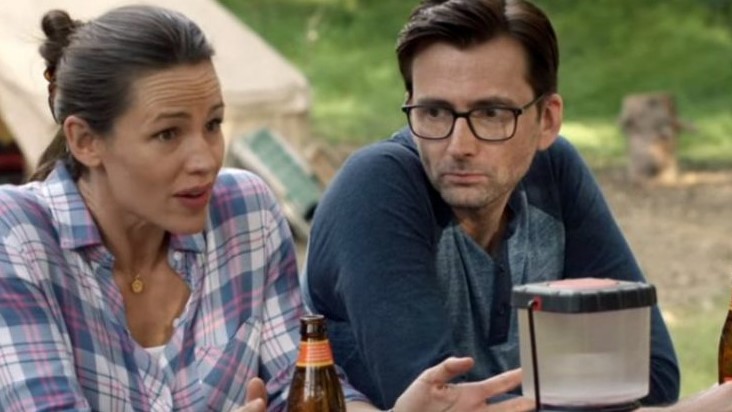 David Tennant, known in the Potterverse as Death Eater Barty Crouch, Jr, has made it on our weekly round-up again! He talked recently with EurWeb on his next role in the upcoming HBO series Camping, on finally playing a comedic role, and getting comfortable with nature. Tennant, who plays husband Walt and takes a to the great outdoors to celebrate his 45th birthday, confessed that he had only camped once in his life, which turned out to be "…sort of a disaster."
He also discussed his decision to take a role that was the dichotomy of his recent Jessica Jones and Bad Samaritan villains. Harry Potter wasn't mentioned in the interview but certainly the Dark Lord's right hand man fits the same bill. When was asked if he purposefully sought out a little more lighthearted part, he said,
"If only I were that tactical and clever," he replied. "No, I didn't. But then this came in and you go oh well that's perfect because you know, you can only play so many psychopaths without taking it home. So, it was lovely to play someone who's so sweet and open-hearted and long-suffering and possibly most like the real me that I've ever done. The physical manifestation of Walt is how I feel inside much more than some sort of sharp-suited psychopathic villain."
David Tennant can be seen in Camping beginning October 14 on HBO.
Trailer for Anchor and Hope Starring Natalia Tena
Surrogacy drama Anchor and Hope starring Harry Potter's polychromatic-haired auror Nymphadora Tonks has received critical acclaim since festival season last fall. It was screened at Cannes in May where US and UK distributions rights were secured and it's finally on its way to theaters. Tena plays Kat whose partner wants Kat's best friend to father their child.
Screen International had this to say about the film that opens in the UK September 28 and the US November 16,
"a romantic comedy that champions lifestyles that don't fit the suburban mould through choice and economic necessity".
Get a preview of Tena's performance in the trailer below:

Trailer for Christmas Thriller Await Further Instructions with David Bradley
Veteran actor David Bradley, who played Hogwarts favorite squib in the Harry Potter films, continues to add to his lengthy resume with a role in the upcoming Christmas horror drama Await Further Instructions. Here is a synopsis of the film from Bloody Disgusting:
"The story revolves around the Milgram family, who have gathered to celebrate Christmas, only to find a mysterious black substance has surrounded their house. Something monumental is clearly happening right outside their door, but what exactly – an industrial accident, a terrorist attack, nuclear war? Descending into terrified arguments, they turn on the television, desperate for any information. On screen, a message glows ominously: 'Stay Indoors and Await Further Instructions"…"
Check out Bradley in the trailer below for the thriller which opens in theaters October 5: [Some disturbing content]

That's all the news this week from the Harry Potter and Fantastic Beasts actors. Check out the recent Wizarding World news from the stage in our latest Theater Round-up and ICYMI-read the  complete coverage of our exclusive Crimes of Grindelwald set visit:
Fantastic Beasts: The Crimes of Grindelwald Set Report Links
Art Department & Plot Run-Through with Martin Foley   | Walking the French Wizarding World: French Diagon Alley & the French Ministry   |  Props Department with Pierre Bohanna    | Interview with Director David Yates    | Interview with Producer David Heyman    |  Interview with Eddie Redmayne (Newt Scamander)    | Interview with Callum Turner (Theseus Scamander)    | Interview with Ezra Miller (Credence Barebone)    | Interview with Costume Designer Colleen Atwood    |