Year In Review: Wizarding World Takes On Stage & Screen, Park & Page, Tech & Tour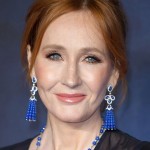 Dec 30, 2018
With a decade anniversary, a Broadway opening, a game release, a new novel, and a movie premiere, years don't get too much more magical than 2018 for fans of J.K. Rowling and her Wizarding World. When we took a look back at the past twelve months of news, we honestly wondered how Leaky covered each spellbinding event, release, and opening without borrowing Hermione's Time Turner. Though the fandom has experienced its share of debate over casting and retcon issues this year, Harry Potter and his world continue to cast a spell on fans young and old across the globe.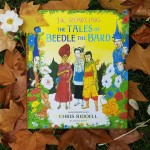 The series is ever expanding, and even rebranding this year, with new illustrated and anniversary editions, companion publications and audiobooks including the gorgeous full color version of The Tales of Beedle the Bard with drawings by artist Chris Riddell, the audio version of Quidditch Through the Ages narrated by Wizarding World newcomer Andrew Lincoln of The Walking Dead fame, Chamber of Secrets Anniversary House editions, and a wealth of other companion books highlighting both Harry Potter and Fantastic Beasts content.
The series and its author continue to receive accolades year after year. In 2018 alone J.K. Rowling was nominated for the New Academy Prize in Literature, landed on the Variety500 list and was invited to join the Academy of Motion Picture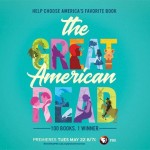 Arts and Sciences. Leaky also had the chance to publish exclusive new interview material from Lev Grossman's 2005 interview with the author on the anniversary of the Half Blood Prince release. The Harry Potter book series was named one of 100 works of literature to compete for the US fans all time favorite novel in the Great American Read, an online contest and corresponding television series produced by PBS.
The Wizarding World wouldn't be as renowned as it is without its passion and dedicated fandom. In fact the creator of the world that is so beloved by this group took to Twitter soon after the Crimes of Grindelwald early screenings to remind us just how much we are appreciated:
You people are amazing. To every single one of you who's seen Crimes of Grindelwald and kept the promise to #ProtectTheSecrets, thank you for looking out for your fellow fans. Not that I needed reminding, but this is an incredible fandom ????

— J.K. Rowling (@jk_rowling) November 4, 2018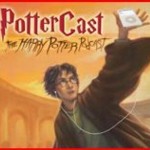 And these incredible fans got in on the magic more than ever this year. Pottercast was back on the airwaves "semi-regularly" and resurrected their Leaky News segment, Potterheads from all over celebrated Harry Potter Book Night and a spellbinding statistic of 500 million books sold,  and used their love of Potter to help others repping their Hogwarts Houses for Sports Relief's Billion Step Challenge. On J.K. Rowling's birthday Leaky looked back at twenty years of magical milestones, including the 18 years the fansite's been in existence and we celebrated the tenth anniversary of the Harry A History by Leaky's webmistress Melissa Anelli, the New York Times Bestseller about the phenomenon of the Potter fandom with a month-long re-read and online discussion of the book.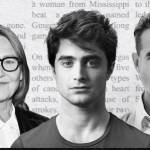 We might be deserving of an Unforgivable Curse if we failed to mention the plethora of projects involving Wizarding World cast and creative on screen, stage, streaming and more. As well as the admirable work done by many helping to better various aspects of society. The Golden Trio have remained in the public eye though may wish they had access to an invisibility cloak now and then. Daniel Radcliffe will be seen and heard on the big and small screen in the near future, first as an angel in the TBS comedy Miracle Workers and later voicing a character named Rex Dasher in Playmobil: The Movie. In the meantime he'll be wrapping up his four month run on Broadway in The Lifespan of a Fact and recently lent his voice to a Christmas appeal for Demelza children's hospice. Rupert Grint has a number of television projects in the works including the Sky One comedy Sick Note, the Sony Crackle series Snatch and the upcoming BBC adaptation of Agatha Christie's The ABC Murders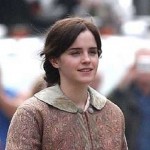 . Emma Watson continues to be a prominent voice of the #MeToo/#Timesup movement and share her convictions through her feminist book club Our Shared Shelf. Watson is also headed for the screen again, after a hiatus since the 2017 mega hit Beauty and the Beast, in the star-studded remake of Little Women from acclaimed director Greta Gerwig. Fans even got to experience a Potter reunion on screen when Tom Felton, Draco Malfoy, and Natalia Tena, Nymphadora Tonks, joined the YouTube Premiun sci-fi series Origin.
There are actors with their own podcasts like Dancing with the Stars finalist Evanna Lynch's Chickpeeps that had a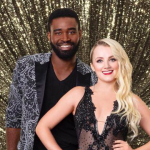 special Harry Potter episode last winter on animal rights in the Wizarding World and Dan Fogler, who has also written his own graphic novel, hosts Dan Fogler's 4dXperience. His Fantastic Beasts beloved Queenie played by Alison Sudol began her career in the entertainment industry as a singer songwriter and after a lengthy break from music has recently released her new EP Moon.
A huge percentage of the Potter alumni spend time engaging with avid fans decked out in their cosplay at local comic cons worldwide including Matthew Lewis who Leaky had the pleasure of meeting last spring.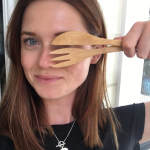 There are also numerous wizards and witches who use their fame and recognition to influence positive change in the world like actress/producer/director turned activist Bonnie Wright who supports Greenpeace's initiatives to clean up the world's oceans and eliminate society's single use plastics. She is also an ambassador for J.K. Rowling's children's charity Lumos.
As we come to the end of this remarkable 365 days, let's take a look month by month at just a few of the most magical of those moments.

JANUARY
The New Year's festivities extended throughout the first month of 2018 in the Wizarding World. Acclaimed actor Gary Oldman, who's known in the Potterverse as Harry's godfather Sirius Black, continued his run through awards season with a Golden Globes win for his Polyjuice-free portrayal of Winston Churchill in The Darkest Hour. The original West End core cast of Cursed Child crossed the pond to begin rehearsals in New York and tickets went on sale for the anxiously awaited Broadway production of the Harry Potter play. And one of the biggest events of the year for Potter fans kicked off the last weekend of January at Universal Orlando Resort.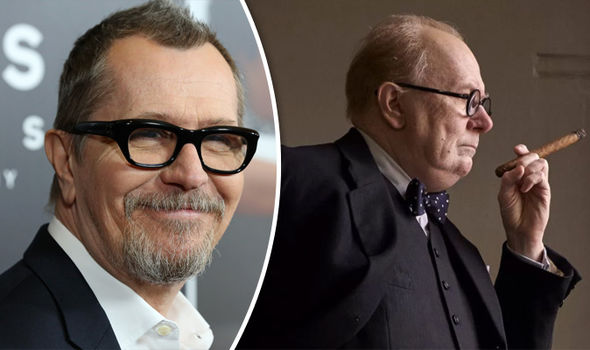 The 5th Annual A Celebration of Harry Potter delivered some unbelievable magic in 2018 and Leaky was there to cover it first hand. We chatted with Wizarding World graphic artists duo Minalima and 20th Anniversary cover artist Brian Selznick and saw the Harry Potter and the Cursed Child costumes up close and personal. We dueled Mugglenet in Audible's Harry Potter audiobook trivia and we were one of the first to see a demo of the soon to be released mobile roleplay game Hogwarts Mystery. We experienced the stunning preview of the Nighttime Lights at Hogwarts Castle as well as the Orlando Philharmonic Orchestra playing iconic selections from the "Highlights from the Harry Potter Films Concert Series." from CineConcerts to close out the opening ceremonies. The part of the event that draws Potterheads from around the globe are the panel discussions with the Harry Potter actors and this year was no different.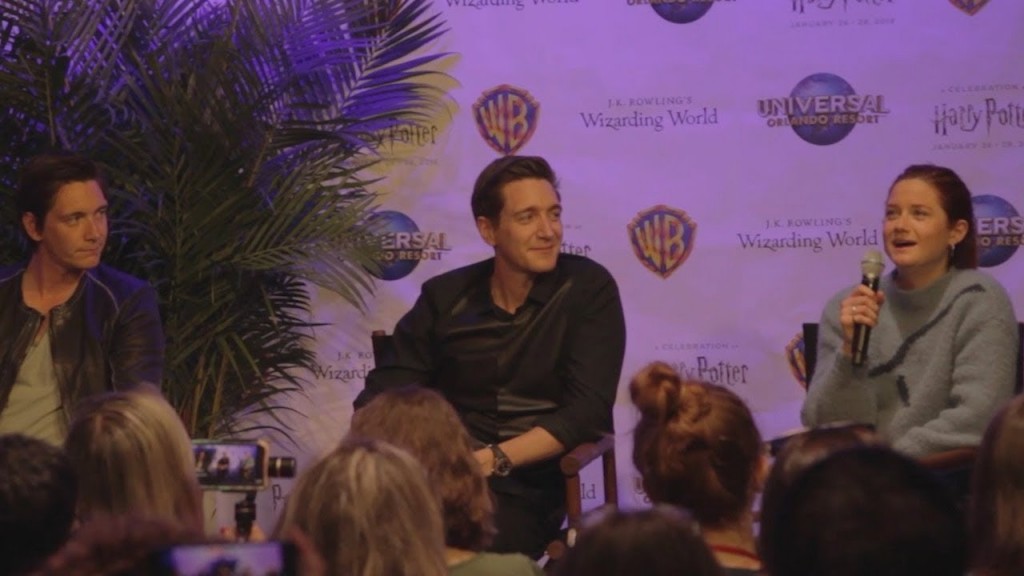 Leaky had the opportunity to see the 2018 special guests, Bonnie Wright, James and Oliver Phelps, Natalia Tena and Stan Yanevski during the Celebration, but also at a media gathering with these alumni prior to the event where they share hilarious hijinks and magical memories from their days on the Potter film set. On top of all of the spellbinding Celebration at the 2018 spectacular, fans were treated to a first look at footage from the upcoming Crimes of Grindelwald along with commentary from many of the Fantastic Beasts cast. We can't imagine a more magical Celebration of Harry Potter but we have no doubt Universal will provide. Unfortunately we'll have to wait until 2020 when the event resumes after the opening of the theme park's new Harry Potter thrill ride!
FEBRUARY
Leaky kicked off the second month of the year sharing an expert account of the Harry Potter: A History of Magic Exhibition which opened at the British Library in the fall of 2017. Our special guest contributor Dr. Beatrice Groves, a research fellow in Renaissance English at Oxford University and author of Literary Allusion in Harry Potter, gave her in-depth account of all the magical components of the exhibit.
Awards season marched on in February to the BAFTA awards which once again honored Harry Potter's Sirius Black, Gary Oldman, with the Best Actor Award for his transformative role as Winston Churchill in the 2017 historical drama The Darkest Hour. Other Wizarding World nominees included Alexandre Desplat for Best Original Music (The Shape of Water), Beauty and the Beast (Emma Watson, Emma Thompson) for Best Costumes and Best Costume Design, and various nominations for The Death of Stalin (Jason Isaacs), God's Own Country (Ian Hart), Paddington 2 (David Heyman, Jim Broadbent, Julie Walters, Brendan Gleeson, Imelda Staunton, and Michael Gambon) and the animated watercolour masterpiece Loving Vincent (Helen McCrory).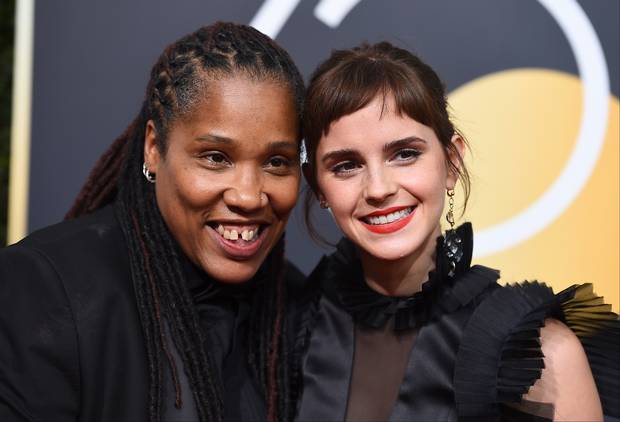 Emma Watson, who donated £1 million to the fund, led the #TimesUp campaign against sexual harassment at the British awards, where actresses wore black in solidarity with the campaign.
The biggest news of the month was revealed in early February at the annual New York Toy Fair and it was the gift that just kept on giving throughout the year. After almost a decade of new sets absent from store shelves, iconic toy brick manufacturer LEGO revealed a new line of Harry Potter and Fantastic Beasts products to coincide with the 20th Anniversary of the series in the US and the upcoming second installment of the Fantastic Beasts prequel. The first box to be unveiled was the Hogwarts Great Hall set followed by scenes from the first three books/films of the saga including the the Hogwarts Express at Kings Cross Station, the Hogwarts Quidditch pitch, Diagon Alley, and the Weasley's Ford Anglia in the Whomping Willow from Harry Potter and the Chamber of Secrets.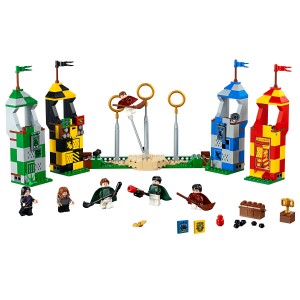 On the Fantastic Beasts side fans rejoiced at the arrival of Newt's Case, complete with miniature magical creatures from the movies and Grindelwald's Escape which gave us some clues about the beginning of the film. The piece de resistance this year for Wizarding World brick builders was the 6000 piece Hogwarts Castle complete with numerous Hogwarts classrooms and scenes from the story, like Harry's introduction to the Mirror of Erised in Sorcerer's Stone, his encounter with the Basilisk in Chamber of Secrets and detention with Umbridge in Order of the Phoenix.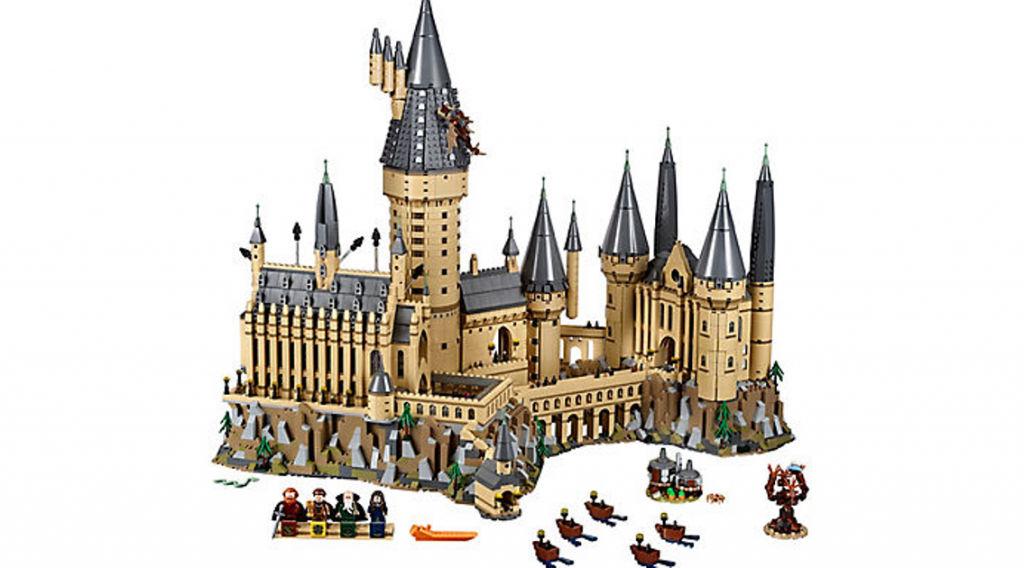 MARCH
Things were heating up as we hit month three and were that much closer to some pretty significant releases for J.K. Rowling fans. First March began with a Sirius tribute to Gary Oldman, the lauded actor who played Harry's godfather Sirius Black in the Potter Films. Oldman swept the Best actor category throughout awards season and capped it off winning an Oscar for his portrayal of Winston Churchill in The Darkest Hour.
Next previews commenced at the newly renovated Lyric Theatre for the Broadway production of Harry Potter and the Cursed Child and 600 lucky Muggles that made it to the theater on time that day were treated to $20 tickets to the opening performance and a visit from the cast while they waited in line! And J.K. Rowling announced that Lethal White, the long awaited fourth novel in the Cormoran Strike private detective series, that she pens under the pseudonym Robert Galbraith, was finally done.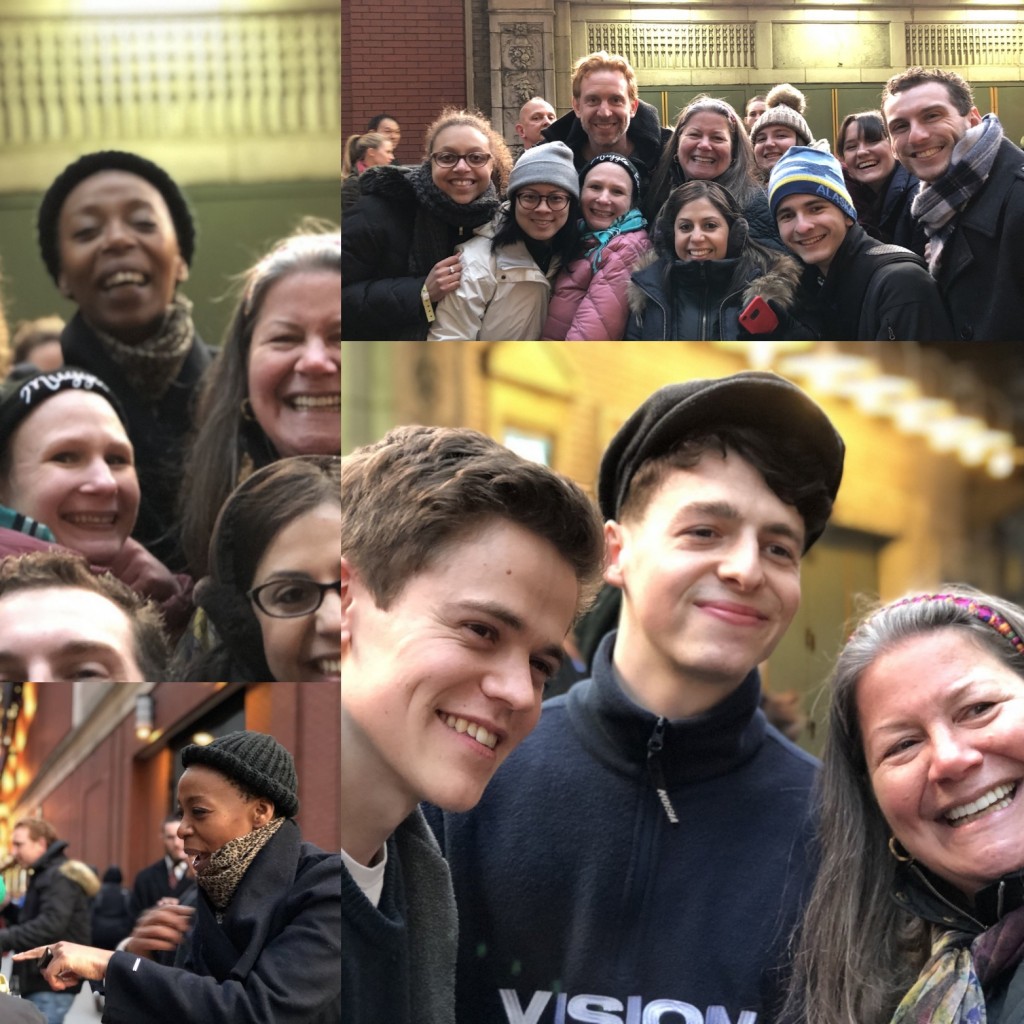 There was much fanfare surrounding those events, but none as much as what hit the airwaves on March 12 when word got out like an amplifying charm, that the first trailer for Fantastic Beasts: The Crimes of Grindelwald was due to drop the following day. The day started with a brand new poster of Newt and Dumbledore that would soon become one of the familiar faces of the film and the first spellbinding preview of the second Fantastic Beasts installment followed right after. Leaky watched with the rest of the fandom and gave a frame by frame look at each image fans had waited so long to see. Then we revisited some of the biggest questions raised by the first look at the film including why was the Ministry so interested in Newt, does Grindelwald have a prophecy, is Credence a Lestrange and why in the Wizarding World could that gaggle of Ministry official apparate inside Hogwarts grounds? The Leaky staff was so charmed by this first sneak peek that we recorded our own reaction video to share our excitement with the rest of the fandom.

APRIL
April brought us Cursed Child's Broadway debut, where it became the highest grossing play in Broadway history.  It was also the highest costing one:  The Lyric Theatre received a $23 million renovation to facilitate the elaborate production, which cost a whomping $68.5 million to bring to Broadway.  Leaky reported from the red carpet on opening day, and we posted some interview material from Sam Clemmett, who plays Albus Severus Potter, and Anthony Boyle, who plays Scorpius Malfoy, and Jamie Parker, who portrays Harry Potter.  Boyle said, "I focus not on the idea of being a wizard, but on the idea of being this 14-year-old who's very lost and very mixed up."  Most of us, magical or Muggle, were able to empathise with Boyle's vulnerable, relatable character.
' #CursedChild really is about feeling – as much as you can engage people's minds, this is supposed to be a real emotional experience' says @jk_rowling about @HPPlayNYC #CursedChildNYC pic.twitter.com/7oNSTV7NwQ

— The Leaky Cauldron (@leaky) April 22, 2018
We got our first look at Brian Selznick's new cover art for the 20th anniversary editions of the Harry Potter series from Scholastic, and learned that when you line up the covers of all seven books, they form a single illustration.  Magic!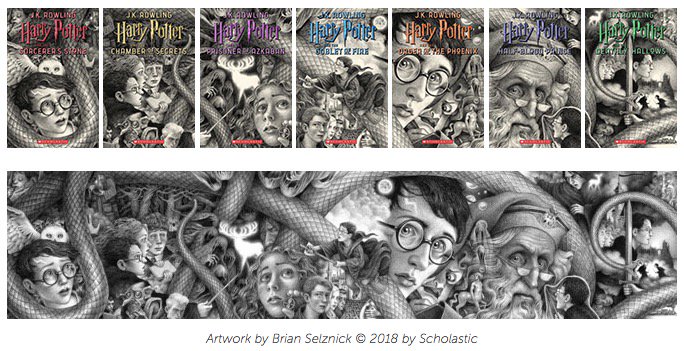 We also got a sneak peek at Chris Riddell's cover art and illustrations for a new edition of The Tales of Beedle the Bard from Bloomsbury.  Scholastic announced they would be releasing their own edition, with illustrations by Lisbeth Zwerger.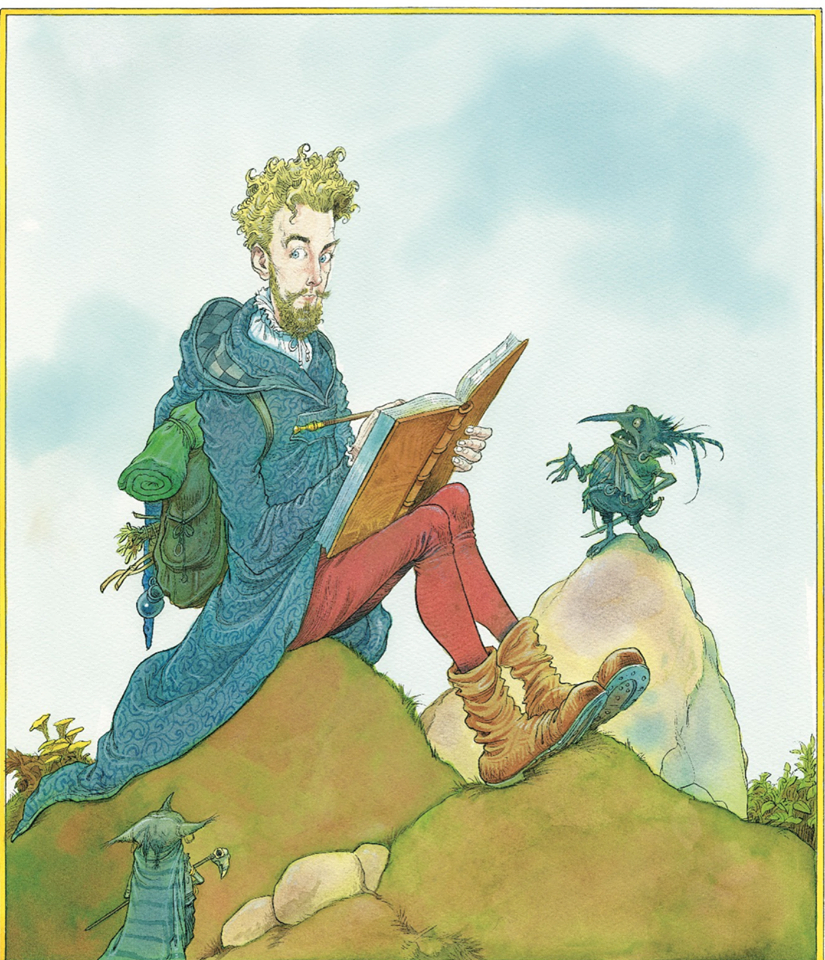 Shirley Henderson (Moaning Myrtle), Imelda Staunton (Dolores Umbridge), Ciarán Hinds (Aberforth Dumbledore), and Sonia Friedman Productions (Cursed Child) were all nominated for Olivier Awards, with Henderson and Friedman winning in their categories.  Friedman was also named one of Time Magazine's 100 Most Influential People of 2018.  Jim Dale, audiobook narrator for the North American editions of the Harry Potter books, received a lifetime achievement award from Urban Stages' Board of Directors.  We love how often we get to congratulate Potter alumni on their achievements—it never, ever gets old.
The release date for the Harry Potter: Hogwarts Mystery was announced as April 25, with the news that many of the Harry Potter actors would be providing voiceovers for the free game adding to the excitement.
To cap off a month of big news, J.K. Rowling announced that the fourth Cormoran Strike novel would be released this year, and LEGO revealed that their next fantastic beast would be a Niffler, perhaps not as cuddly in LEGO form but still adorable.  In sad news, Verne Troyer, who played Griphook, died at age 49.  We raise our wands to his memory.
MAY
We started off the month of May by remembering the Battle of Hogwarts on May 2, and celebrating teacher appreciation week with a set of posts for each Heads of House and associated professors: Ravenclaw, Hufflepuff, Gryffindor and Slytherin.
Cursed Child's Jamie Parker made his first appearance on late night TV when he dropped by The Tonight Show with Jimmy Fallon, possibly violating the international statute of secrecy in the process.
In May, Cursed Child continued to garner recognition from enchanted fans ass well as nominations rolling in for the Drama Desk Awards, the NY Drama Critics Circle Awards, the Outer Critics Circle Awards.  We posted some snippets of interviews with Noma Dumezweni, Anthony Boyle, Sam Clemmett, and Poppy Miller.
We saw Alfred Enoch in Red on the West End, a role previously held by Fantastic Beasts lead Eddie Redmayne, a play which returned to London with glowing reviews. 
Universal Studios Japan added a new parade to its Wizarding World attraction, a "mind-blowing" spectacle with state-of-the-art special effects.  Universal Hollywood's Wizarding World also augmented its offerings, and brought back the Nightime Lights on Hogwarts Castle.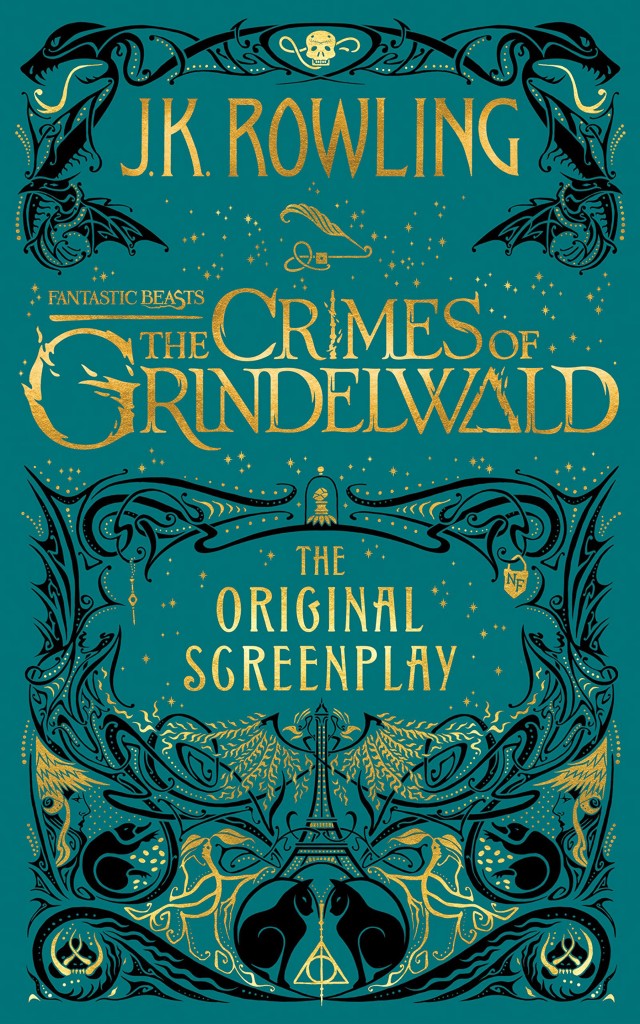 The Harry Potter and Fantastic Beasts movies moved to a new home on Syfy and USA Network, and, most exciting of all this month, the Crimes of Grindelwald screenplay cover, designed by MinaLima, was finally revealed, with plenty of hidden details! 
Both LEGO and Funko announced significant additions to their Harry Potter collections.
JUNE
Cursed Child capped off its successful Broadway debut with TEN Tony Awards nominations, including Best Play and managed to win a record-breaking SIX awards.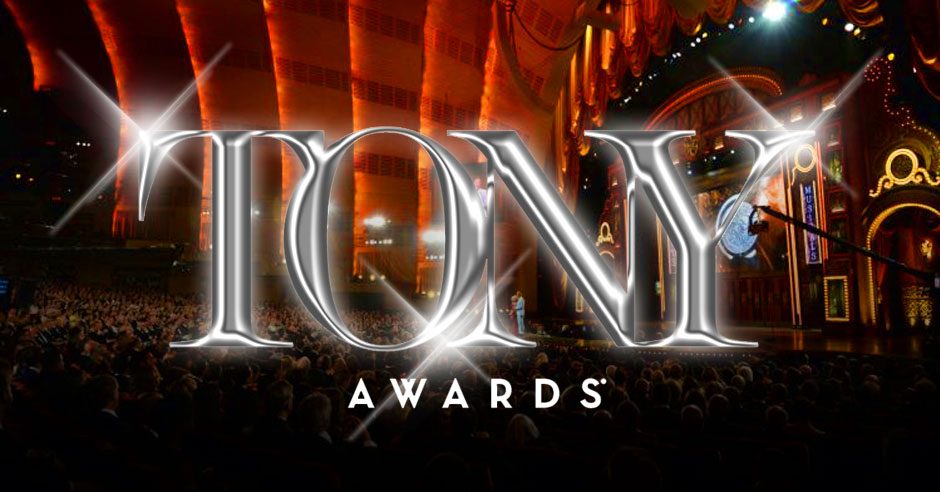 Universal Orlando announced their new Cinematic Nighttime Show, featuring a Harry Potter segment, and we spoke exclusively to Universal's Senior Director for Entertainment Creative Development, Mike Aiello, to get all the exciting details. 

Chris Rankin – an adoptive child himself – promoted the work of Harry Potter-inspired charity, Transfiguring Adoption , and we spoke to Co-Founder Darren Fink about the organisation's incredible work to support foster-adoptive families.
The Protego Foundation launched a campaign, supported by Evanna Lynch and Robbie Jarvis, to make Butterbeer vegan.  In related news, Universal Studios Hollywood added Butterbeer ice cream.
In the run-up to the release of Fantastic Beasts: The Crimes of Grindelwald, LEGO has been announcing regular additions to its Harry Potter collection and it didn't disappoint in June with the reveal of Newt's Case of Magical Creatures, Aragog's Lair, and new mini figures holding iconic props, such as Jacob's yummy pastries.  USAopoly added to the fun by announcing two new board games:  Trivial Pursuit: World of Harry Potter Ultimate Edition and Fantastic Beasts Perilous Pursuit.  Hogwarts Mystery added companion animals (owl, cat, toad, or rat)  to accompany players in exploring Hogwarts.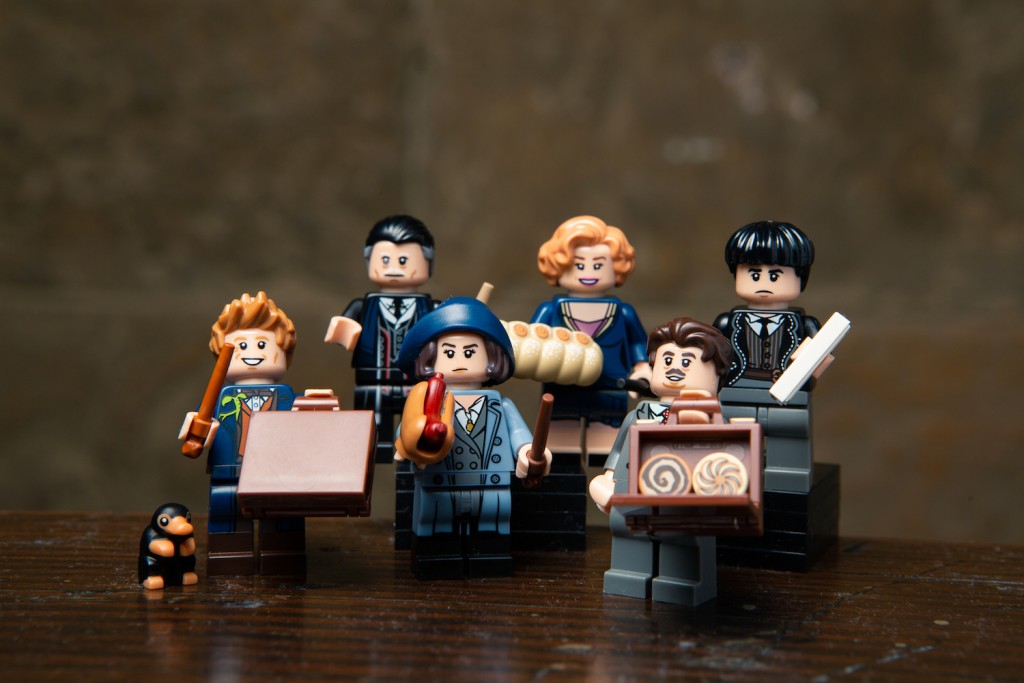 Emma Thompson (Professsor Trelawney) was made a Dame of the British Empire in the Queen's Birthday Honours List and J.K. Rowling was invited to join the Academy of Motion Picture Arts and Sciences.
The Scholastic 20th anniversary editions of the Harry Potter books, whose amazing cover art we previewed last month, were released on June 26.
Finally, Cursed Child  announced that they would be opening in San Francisco and Australia in 2019.
JULY
July kicked off with the thrilling announcement that there would be not one, but TWO LeakyCons in 2019, to celebrate the tenth anniversary of the  biggest (and best!) Harry Potter fan convention around. Tickets are still available, so be sure to let us know if you'll be attending in Dallas and/or Boston next year! San Diego Comic Con also took place, and it was Potter-galore as Scholastic helped us celebrate 20 years of Potter in the U.S. with a panel moderated by our very own Webmistress, Melissa Anelli, and featuring a host of special guests – original cover artist and iconic logo designer Mary GrandPré (via video message), editor Arthur Levine, illustrator Jim Kay, 15th anniversary edition cover artist Kazu Kibuishi, 20th anniversary edition cover artist Brian Selznick, and art director David Saylor.  
@Scholastic #HarryPotter20 illustrator panel at #ComicCon2018 #SDCC18 Such creative wonders that have visualised #HarryPotter pic.twitter.com/q1veSqrzmd

— McKnight in Shining Armour (@jamesmcknight) July 21, 2018
The cast of Fantastic Beasts got up on stage at the Warner Bros theatrical panel to talk Crimes and introduce a new Comic Con exclusive trailer, as well as a special in-character appearance from Johnny Depp as Gellert Grindelwald. 
JUDE LAW IS HERE with Ezra Miller, @ZoeKravitz, Katherine Waterston, @mrdanfogler, Claudia Kim & @AlisonSudol! Trailer is HAPPENING #FantasticBeasts #SDCC2018 #WandsReady #CrimesOfGrindelwald pic.twitter.com/bHkoORJXJE

— The Leaky Cauldron (@leaky) July 21, 2018
Surprising us with state-of-the-art Muggle technology, Kano announced that they would be releasing the Harry Potter Kano Coding Kit, officially the very first Harry Potter inspired STEM project! We gave an exclusive first look, as well as a review.
In the meantime, Universal Orlando Resort quietly trademarked the name 'Fantastic Worlds', leading us to speculation about a possible fourth park or a new 'section' in The Wizarding World of Harry Potter, as construction continued on the new Hogsmeade ride.
Another Cursed Child announcement also came in July, as we found out that the play would be coming to Hamburg, Germany, in 2020!
AUGUST
August meant LeakyCon, giving us exclusive interviews and panels with Devon Murray, Alison Sudol, Dan Fogler, Chris Rankin, and much more—definitely a highlight of the year.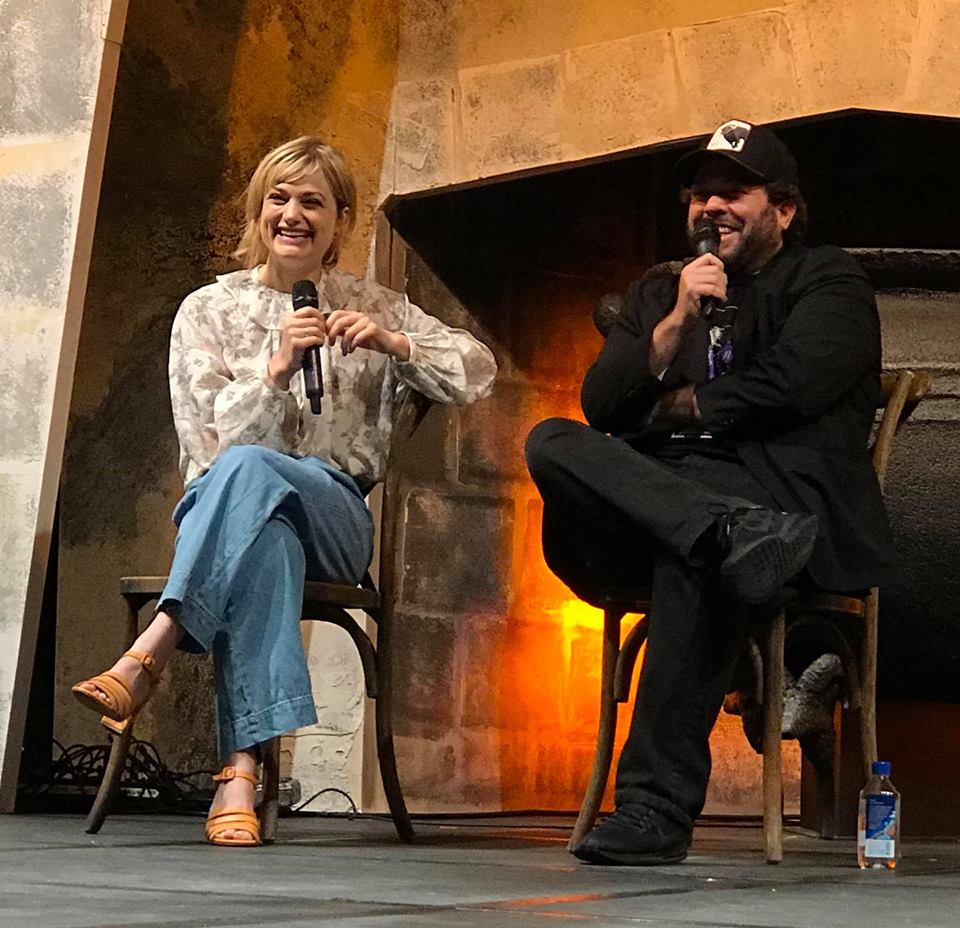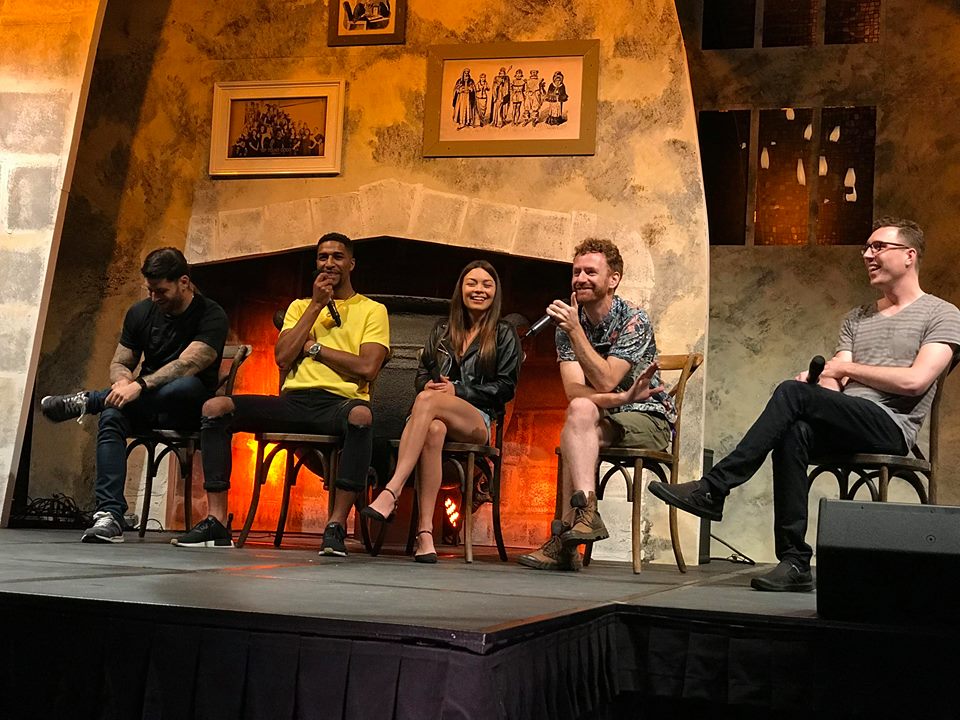 We also FINALLY got to release our reports from the Crimes of Grindelwald set, almost 11,000 words of secrets and filmmaking revelations that we'd been holding onto for almost an entire year – phew!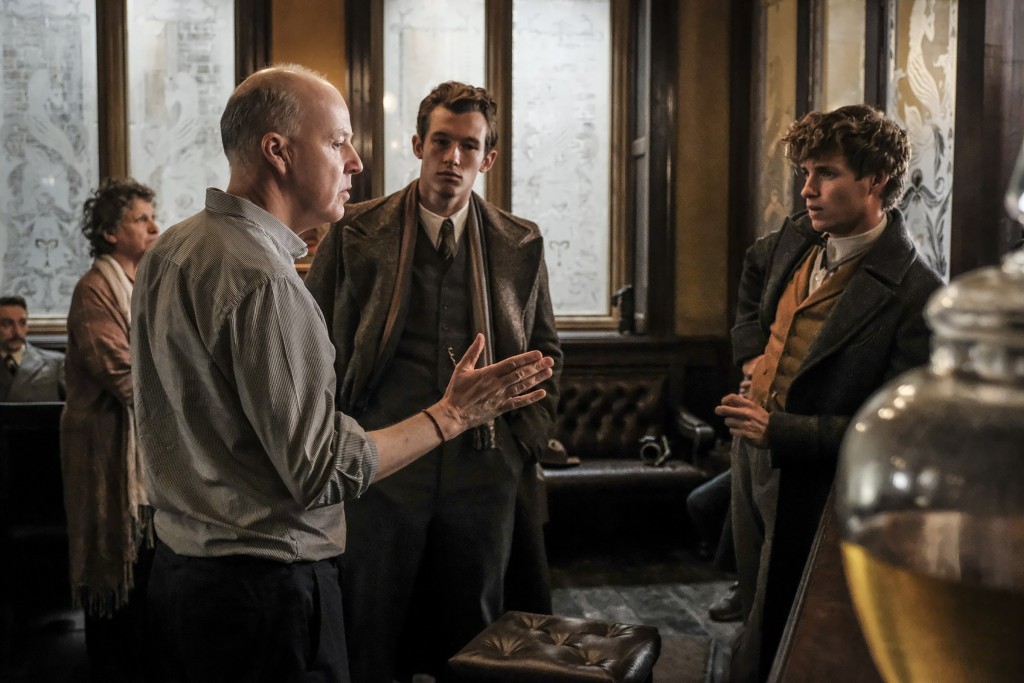 In casting news, Emma Watson was announced as the lead in upcoming adaptation of Little Women, bound to be one of the most anticipated projects of 2019.
SEPTEMBER
In September we went Back to Hogwarts like never before, as Universal Orlando hosted special Hogwarts activities, and Jude Law and Eddie Redmayne surprised lucky fans and onlookers at the Platform Nine and Three Quarters store in King's Cross, London.
Publication day will always be a thrill for me, no matter how many books I write. Hope you enjoy #LethalWhite! https://t.co/24l4J5o12x

— J.K. Rowling (@jk_rowling) September 18, 2018
September was also the month that J.K. Rowling (Robert Galbraith) published Lethal White after a long while of waiting for the fourth instalment in Strike's journey. Evanna Lynch was announced as a competitor in 2018's Dancing With the Stars (and wowed us each week with her incredible talent), and Lumos hosted a special Gala with J.K. Rowling in attendance.
Universal Orlando decided to lighten the blow of the news that there would be no Celebration of Harry Potter in 2019 with an official teaser image of the new Hogsmeade ride, coming in 2019, and construction updates led us to some new theories about the theme of the ride.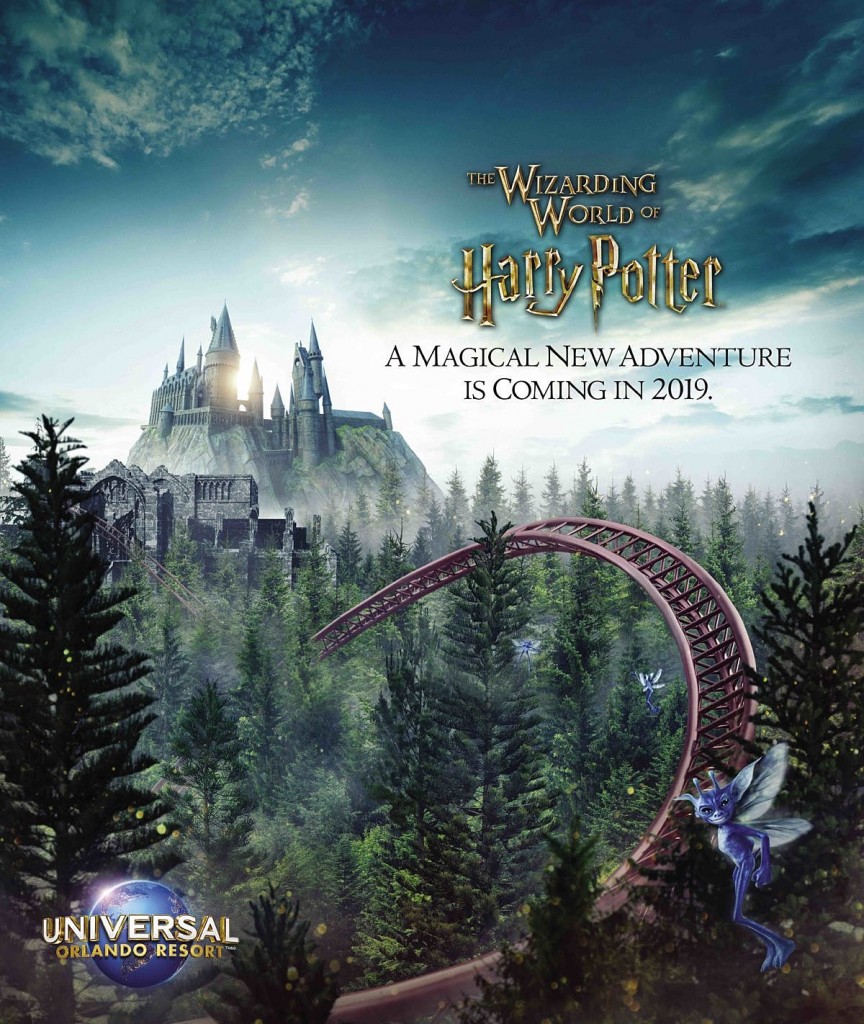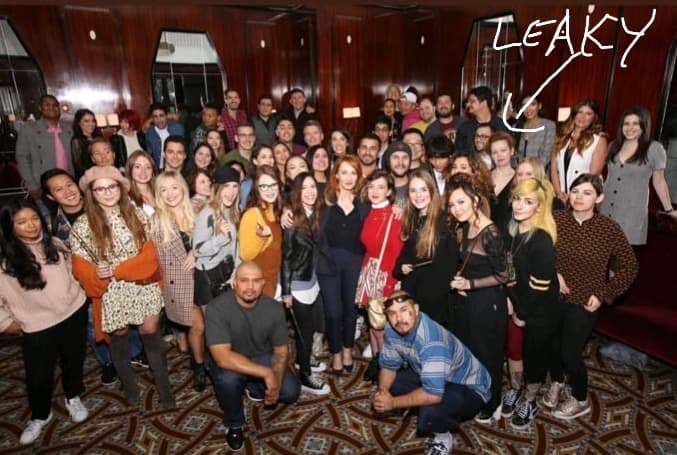 Finally, Leaky got to attend a special Fantastic Beasts fan event in New York City, where we met J.K. Rowling and participated in a Q&A with the cast of the film, watched the final trailer (which dropped the next day), and Jo and the cast appeared on The Today Show to introduce the trailer to the world.  
OCTOBER
October was a busy month in the Potterverse as we geared up for the release of Crimes of Grindelwald. The Broadway cast of Harry Potter and the Cursed Child attended a panel at New York Comic Con, where guests got to learn more about their experience on stage, their move from West End to Broadway, and listen to a few tracks from the long-awaited album. We also watched a panel starring Potter alumni Tom Felton (Draco Malfoy) and Natalia Tena (Tonks), where they spoke about their characters in YouTube Sci-Fi Thriller series, Origin.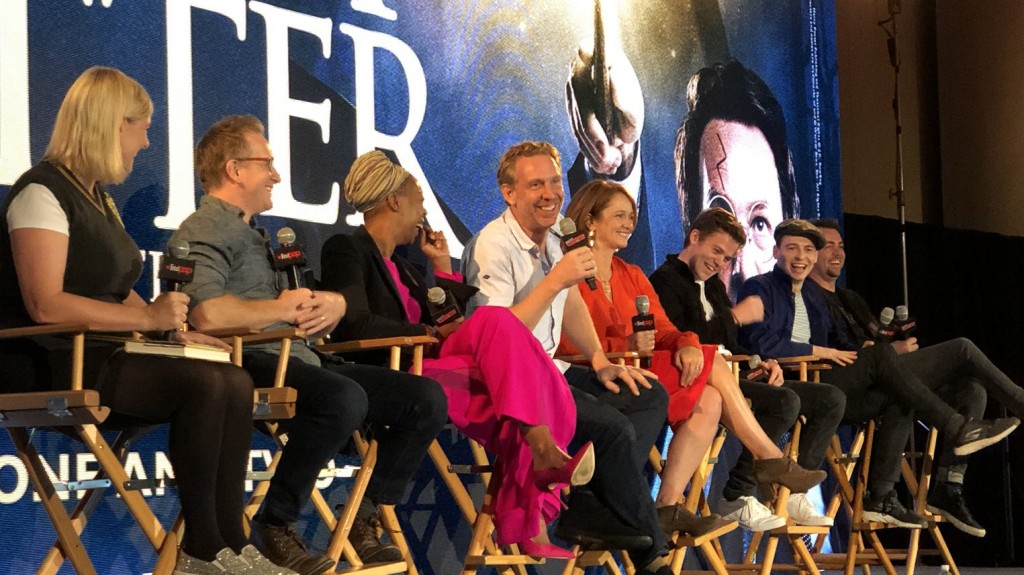 The New York History of Magic Exhibition (previously on show at the British Library in London) apparated into New York in October the weekend of NYCC, and Leaky was there to welcome the exhibition to the City of Dreams.
Across the pond in London, a special wand installation popped up outside St Paul's Cathedral to promote Lumos and Crimes of Grindelwald, and we reported from an opening ceremony featuring a live performance of tracks from Harry Potter and Fantastic Beasts by a marching band, as well as demonstrations by Paul Harris (wand choreographer) and a chat with Pierre Bohanna (Head of Props). The wands illuminated the path outside the cathedral each night, and fans were able to attend weekly workshops and events to celebrate Wizarding Wednesdays.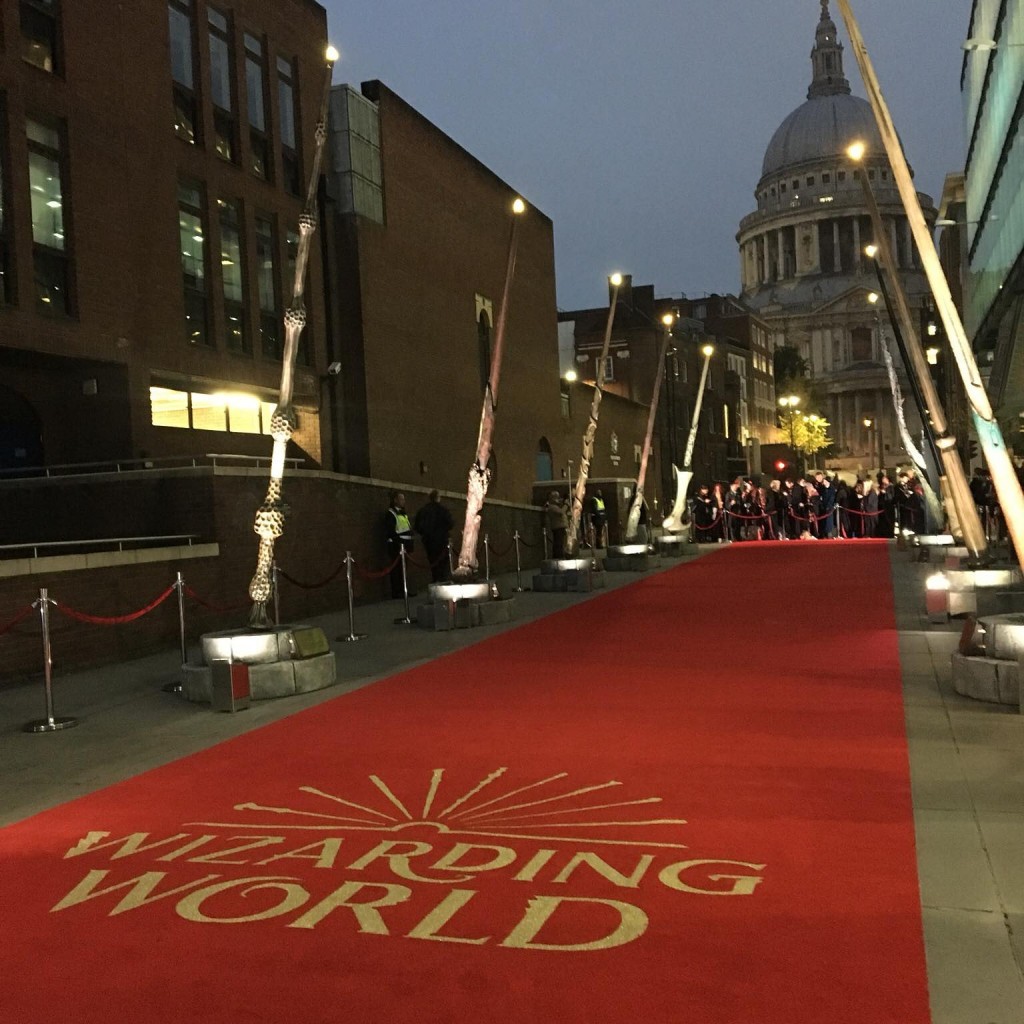 Later in the month, composer Imogen Heap and director John Tiffany met at the West End home of Harry Potter and the Cursed Child, The Palace Theatre, to launch the official album of the play, The Music of Harry Potter and the Cursed Child. A brilliant evening was had by all as we listened to the pair speak about how the play's music came together, and how Imogen sampled her own work to create these incredible tracks.
In the lead up to Crimes excitement was brewing as Claudia Kim revealed that the mysterious Maledictus was actually Nagini, Pottermore revealed more information about enigma Yusuf Kama, we saw new footage, and new tracks from the score.
In our opinion, the most exciting news of all in October was the publication of a Newsweek Special Edition (Fantastic Beasts of the Wizarding World), featuring writing from The Leaky Cauldron! It was an honour to work with Newsweek on the magazine, which detailed facts, behind-the-scenes details and special moments featuring magical creatures in J.K. Rowling's Wizarding World.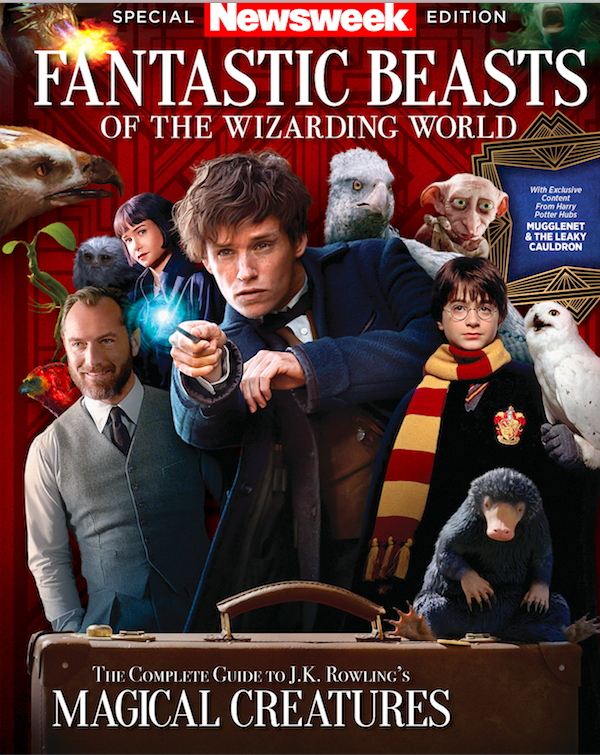 Finally, the team behind LeakyCon, Mischief Management, had the pleasure of announcing that they'd be hosting a crossover for the ages at BroadwayCon 2019 (January 11th-13th), as the New York cast of Harry Potter and the Cursed Child would be attending a panel, moderated by none other than Leaky's own Webmistress, Founder and CEO at Mischief Management, Melissa Anelli!
NOVEMBER
Finally, the month we'd all been waiting for! To kick off Crimes of Grindelwald release month, the cast of the film surprised an Alabama school sporting a special Potter makeover. We then headed to LA to interview the cast of the film – Eddie Redmayne, Katherine Waterston, Alison Sudol, Dan Fogler, producer David Heyman, Claudia Kim, Ezra Miller, and Callum Turner all spilled the magical beans on the film, making us even more excited for the November 16th release date!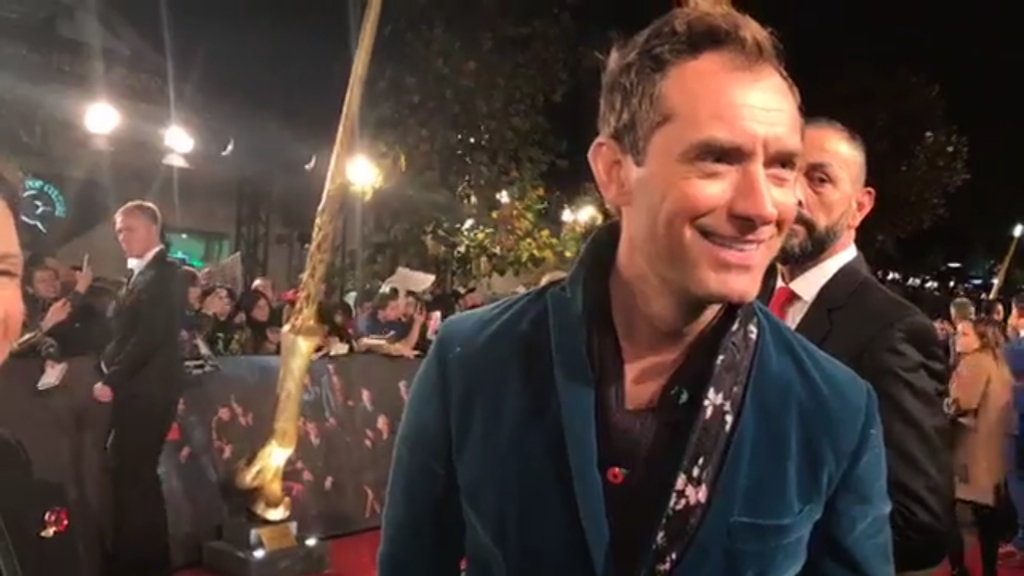 Ahead of the release, we attended the Paris world premiere and London regional premiere of the film, released our review of Crimes, and celebrated the  iconic graphic design duo MinaLima's Crimes of Grindelwald gallery launch at The House of MinaLima in London.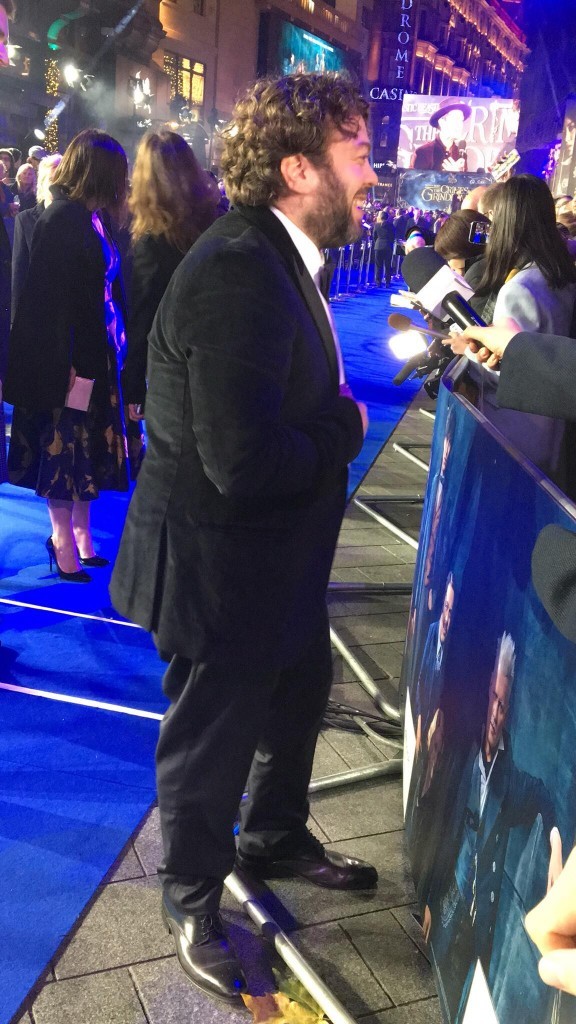 After a year of having zero clue of when Wizards Unite would release, or what the game might entail, we received the exciting announcement that the mobile game – apparently similar to Niantic's Pokemon GO – will be releasing in 2019, plus a trailer for the game! Melissa Anelli reached the tenth anniversary of her New York Times bestseller, Harry, A History, and we helped her celebrate with a book group dedicated to re-reading the fascinating tale of the Potter fandom from an insider's perspective.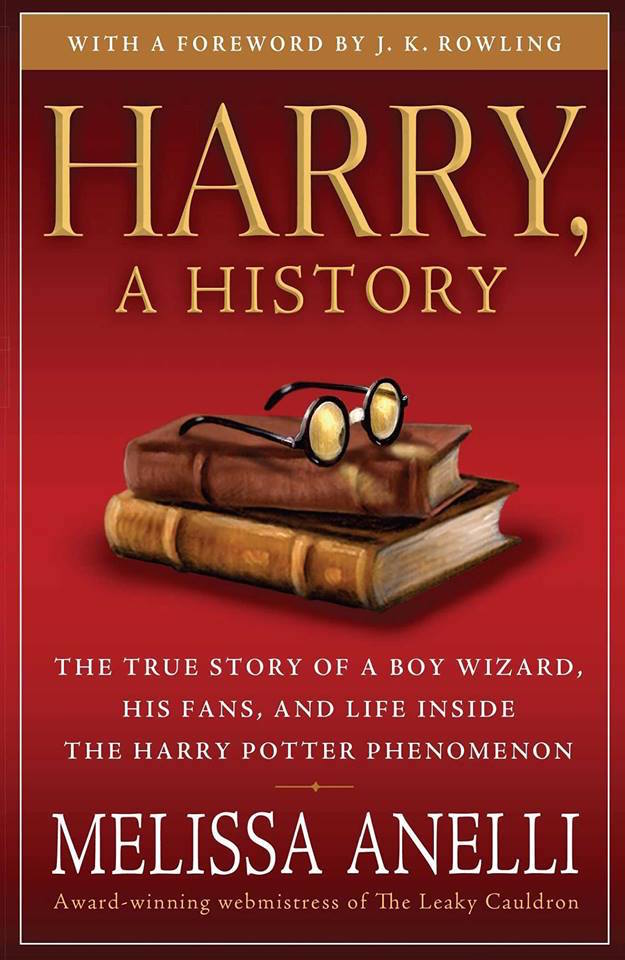 We celebrated the success of Evanna Lynch on Dancing With The Stars, after following her every week for two months all the way to the finale. Evanna spoke to us about her experience on the show, her plans for Season 2 of The Chickpeeps Podcast, and even Dancing Hermione in an exclusive interview, and Melissa Anelli encouraged fans to drop everything and vote for the actress who's done everything to make Potter fans proud from day one.  Her Potter costars even joined in the campaign for her to take home the mirrorball. We're proud to call her our Luna, and she's always been our winner!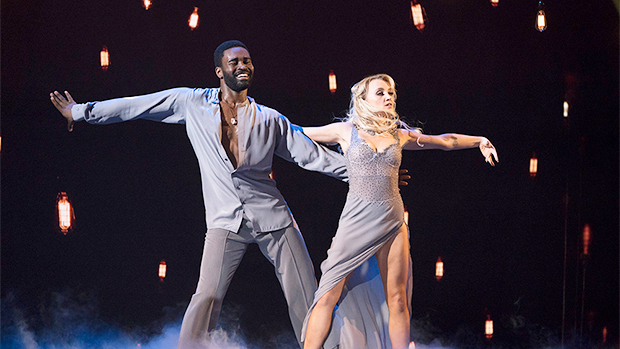 Finally, we wound down from all that excitement somewhat and celebrated winter in Potterific style at Warner Bros. Studio Tour London, at another launch event for Hogwarts in the Snow, helping us move into December's festivities.
DECEMBER
With our spoiler lockdown lifted, we were finally able to start our Fantastic Beasts theorising, posting our biggest questions about the film, the parallels between the Harry Potter and Fantastic Beasts series, the importance of Eulalie Hicks and Nicolas Flamel, and speculations on the true identity of Credence / Aurelius. We reflected on box office numbers, celebrated the launch of the Protego Foundation's Find Dougal campaign, and got a closer look at the newly opened wizarding travel store, Globus Mundi, at Universal Orlando's Wizarding World of Harry Potter as J.K. Rowling pretty much confirmed that Newt would be visiting Rio De Janeiro. PotterCast also celebrated their thirteenth year of podcasting with a brand new logo (well, four of them) and website, meaning no more between-site! They'll be at PodX in July 2019 and LeakyCon Dallas and LeakyCon 10 in Boston, so look out for more episodes and updates from them, coming soon!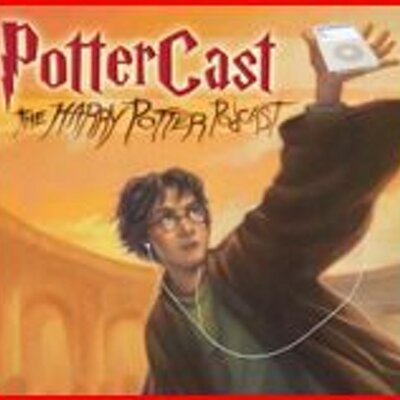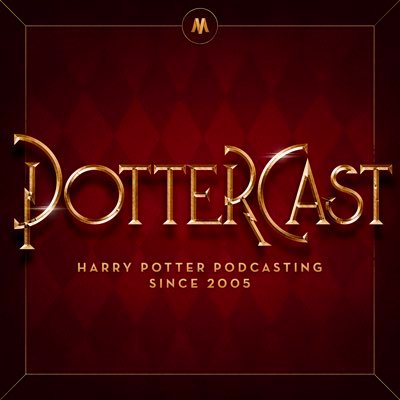 Thanks for joining us on such a busy, exciting year. Were you at A Celebration of Harry Potter, any of the Comic Cons, or LeakyCon? How many times have you seen Crimes of Grindelwald? What was the Wizarding World highlight of 2018 for you? Let us know via Twitter, Facebook or Instagram, and we'll see you in 2019!